By Jason M. Rubin
The turf war for the bodies and souls of Montana's Jews makes for an engaging inter-tribal drama.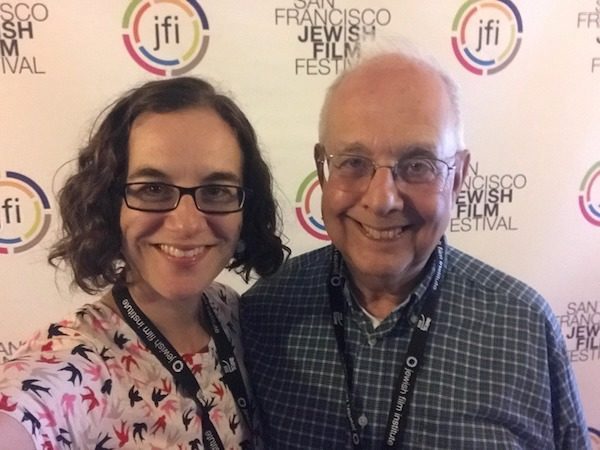 Stop me if you've heard this one before. A Hasidic rabbi moves from New York to Montana…. Well, it's no joke. Rabbi Chaim Bruk made the exodus from Brooklyn to Bozeman in 2007 to open an Orthodox shul (temple) and connect Montana's Jews (fewer than 2,000 families spread across a state 14 times larger than Israel) to their faith. Foundational to his missionary effort is an initiative to place a mezuzah, an encased prayer offering, on the doorpost of every Montanan Jewish home.
If you think Bruk is bound to meet some resistance, you're right — but it's not the many unaffiliated Jews in a decidedly non-Jewish state who've been resistant, but rather his fellow Jewish clergy in Montana: Rabbi Francine Roston, Rabbi Allen Secher, and Rabbi Ed Stafman, whose congregations plot along Reform and Conservative lines.
The turf war for the bodies and souls of Montana's Jews makes for an engaging inter-tribal drama, effectively documented in The Rabbi Goes West, by Cambridge filmmakers Amy Geller and Gerald Peary. The film will be the closing night selection of the 2019 Boston Jewish Film Festival at the Somerville Theatre on Sunday, November 17, at 7:30 p.m. Bruk will be present and will speak at the screening.
Three years in the making, The Rabbi Goes West had its world premiere this past summer at the San Francisco Jewish Film Festival. What is most surprising is that this is not your typical gefilte-fish-out-of-water story; it's very clear early on that Bruk is comfortable proselytizing anywhere. Also, the film covers a number of broadly relevant subjects, from gun rights to neo-Nazis, with considerable attention paid to issues like personal identity and assimilation.
Through the eyes of this very liberal Jewish writer, who has issues with fundamentalism of any kind, the movie inspired me at different times to both root for and against Bruk, a funny yet often infuriating man who can schmooze and kibitz with the best of them. And it is that complexity that attracted the filmmakers to the story in the first place.
"I'd read about him and his mezuzahs on the Internet, so I called him," says Peary, who wrote and directed two acclaimed feature documentaries, For the Love of Movies: The Story of American Film Criticism (2009) and Archie's Betty (2015), and was a film critic for The Boston Phoenix.  [He is currently a film critic for The Arts Fuse.] "When I spoke to him on the phone I thought he would be a good subject because he's very funny, but there's an edge to his humor."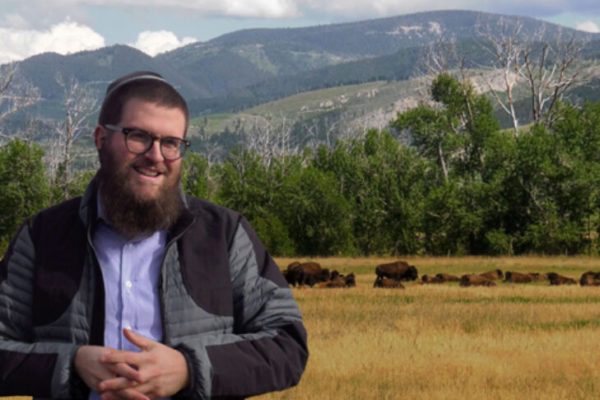 Adds Geller, whose production credits include The War That Made America (2005), For the Love of Movies (2009), and The Guys Next Door (2016), which she co-directed, "Given the polemical times we're living in, we wanted to go to a place we'd never been and meet someone who has a very different way of seeing the world."
Portly and bearded in his mid-30s, Bruk and his attractive, supportive, yet also self-empowered wife Chavie have adopted five children, including one biracial boy. As likeable as he is at first, his uncompromising orthodoxy wears over time. Similarly, those who oppose his presence and his methods of outreach seem petty early on but earn the viewers' sympathy by the end. Still, the film itself places no judgment on the man or his mission.
"Brecht said that the theater should be a courtroom and the audience a jury weighing evidence," says Peary. "The point is, you don't spoon-feed the audience, you don't tell them what to think. At the end of the movie, I would be very happy if the audience leaves feeling ambivalently about him."
One part of the film that should not produce mixed reactions is the coverage of threatening calls and messages targeting Jews (including Roston and Secher) in nearby Whitefish, Montana, instigated by the anti-Semitic website The Daily Stormer. Hearteningly, the local police and government, as well as community members of all faiths, closed ranks and supported the victims. Signs with the phrase "Love lives here" appeared in store windows and a rally was held despite freezing temperatures.
"Coming from the east coast, we have assumptions about Montana," says Geller, "but that community really stood by the Jews." "The city of Whitefish is a model for how to fight anti-Semitism," Peary agrees. "Everyone took it seriously."
Even then, Bruk was accused of co-opting the event to further his own agenda. In the film, the accusations have merit — as does Bruk's response, and that sense of seeing both sides is a pervading and prevailing theme in The Rabbi Goes West.
"We hope this film could be used in different Jewish communities to spark conversation," says Geller.
As for Peary, he'd also like the film to inspire more Jews to buy mezuzahs.
"I like the idea of people being out as Jews," he says. "Putting a mezuzah on your door is a good thing."
---
Jason M. Rubin has been a professional writer for more than 33 years, the last 18 of which as senior creative associate at Libretto Inc., a Boston-based strategic communications agency where he has won awards for his copywriting. He has written for The Arts Fuse since 2012. Jason's first novel, The Grave & The Gay, based on a 17th-century English folk ballad, was published in September 2012. His current book, Ancient Tales Newly Told, released in March 2019, combines in a single volume an updated version of his first novel with a new work of historical fiction, King of Kings, depicting the meeting of King Solomon and the Queen of Sheba. Jason holds a BA in Journalism from the University of Massachusetts Amherst.