By Jonathan Blumhofer
Julia Wolfe's Fire in my mouth is one of 2019's most memorable recordings; Donnacha Dennehy's The Hunger, a meditation on the Irish potato famine of the mid-19th century, leaves an indelible impression; Derek Bermel's Migrations is a grand celebration of one of America's great living composers at the top of his game.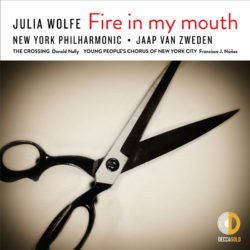 What makes a new piece of music important? There are many reasons, certainly, but three prime ingredients usually involve: how it breaks new stylistic or technical ground; speaks to the moment in some fundamental, significant way; and, lastly, that it's just good music. Julia Wolfe's Fire in my mouth, a four-movement cantata for women's chorus, children's choir, and orchestra, checks all those boxes.
Wolfe's score takes the 1911 Triangle Shirtwaist Factory fire as its point of departure. 146 workers, most of them Eastern European immigrants to the United States died in that blaze in lower Manhattan more than a century ago. Fire in my mouth doesn't tell each of their stories. Instead, it seeks to paint a broader picture of the plight of immigrants and laborers, past and present, in this country, as well as the continuing work to improve social, working, and living conditions for the least of those among us.
That's a tall order, yes, but Wolfe's a no-nonsense composer. Her musical language is rooted in Minimalism as well as the energy of the best of rock and popular music of the '60s, '70s, and '80s. And it pairs remarkably well with the work's texts, all of which are culled from primary sources.
The first movement, "Immigration," evokes a trans-Atlantic crossing, with widely spaced orchestral sonorities and shimmering, responsive choral writing. In the second, "Factory," the orchestra conjures a mechanistic din, after which a Yiddish lament is paired with a ribald tarantella. "Protest," the third movement, commemorates the efforts of early-20th-century labor activists like Clara Lemlich, while the concluding "Fire" sets the reminiscences of survivors and ends with a recitation of all the victims' names.
So how do those three points from above play out in Fire in my mouth?
Well, even if Wolfe doesn't reinvent herself, stylistically, here, the cumulative effect of her writing in Fire in my mouth is visceral. This is music that grabs you by the collar and commands your attention with its emotional directness and gestural flexibility (like the brilliantly inventive orchestral factory section of the second movement). It speaks to the day with its timeless themes of hope, suffering, perseverance, and tragedy. And, as music, it manages to be both aesthetically honest and totally approachable. In a word, Fire in my mouth is contemporary music that demands to be heard.
Its debut recording, featuring the New York Philharmonic (NYPO), Young People's Chorus of New York City, and The Crossing, leaves nothing to be desired. The Philharmonic hasn't played much Wolfe (Fire in my mouth is only the second big piece of hers they've ever performed), but they dig into this score with complete assurance and command. The vocal element – 146 voices strong – is glowingly precise in balance, diction, and tone. Jaap van Zweden presides over it all with a sure hand, demonstrating his excellence as a purveyor of new music and proving he's a worthy successor to Alan Gilbert in this department as the NYPO's new director.
The bottom line: Fire in my mouth's January premiere was one of the year's most significant. This recording is one of 2019's most memorable. Don't miss it.
---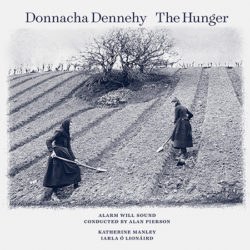 There seems to be precious little that Donnacha Dennehy has written that fails to make – or leave – a strong impression. His cantata The Hunger, a meditation on the Irish potato famine of the mid-19th century, sure does. The debut recording of its concert version, out now from Nonesuch, is a soaring, gripping document; again, an example of contemporary music speaking with immediacy.
The Hunger's narrative, such as it is, comes from Asenath Nicholson's Annals of the Famine in Ireland, an 1851 book by an American who visited Ireland at the height of the famine and chronicled her journey through the country. A soprano – here, the terrific Katherine Manley – sings Nicholson's prose. She's joined by the voice of an elderly man (an "invented" character, in Dennehy's description), which is sung by the sean-nós singer Iarla Ó Lionáird. As the work progresses, the soprano and sean-nós singers' parts become increasingly intertwined; by the end, the outsider has been absorbed into the heart of the crisis.
Dennehy's writing in The Hunger is marked by a powerful blend of Irish folk gestures (the sean-nós cantillations are never far removed from the action); rhythmic drive; and striking harmonic gestures. Microtones figure prominently in the score's texture, and hearing how they can alter the mood of each scene – accentuating the Old Man's hunger pangs in the opening "I Have Seen and Handled the Black Bread" or providing a weird sort of solace in the fourth movement's "Keening" – is both instructive and touching.
The two soloists are terrific. Manley sings Dennehy's rhythmically complex and often-chromatic lines with an effortless command. Her voice is always pure-toned and clear; you can make out every word and scenario that escapes her lips. Iarla Ó Lionáird brings a gritty authenticity to the sean-nós part.
Alan Pierson conducts Alarm Will Sound, the ensemble that commissioned the cantata, and their performance wants nothing for character, intensity, or color.
---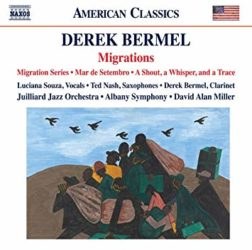 Try and pigeonhole Derek Bermel at your peril: the list of composers who are as versatile and adept at drawing on diverse musical sources as he is a short one, indeed. And one of the immediate pleasures of any of his recordings – Naxos's new Migrations album, for example – is to experience just how deftly he makes such disparate kinds of music as big band, rap, and Greek folk his own.
The biggest piece on the latest disc is Migration Series, a five-movement homage to Jacob Lawrence's series of paintings depicting the move of African-Americans from South to North during the early 20th century. Scored for big band and orchestra, it channels jazz, the blues, gospel, and hip-hop in a bracing, 30-minute argument that never fails to intrigue the ear.
Similarly beguiling is Mar de Setembro, a too-brief setting of five poems by Eugenio de Andrade. Written for Luciana Souza, Bermel's score is at once sumptuous (the setting of the eponymous text delicately evokes Debussy) and unpredictable: "Ocultas Águas" is filled with disorienting, fragmented gestures, while the concluding "Frutos" marries tango and waltz. It's not 15 minutes long – but such is the freshness of Bermel's writing that one wishes Mar de Setembro ran twice its length (or more).
The album's filled out with A Shout, A Whisper, and A Trace, Bermel's Belá Bartók-inspired response to the experience of immigrants making sense of his hometown, New York City. Its three movements alternate between bumptious high-spirits, moments of melancholy solitude, and heartfelt reminiscences for something left behind.
David Alan Miller conducts the Albany Symphony (ASO) in a vital reading of the latter: its first movement, "amerikanizalodik," never wants for energy or textural clarity; neither does the meditative, concluding "veg." The central, night-music-like "az ejszaka zeneje" shimmers mysteriously.
Souza sings Mar de Setembro with a clarity of expression and tone that's impossible to beat: she's one of Bermel's best muses and this is, arguably, one of his finest pieces. Miller draws playing of lush delicacy from the ASO throughout.
The Juilliard Jazz Orchestra is featured in Migration Series and contributes playing of moxie and spirit. There are spots (in, say, the fourth movement, "Riots and Moonshine") where one might desire a greater degree of earthiness and violence. But there's soul aplenty in "After a Lynching," and the concluding "Still Arriving" offers as triumphant a peroration as they come.
In all, it's a grand celebration of one of America's great living composers at the top of his game.
---
Jonathan Blumhofer is a composer and violist who has been active in the greater Boston area since 2004. His music has received numerous awards and been performed by various ensembles, including the American Composers Orchestra, Kiev Philharmonic, Camerata Chicago, Xanthos Ensemble, and Juventas New Music Group. Since receiving his doctorate from Boston University in 2010, Jon has taught at Clark University, Worcester Polytechnic Institute, and online for the University of Phoenix, in addition to writing music criticism for the Worcester Telegram & Gazette.