By Adam Ellsworth
Fontaines D.C. are gonna be big, or at least as big as a real rock band can be these days. And they're making it all look effortless.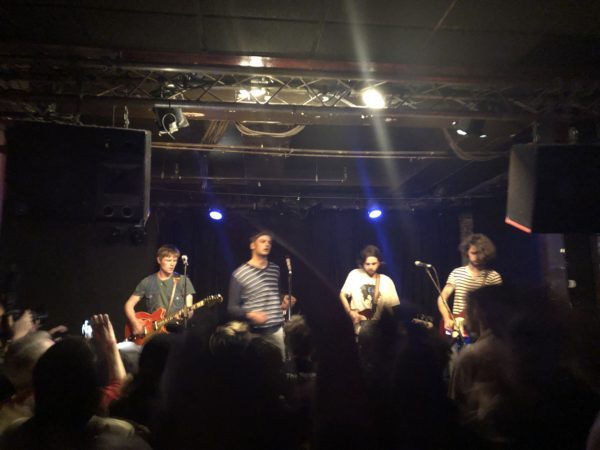 Dublin is having a musical moment right now. Bands like The Murder Capital, Just Mustard, and Silverbacks are breaking beyond Ireland and making a noise in Great Britain. Chief among these groups is Fontaines D.C., a five-piece that's not just impressing folks on the other side of the Irish Sea, but starting to make a dent across the Atlantic as well.
Fontaines D.C. are proudly and fiercely Irish, and unabashedly in love with their hometown of Dublin. In fact, the "D.C." in the band's name stands for "Dublin City," which is a testament to how much the post-punk group identifies with the place. Dogrel, their Mercury Prize shortlisted debut (and hands down my favorite album of 2019), is filled with references to the life, art, and culture of Dublin, with lyrics like "And the radio's all about a runaway model/With a face like sin and a heart like a James Joyce novel" ("Boys in the Better Land") and "The January markets filled the cold air with the sound/The boys all full of laughter and their pocket with the pound" ("Dublin City Sky").
Given all this patriotism, it's no surprise that rather than using more traditional "walk-on" music, Fontaines D.C. took the stage for their 11-song set at Great Scott in Allston Sunday night to a recording of Irish folk singer Luke Kelly reciting his "For What Died the Sons of Róisín."
For What Died the Sons of Róisín, was it fame?
For What Died the Sons of Róisín, was it fame?
For what flowed Ireland's blood in rivers,
That began when Brian chased the Dane,
And did not cease nor has not ceased,
With the brave sons of '16,
When the recording started, random chatting could be heard throughout the room. By the time it ended, the capacity audience was in total silence. As the crowd listened, fan footage shows that singer Grian Chatten was pacing back and forth in the hallway that led to the stage, presumably putting himself in the headspace required for the intensity he and his bandmates were about to unleash.
This pacing continued onstage, as Chatten walked from the amplifiers in the back to his microphone at the front over and over again until it was time for him to sing. All the while he was licking his fingers, shaking his hands, and even slapping himself on the face, as his frontline bandmates–guitarists Carlos O'Connell and Conor Curley and bassist Conor Deegan III — stood near-motionless, betraying little emotion as they uncorked a pummeling version of Dogrel's "Hurricane Laughter." In the immediate front of the stage, the fans snapped out of their silence, and the slam-dancing began.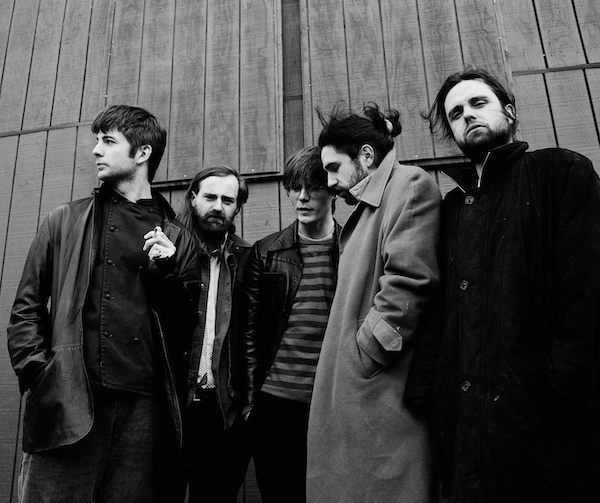 This was the pattern for the night as Chatten paced, his bandmates played, often with eyes closed and heads down, and the crowd ran into each other.  Only the Britpop-ish "Roy's Tune," which followed "Chequeless Reckless," "Sha Sha Sha," "The Lotts," "Television Screens," and the new, non-album song "Televised Mind," slowed things down enough for the crowd to catch its breath and stand still.
If this sounds repetitive and boring, it's wasn't. Fontaines D.C. live are thrilling. Musically they produce a crashing wave of sound with what appears to be, though surely can't be, minimal effort, while Chatten spits out his lyrics with a look on his face that somehow seems both dead-tired and completely wired. They hardly acknowledge their crowd (a quick "Thank you," from Chatten after "Roy's Tune," were among the first words he said all Sunday night), but it's hard to be mad at them because they're giving so much, even when it looks like they're giving nothing at all.
The reprieve offered by "Roy's Tune" was broken by the smash and grab of "Too Real," "Liberty Belle," and "Boys in the Better Land."  The set ended, as Dogrel begins, with "Big." As the opener of a debut album, "Big" can be heard as a thesis statement, similar to, though perhaps not meant to be taken quite as autobiographically as, Oasis' "Rock 'n' Roll Star" and the Stone Roses' "I  Wanna Be Adored."  As a live closer though, it sounds dead serious.
"My childhood was small," Chatten sang Sunday night with his arms outstretched, "but I'm gonna be big!"  After a full set of showing, here Chatten and Fontaines D.C. were telling. They are gonna be big, or at least as big as a real rock band can be these days.  And they're making it all look effortless.
---
Adam Ellsworth is a writer, journalist, and amateur professional rock and roll historian. His writing on rock music has appeared on the websites YNE Magazine, KevChino.com, Online Music Reviews, and Metronome Review. His non-rock writing has appeared in the Worcester Telegram and Gazette, on Wakefield Patch, and elsewhere. Adam has an MS in journalism from Boston University and a BA in literature from American University. He grew up in Western Massachusetts, and currently lives with his wife in a suburb of Boston. You can follow Adam on Twitter @adamlz24.