By Robert Israel
The MFA's Arts of Islamic Cultures gallery offers an impressive visual representation of a region's cultures, geographies, and histories.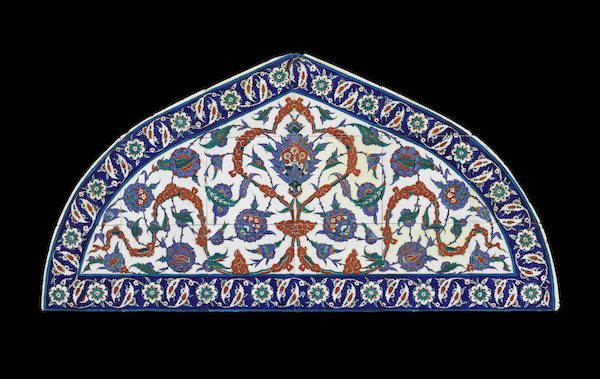 Conflicts raging in Iran, Iraq, and Syria pose major threats to ancient art and artifacts, which are housed within mosques and other historic sites. Pieces are being plundered and then sold on the black market — or, worse, destroyed.
"Islamic sites in northern Iraq, for example, continue to sustain incredible damage," Michael D. Danti, an archeologist and academic director at the American School of Oriental Research at Boston University, warns. "These include sites of ethnic and religious importance. If they haven't been plundered by looters, the bombs and mortar fire are obliterating them."
This ongoing devastation should inspire concern and some urgency, such as a visit to the Museum of Fine Arts in Boston's newly "reinstalled and reinterpreted" Arts of Islamic Cultures gallery, which recently opened. Here one can find a calming perspective  on the current cultural desconstruction, generated by a sense that at least some art has found safety. This is a space the encourages reflection and engagement — the artworks one gazes upon are far from the scorched earth of their origins. There must be a way to protect others.
There is another aspect of this gallery that is startling: its size. The MFA claims to have a vast collection of over 5,000 objects, yet only 69 of them are on display. Some of these acquisitions date to 1877, seven years after the museum was founded.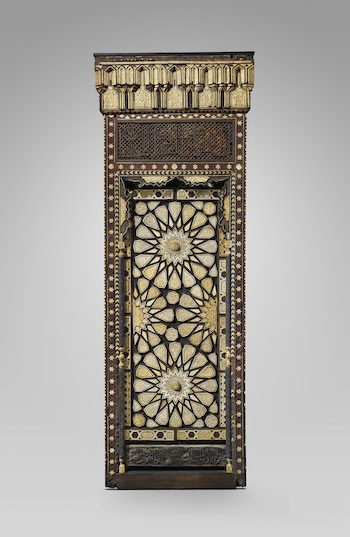 The gallery is easy to miss, but that's not because of poor signage. MFA visitors, after viewing works in larger galleries devoted to American and European art, walk past the space along a corridor that leads to the museum's restaurant, bookstore, and auditorium, which is located just beyond it.
During my visit prior to the July 20 opening, Laura Weinstein — MFA's Ananda Coomaraswarmy Curator of South Asian and Islamic Art – served as my guide. She has devoted the last eight years consulting with the Islamic community and exploring the vast trove of Islamic objects, much of which is archived in the bowels of the MFA's storerooms.
The Arts of Islamic Cultures gallery succeeds, in large part, because of Weinstein's syncretic vision. Working in concert with curators, imams, scholars, ceramicists, and other artists and artisans, she has assembled an impressive visual representation of Islamic cultures, geographies, and histories. And she has flavored the gallery with a unique Bostonian accent: there are objects acquired by early MFA benefactors as well as pieces from contemporary Massachusetts artists.
One of those objects acquired in 1877 sits at the entranceway, a Minbar, or pulpit found at the entrance to a mosque, dating from the Mamluk Period, 14th to 15th century. Weinstein explains it was purchased by the first MFA director and later donated to the museum when the MFA was located in Copley Square. It was discovered, like many other pieces, in the MFA storeroom. Now it assumes a prominent place at the gallery's entrance, offering a warm welcome to a world of faith and solemnity.
Bostonians traveled in droves to the Islamic world during the nineteenth century, Weinstein explains, and they brought back textiles, pottery, jewelry, and other objects, many of which found their way to the MFA. Not all represent the Islamic faith. Christian and Jewish objects are on display here, too, illustrating how these religions, which had their origins in the region, flourished. A silver Chanukah menorah from Algeria, for example, caught my eye because of its simplicity and elegance; I envisaged it fully illuminated, glowing with burning oil.
Opposite the menorah is a copy of the Qur'an, and outside the glass enclosure where the holy text is housed there's a headset where one listens to an imam from the Islamic Center in Roxbury read a representative chapter. The sounds of the words, intoned with a lulling musical cadence, reminded me of  how Hebrew Torah scripture strikes the ear when it is chanted, calling to mind the interwoven threads that bind all Abrahamic faiths. Hanging nearby is a 2007 porcelain plate by Cambridge artist Wasma'a Khalid Chorbachi which draws on words of the bismillah (found at the opening of most chapters of the Qur'an). Curator Weinstein selection is about creating a dialog that — at least in this room — unites faiths, eras, artists, objects, and Holy Scripture.
Weinstein says that the light-sensitive paintings in the gallery will be rotated every six months; textiles will be rotated annually. Other objects will be brought from storage and displayed.
This plan, and the gallery itself, according to Syrian-born Nasser Rabbat, a professor of architecture at the Massachusetts Institute of Technology, does not do justice to Islamic art.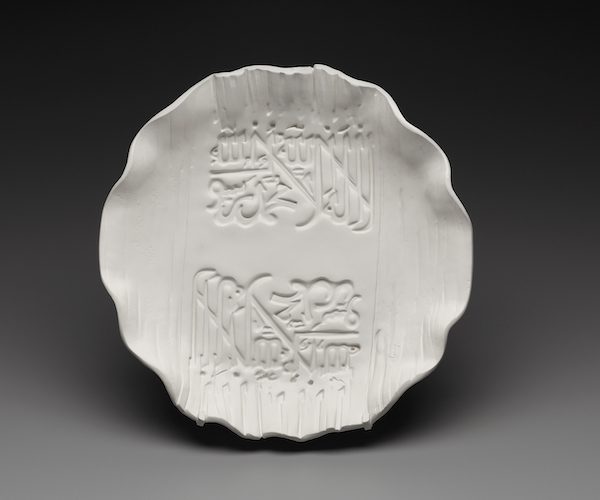 "Given the MFA's collection," charges Rabbat, "the museum needs to expand what the public views. Weinstein has done a wonderful job, but Islamic art shouldn't be sandwiched into a corridor. It deserves a larger viewing space. The museum needs to show the influence of Islamic art and how it fits into the larger history of art."
Rabbat's criticism is not lost on Weinstein.
"All curators look to have more space for works of art to be displayed," she responds, "myself included."
---
Robert Israel writes about theater, travel, and the arts, and is a former member of Independent Reviewers of New England (IRNE). He can be reached at risrael_97@yahoo.com.