By Paul Robicheau
When the 80-year-old Judy Collins, who sang at Newport in the 1960s, declares the current weekend to be "historic," you had to believe her.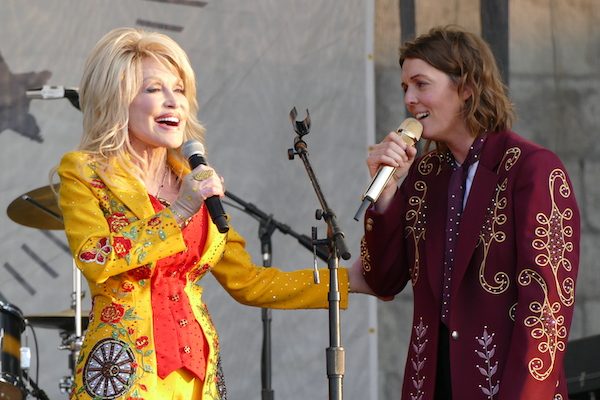 Only at the Newport Folk Festival can individual draws like Kacey Musgraves, Maggie Rogers, and Hozier become practically forgotten by weekend's end, overshadowed by the collaborative spirit and history of the event itself.
If one performer stood out for the festival's 60th anniversary this past weekend, it was Grammy winner Brandi Carlile. On Friday, she debuted the Highwomen, her new supergroup with Maren Morris, Amanda Shires, and Natalie Hemby. On Saturday, she coordinated Newport's first headlining set to feature all female collaborators, topped by radiant surprise guest Dolly Parton. And Carlile stuck around Sunday, soaring through her hit "The Joke" during a set by Hozier (who graciously enjoyed being upstaged, having hosted another cameo from the soul-quaking Mavis Staples) before taking a smaller turn in another all-star finale, a sing-along to mark what would have been Pete Seeger's 100th birthday.
"I keep thinking," singer Judy Collins mused before a lovely take on "Turn! Turn! Turn!" with its Seeger-penned chorus, "out of the corner of my eye, I see Pete over there." When the 80-year-old Collins, who sang at Newport in the 1960s (when, Carlile told the crowd, she introduced Joni Mitchell to Leonard Cohen) declares the current weekend to be "historic," you had to believe her.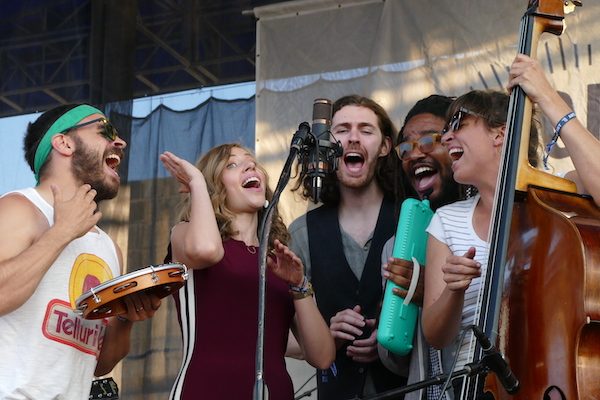 Grand collaborative themes weren't reserved for day-ending sets. Whole albums were honored. Graham Nash's Songs for Beginners got a tribute from a slew of artists including the Tallest Man on Earth, the Decemberists' Colin Meloy, and Mountain Man, culminating in the optimistic chorus of "We Can Change the World." And Newport Folk favorites Dawes reworked their debut album North Hills on its 10th anniversary (with friends including Deer Tick's John McCauley, Lake Street Dive, and soul-belting upstart Yola, who was everywhere, including an honorary turn with the Highwomen. That supergroup, whose debut album drops in September, made an ebullient first impression, especially in "If She Ever Leaves Me" (served as a genre-bending "gay country song") and a spot-on rendition of Fleetwood Mac's "The Chain" to cap an opening day rich with female performers.
Sheryl Crow led her rocking, jamming band on the Friday main stage, popping in hits "If It Makes You Happy" and "Everyday is a Winding Road," which boasted another huge surprise guest in James Taylor (unlike Parton's arrival by car, her head wrapped amid heavy security, he reportedly slipped in via boat). Kacey Musgraves' breezy country-pop from her Grammy-winning album Golden Hour fit the sun-kissed environs at Fort Adams State Park yet also benefited from her sextet's acoustic changeup (including cello, banjo, and pedal steel) in "Oh, What a World." And stars-in-the-making took over the same stage on Saturday with the stridently joyous, charismatic Jade Bird and the fast-rising Maggie Rogers, a ball of energy whose romps in a sweeping red scarf made up for her lack of robust voice (she still dug into a dance-pop take on John Prine's "Angel From Montgomery" with surprising results given that the song is owned by Bonnie Raitt and Susan Tedeschi).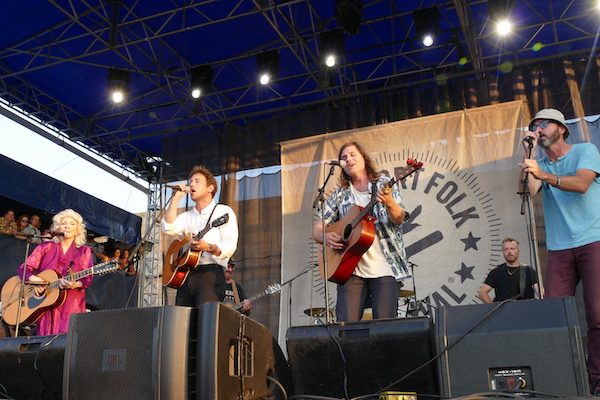 The Highwomen wasn't the only all-female act of the weekend. I'm With Her — a folk/bluegrass supergroup of its own with Sara Watkins, Sarah Jarosz, and Boston native Aoife O'Donovan – and the mainly a cappella trio Mountain Man (which includes Cambridge-bred Sylvan Esso singer Amelia Meath) favored the stark and haunting route. I'm With Her mixed it up with Watkin's fiddle accents and Jarosz's mandolin picking and added a richly harmonized take on Joni Mitchell's "Carey" that beautifully nailed the contours of the song's inflections. The banjo-rooted Our Native Daughters dug deeper with songs of African-American women's resilience, driven by roots powerhouse Rhiannon Giddens and Birds of Chicago sparkplug Allison Russell, who respectively injected fiddle and clarinet.
Lake Street Dive frontwoman Rachael Price wasn't far behind Carlile and Yola in the cameo department, and her jazzy Boston-bred R&B/pop combo's own set put a spotlight on the next generation when four girls from a summer arts program joined for an inspiring, tightly blended "You Go Down Smooth." Other female-fronted acts also impressed, particularly energized rockers Liz Cooper & the Stampede, though young soul-pop songstress Nilufer Yanya fell prey to shyness.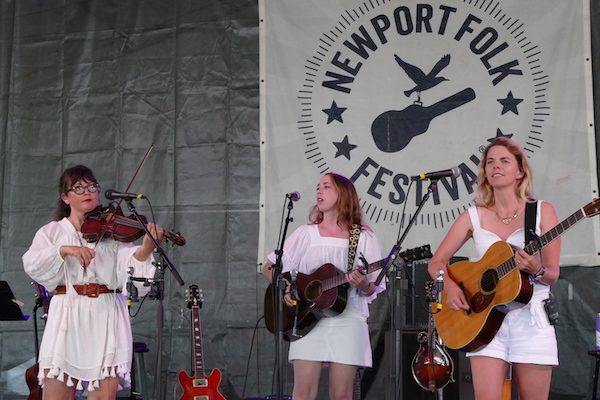 Men left their mark as well, notably singer Gregory Alan Isakov (who cast darkly hued landscapes with softly emotive songs), thoughtful African-born troubadour J.S. Ondara, optimistic soul-rocker Devon Gilfillian (who connected with the crowd by way of songs celebrating diversity and rebounding from an auto crash) and Velvet Underground-informed rocker Kevin Morby. Willie Nelson scion Lukas Nelson and his group the Promise of the Real just get better and better, rocking the mid-sized stage inside the fort walls with a panache that generates far more credit for them than appearing as Bradley Cooper's band in A Star is Born or backing Neil Young on tour. This was their second summer at Newport Folk and while Young (a white whale for festival producer Jay Sweet) still didn't materialize, Nelson's quartet ripped through "Rockin' in the Free World" like they didn't need him.
Stylistically, this year's Newport Folk leaned to indie-folk, rock (outright rock in the thrashing duo Illiterate Light and also-young, paisley-shaded Nude Party), and country. But the lineup managed to touch on blues (the crisply modernized hill-country sound of Cedric Burnside), reggae (with Stephen Marley leading a crack band that naturally delved into his famous father's repertoire) and Afro-pop. The Congolese outfit Jupiter & Okwess tore up the middle stage with polyrhythmic abandon, led by the elastic gyrations of singer Jean-Pierre (Jupiter) Bokondji. Bluegrass was additionally represented by the Infamous Stringdusters and the dynamic duo of flatpicking upstart Billy Strings and Molly Tuttle. And a Sunday morning tradition continued with the spirited New Orleans grooves of the Preservation Hall Jazz Band, which also lent horns to other stages.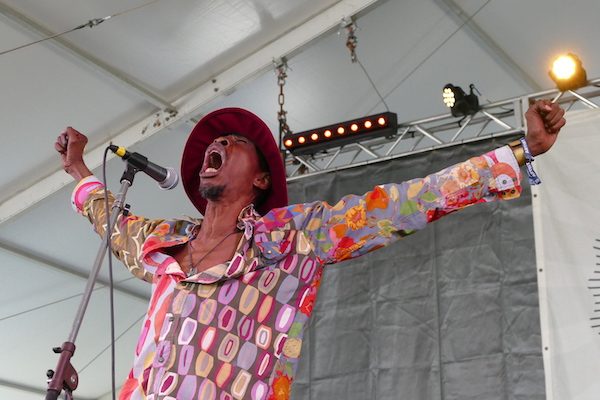 Jam-rock also infiltrated the schedule, if not always in expected form. Phish's Trey Anastasio sang his popular group's old and new repertoire on solo acoustic guitar, though loops gave him room to improvise on top. Warren Haynes fared a bit better in solo singer/songwriter mode, aided by cameos by Nelson, Jason Isbell (who popped up all over, including the Highwomen with wife Shires) and Jonathan Wilson on an import-weighed pairing of Crosby, Stills, Nash & Young's "Find the Cost of Freedom" and Bob Dylan's classic "Masters of War." On Friday, Haynes also guested with Grateful Dead bassist Phil Lesh's Terrapin Family Band, lending a high-flying slide guitar to "Almost Cut My Hair." Lesh's Friday headlining set also yielded sit-ins from Sheryl Crow (who sang and blew harmonica) and Benmont Tench (from Tom Petty's Heartbreakers), whose beefy organ wove in spacey counterpoint to Jason Crosby's electric piano to fade out a couple of jams.
But Newport Folk's tradition for collaboration hit its peaks Saturday and Sunday. Carlile, handed the keys to curate Saturday's estrogen-fueled set after a post-festival drinking session with Sweet last year, was beaming at her role, observing that Newport has always been "on the right side of history" since the civil rights era. Crow, Rogers, Courtney Marie Andrews, Price and Bridget Kearney of Lake Street Dive, Lucy Dacus and of course the Highwomen (whose Morris went under the radar with this week's No. 1 song on country radio, "Girl") all turned out for cameos. But real surprises came in Collins, songwriter/producer Linda Perry (who led fans in the chorus of her 4 Non Blondes' smash "What's Up" before actually playing the song), and of course Parton. She emerged in a yellow, embroidered coat to howls from the crowd, told jokes about her marriage (including one to set up a resonant "Jolene"), and sang a sweet duet of the Whitney Houston-popularized "I Will Always Love You" with the gushing Carlile before leading the troops in a frisky finale of feminist anthem "9 to 5."
Sunday's "If I Had a Song" finale proved even more unpredictable. The premise was a collection of classic sing-alongs, with copies of a small lyric book handed into the crowd, in honor of Seeger and the Newport-embraced motto "We're stronger when we sing together." Yet some of the choices seemed quizzically random — leaving "Under My Thumb" unsung was the right choice. A move to have My Morning Jacket frontman Jim James join a Kermit the Frog puppet in crooning "The Rainbow Connection" set an offbeat tone from the start.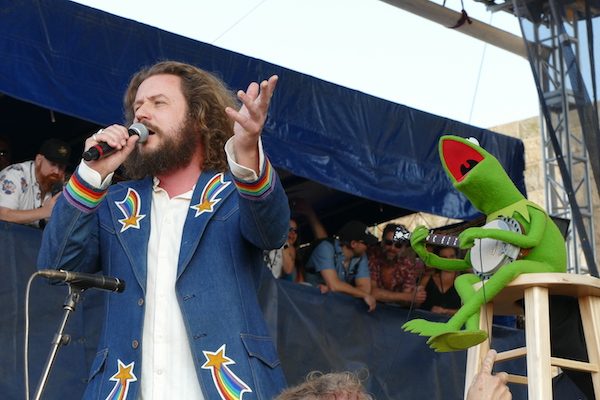 Some collaborations seemed awkward, like Anastasio's mismatch with Price for "God Only Knows," though he echoed Brian Wilson's vulnerability to her smooth harmonies. Keyboardist Tench likewise wasn't the most accomplished singer to lead Dylan's "A Hard Rain's Gonna Fall." But the iconic Staples sizzled on "Keep Your Eyes on the Prize" with Hozier and Our Native Daughters, whose Giddens stepped up to go eye-to-eye with Staples across the stage. Hozier also nestled into Lake Street Dive for a gorgeously layered sendup of Sly Stone's "Everyday People." And perhaps the biggest shock was hearing Robin Pecknold (Fleet Foxes), Eric D. Johnson (Fruit Bats), and James Mercer (the Shins) truly nail the harmonies of Crosby, Stills & Nash's "Suite: Judy Blue Eyes," only to have inspiration Collins come out in time for Pecknold to look at her for the line "Voices of the angels…"
The Decemberists' Meloy and the Milk Carton Kids led  the clear-cut choice "This Land is Your Land" and artists crowded the stage behind Ramblin' Jack Elliott for a closing "Goodnight Irene." By this time, the festival had gone 15 minutes beyond its slated 7:30 p.m. curfew. Yet there was producer Sweet — running out not to wind things down, but to goad the assembly into firing up the song for another round. The communal spell of the event was too good to let go, even if it was time to look to next year.
---
Paul Robicheau served as the contributing editor for music in The Improper Bostonian in addition to writing and photography for The Boston Globe, Rolling Stone and other publications.