By Michael Ulman
The Montreal Jazz Festival is overwhelming in a way, but somehow genial, and finally inspiring.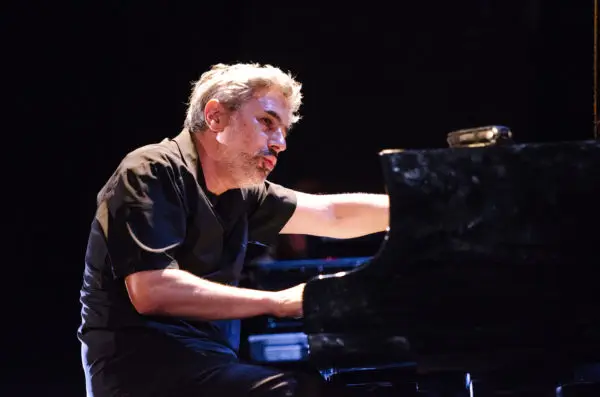 I am in the middle of the 40th Festival International de Jazz de Montreal, an eleven day extravaganza that (last night) saxophonist Christine Jensen called the best jazz festival in the world. After this year long time director André Ménard will retire. (He's still buzzing about the press room.)  But the performances will go on, as many as forty a day. And not just the forty or so indoor concerts each day: outside crowds in the thousands happily stroll the closed off streets and musicians listening to musicians play in tents, impromptu stages and stadiums.  It's overwhelming in a way, but somehow genial, and finally inspiring.
When I arrived (on the 3rd), the talk was of the overwhelming performance the night before of Josh Redman with ex-Bostonian, Aaron Goldberg. No one can cover all events — many of them are happening simultaneously — so here's a partial record of what I heard. I caught up with the festival during a twilight session at the club Astral by French pianist Jean-Michel Pilc with his trio Waves: it featured bassist Cole Birney-Stewart and drummer Michel Lambert. Pilc has a laconic speaking style and an intense, searching manner of playing the piano. When he entered, the local crowd cheered modestly. "C'est tout?" he asked. His fans were amused. He opened by challenging his mates, strumming with his fingers on the strings. It was a free improvisation, soon based on a pleasing fragment of a melody that Pilc played a dozen ways. It was also, it seemed to this listener, to present a bit of a struggle for the bassist and the drummer, who felt removed from the heart of what was going on. Things came together once Pilc started to play a series of jazz standards — in his both emphatic and indirect way. He started off with "Blue Monk," going so far as to mimic the beginning of Thelonious Monk's own famous solo on his tune. Then he went off in another direction. The drummer, Michel Lambert, opened "Body Soul," an unusual way to approach one of jazz's most famous ballads. At times, Pilc imitated the rhythms — but not the pitches — of the tune, creating a solo notable for its freshness and rhythmic life. Pilc then played a thumping version of Mongo Santamaria's "Afro Blue" and a wandering "My Favorite Things" that somehow morphed into "Taking a Chance on Love" for a bit. It was as if the shape of the phrases was more important to him than the melody or original harmonies. He didn't sound like Coltrane, but his was an enlivening, intelligent performance.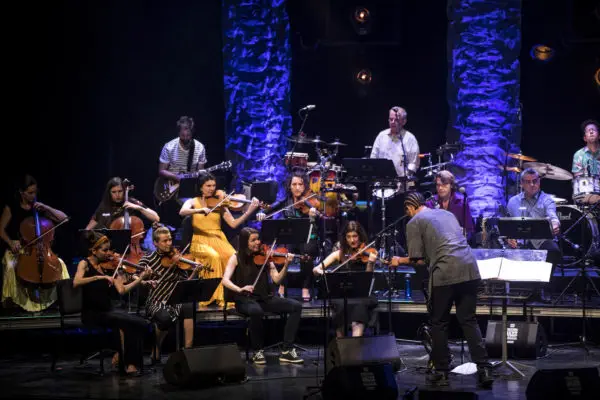 To these ears the most surprising performance was by the huge (it contained a double string quartet) Orchestre national de jazz de Montreal under the direction of Sylvester Uzoma Onyejiaka. The 24 pieces of this orchestra played a remarkable set called "The Invisible Man: An Orchestral Tribute to Dr. Dre." They played sophisticated, rocking arrangements of Dre's tunes in Onyejiaka's marvelous arrangements. Some of the sounds generated here were refreshingly distinctive: the arrangement might call for a melody stated by two flutes and bass clarinet, or a tightly muted trumpet section straining over long tones by the strings. It rocked, as one might expect, but there were also peaceful moments, sudden relaxations. The highlight for the audience, some of whom could sing along to Dre's (to me) surprisingly melodic pieces, was, of all things, a version of "Swing Low Sweet Chariot" first sung by Miranda Joan and then played by everyone. The fiery climax featured a saxophone battle between two players and then a third. The band recieved a standing ovation.
There was more for me on this Wednesday. I went to the late set led by the sweet-toned saxophonist Christine Jensen with Helen Sung on piano, Noriko Ueda on bass, and Allison Miller on drums. The New York Quartet, as Jensen called it, played originals, including the witty "Congratulations and Condolences" by Miller and "Wind Up" by Jensen, who has a touching, nuanced way of playing ballads. The highlight for me, though, was pianist Sung on her "H-Town." The H is Houston, where the pianist was brought up. It was a powerful piece, and her darting, virtuosic, and repeatedly surprising solo made this rendition particularly memorable. Look for this piece and for Sung's "In the Shadow Land."
Then I heard another crowd favorite, the Django Festival All Stars. This quintet had evidently just suffered through an American tour: their spokesman repeatedly stated (in French, of course) how happy he was to be speaking his 'proper' language. Remarkably, they served up the very identifiable style of the Quintet of the Hot Club of France with similar instrumentation (two guitars, bass, violin and accordion) — but they didn't play any of Django Reinhardt's tunes. They knew what they were doing: they were playful, a little goofy, both in demeanor on originals such as "Reel for Charlie (Chaplin)," "Late Train," and on their tribute to Toots Thielemans,  "Around Toots," which the accordionist played on melodica. They ended with "Chez Django," during which they encouraged the willing crowd to shout back the title in mid chorus.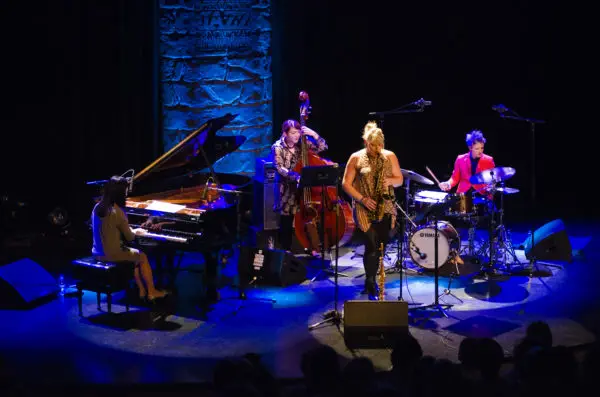 Pianist (she's called neo classical) Alexandra Stréliski could have used, I thought, a bit of goofiness. The three or four thousand Canadians in the audience wouldn't agree about what to make of this Montreal-born musician, whose set was meant to be a spiritual journey. Her musical material is determinedly minimalist, yet it is played with an intensity (and repetitiveness) that some listeners found entrancing. I couldn't find a musical idea in the sequence that seemed worthy of the attention it received from others.
More interesting to this hard-core jazz fan was the solo bass recital by Larry Grenadier, who was celebrating his remarkable new record The Gleaners ( a reference to Agnes Varda's movie by that name). He played a version of Coltrane's "Compassion," whose melody was stated in fragments decorated (or interrupted) by flurries of notes. He knows bebop, as he demonstrated with a Bud Powelll-Monk medley, but also Hindemith, whose solo viola works he openly stole from. A highlight was a touching, dramatic version of  George Gershwin's "My Man's Gone Now."  More later.
---
Michael Ullman studied classical clarinet and was educated at Harvard, the University of Chicago, and the U. of Michigan, from which he received a PhD in English. The author or co-author of two books on jazz, he has written on jazz and classical music for The Atlantic Monthly, The New Republic, High Fidelity, Stereophile, The Boston Phoenix, The Boston Globe, and other venues. His articles on Dickens, Joyce, Kipling, and others have appeared in academic journals. For over 20 years, he has written a bi-monthly jazz column for Fanfare Magazine, for which he also reviews classical music. At Tufts University, he teaches mostly modernist writers in the English Department and jazz and blues history in the Music Department. He plays piano badly.