By Helen Epstein
Opening on July 4, at a moment when immigrants and their living conditions are once again in the forefront of the news, Now Circa Then is an inspired choice.
Now Circa Then by Carly Mensch. Directed by Sean Christopher Lewis. Staged by the Chester Theatre Company, 15 Middlefield Road, Chester, MA through July 14.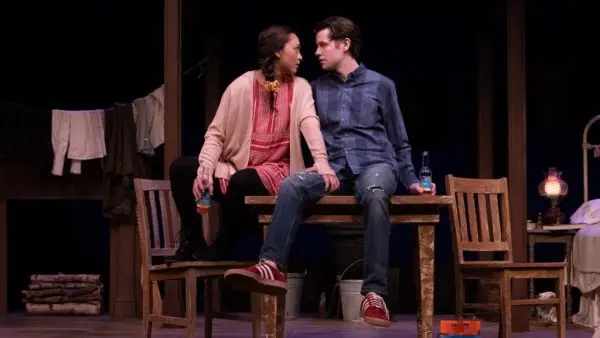 The Chester Theatre Company in the Berkshires has a fondness for intimate comedies about very young off-beat adults and Now Circa Then, a New England premiere, runs true to type. Set in an impeccably recreated apartment in New York's Tenement Museum (see Arts Fuse link), it features a tin ceiling, black coal stove, sewing machine, wood table, and line of drying clothing extending over the back of the stage. The characters are the married couple Julian and Josephine Glockner, Jewish immigrants who came to New York from Eastern Europe in 1890. Their lives are explained and re-enacted by a mismatched pair of museum workers Margie and Gideon, American millennials. Margie, who has fled her small town and family in Michigan somehow fell into the job; Gideon, an avowed history buff from the Upper West Side, sought it out after "doing" Renaissance fairs, Plymouth, the Boston Fire of 1872, Gettysburg, and a living farm museum in Iowa.
Moving back and forth between a young 19th century immigrant couple and a couple of re-enactors in the 21st is a clever and potentially very rich idea for a play. Many theatregoers have visited the many living museums around the country, where they are simultaneously tourists, students, and audiences. Through this hybrid, quasi-theatrical form of education, they learn local history and sociology while wondering about the historical characters and their relationships, as well as speculate about contemporary analogues or parallels. Opening on July 4, at a moment when immigrants and their living conditions are once again in the forefront of the news, Now Circa Then (originally produced in 2010) is an inspired choice.
Lilli Hokama, whom I reviewed when she played a housebound teenager in  CTC's production of I and You in 2017  is interesting to watch as both the refugee Josephine and the adamantly non-theater person Margie. Museums are exotic, out of the way places for her in real life. Margie has no particular interest in acting or consciousness of history – despite her (in the play and in real life) Japanese ancestry. She has taken this job on the Lower East Side only to survive in New York, belatedly where she begins to understand that she, too, is a migrant who can be enriched by understanding history. Bringing dramatic interest to this role of such an inchoate character is challenging, and Hokama for the most part rises to it.
Luke Hofmaier has more to work with in the more clearly defined role of the narcissistic city boy, amateur actor, and nerd Gideon, whose "brain is like a 24-hour history channel." Yet, beneath his arrogance, he is as lost as Margie. Defiantly, he owns no cellphone and boycotts Starbucks but, like Margie until she fled her small town, he is still living in his childhood home. The tall, lanky, and poised Hofmaier is fun to watch switching back and forth between the immigrant patriarch Julian Glockner and the callow, patronizing Gideon.
Carly Mensch is a playwright turned screenwriter (Orange is the New Black, among other TV series) and some of the scenes come off as shorthand drafts rather than final versions. As directed by Sean Christopher Lewis, however, the production moves so swiftly and entertainingly back and forth in time, that I gave up on wanting Margie to develop into a more interesting character and the plot to unfold more smoothly: I simply enjoyed the comedy.
One of the prides of the Chester Theatre Company is its resident team of designers. This production lived up to expectation: the period set by David Towlun, Heather Crocker Aulenback's costumes (in this case, drab period immigrant browns and grays, and 21st century red sneakers), Lara Dubin's lighting, and Tom Shread's sound design.
---
Helen Epstein is the author of Joe Papp: An American Life and nine other books of non-fiction. She has been reviewing for The Arts Fuse since its inception.