The Gloucester Stage Company is mounting a delightful world premiere production of a superb play.
Flight of the Monarch by Jim Frangione. Directed by Jeff Zinn. Scenic design by Cristina Todesco. Lighting Design by John Malinowski. Costume design by Miranda Kau Giurleo. Composer and Sound Design by Dewey Dellay, Staged by Gloucester Stage, 267 East Main Street, Gloucester, MA, through September 30.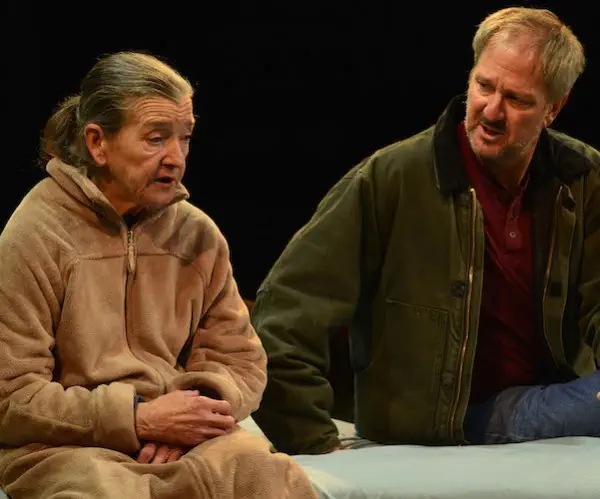 By David Greenham
Nowhere in a police report listing published in the Gloucester Daily Times or the Salem News will you find a mention of an altercation in the parking lot of the JC Penny at the Northshore Mall that ended with a local middle-aged woman punching a cop in the face. But Jim Frangione's fine new play Flight of the Monarch is so convincingly local that it could have been based on fact.
Sheila Callaghan (Nancy E. Carroll), a slight, seemingly harmless woman, became pretty angry when she was called out by another driver for parking in the spot reserved for parents with small children. Naturally, when the police arrived, things got ugly and she assaulted an officer. Punched him in the nose is what she did. She prefers to call it an "altercation" Only the premise that she must have been out of her mind saved her from jail. So here she is, in a psychiatric hospital, where they can determine whether she's mentally stable.
Her younger brother Thomas Callaghan (J. Tucker Smith) has presumably arrived when she was sleeping. He has fallen asleep in the chair in the room. Thomas isn't familiar with the details of his sister's altercation; in fact, confusion might be his normal state. All he knows for sure is that he had to show an ID and give up his knife and keys before he could get in.
What follows is an exploration of a Northeastern coastal family history: its on-going relationship with the ocean, the people, boats, and, naturally, its associated anchors, physical and psychological. In the case of the Callaghans, the heaviest weight is their mother, who committed suicide and left a torrent of feelings in her wake.
Flight of the Monarch is receiving its world premiere at Gloucester Stage after staged readings at Berkshire Playwrights Lab (where playwright Jim Frangione is co-artistic director), Gloucester Stage, and Shakespeare & Company. Frangione is an accomplished writer, director, actor, and audiobook narrator. But, most importantly, I suspect that the power of this play stems from the fact  that he was born in Hyannis. He has drawn deep on his understanding of life on the coast.
Frangione's skill with dialogue is on full display in Flight of the Monarch. His lively, realistic talk makes the story seem affectionately familiar — like your favorite old sweater. It might be a little clumpy, there might be a hole here and there but, all things considered, you'd rather wear it than just about anything. His multi-layered characters – not just Sheila and Thomas, but also their mother, their sister, Sheila's daughter Mia, and even their long-lost father, have enormous complexity and vitality. Thomas vividly describes a time when he saved a young girl who was with her family on his boat; another time he is sure he encountered their mother in the form of a hummingbird. Both events were predicted by a psychic. These memories as written and performed, cast an emotional spell.
Sheila grounds the play and Carroll, one of our most accomplished actors, imbues the character with plenty of electricity, though these sparks are mixed with the sorrow of deep loss.  The striking irony of this performance is that so much of what Sheila says and how she acts (or simply the way she reacts to her brother) is hilarious. She's wickedly funny, which makes her anger and sadness so much more painful.
It's rare that you see just a 'regular guy' on stage, and Thomas is normal to the bone. We like characters on stage to be extraordinary in some way: they should be just a little more determined than we are, or friendly, or have a bit more wisdom. They should be good people, but with a fatal flaw; or perhaps an evil person who learns to be good. The characters we like to see overcome small or large obstacles, so that we can root for them. Thomas Callaghan isn't really fit into any of those categories — but he is worthy of our attention. Why? Because playwright Frangione, with the help of director Jeff Zinn, and most assuredly the skill of Smith, has created a sort of bumbling everyman, a representation of the prosaic that is fun to watch. Together, Carroll and Smith make Flight of the Monarch whiz by.
Director Zinn moves his actors about the space with ease, twirling the script's emotional kaleidoscope with a sure hand. Cristina Todesco's economic set works perfectly. Sheila's living room sits upstage in a clump during the first act; we are stuck in the somewhat institutional psychiatric center room. At intermission, it's entertaining to watch the stage crew of two transform the bland institutional space into Sheila's cluttered living accommodations. Properties designer Jenna Worden deserves a nod for collecting and placing each paper and piece of clutter in such a way that they don't get in the way of messing up a clean and crisp scene shift.
John Malinowksi's lighting design and Miranda Kau Giurleo's costumes complete the look and feel of this New England coastline story. It's only Dewey Dellay's lazy guitar music that feels a little out of sorts. Dellay, a talented composer and designer, is usually right on target, but here the score, while acceptable, feels much more southwestern than northeastern. It is revealing that the final tune in the show, Lyle Lovett's "If I had a Boat," would, on its face, seem to be a terrific choice because of the boat reference.  But it is really a song about The Lone Ranger and Tonto.
That's okay, though. Keep the music if you like. This is a delightful production of a superb play. Soon enough it'll be performed in the southwest. But Fight of the Monarch will always have special resonance when he script is performed here, particularly on the North Shore, where you might think Sheila's story was lifted from the police report.
---
David Greenham is an adjunct professor of Drama at the University of Maine at Augusta, and is the Program Director for the Holocaust and Human Rights Center of Maine. He spent 14 years leading the Theater at Monmouth, and has been a theater artist and arts administrator in Maine for more than 25 years.