Brad Lawrence and Cyndi Freeman are planning to bring their one-person shows to Boston in the near future.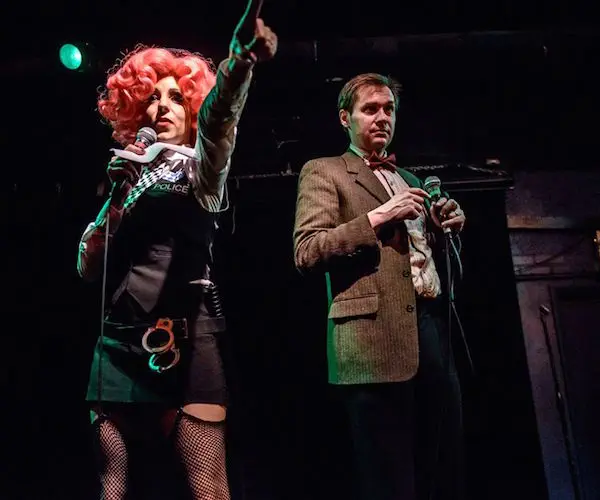 By Paul Dervis
George Harrison observed, with melancholy, "All things must pass…" My six weeks in Manhattan just did, but the trip ended with a bang!
Starting last weekend, I went to see a workshop of Richard Vetere's script Square One, performed at The Actors Studio in its Festival of New Works, a showcase of plays selected from the group's Playwright Directors Workshop. Vetere, a founding member of the organization, has been a busy man over these last few years. Two summers ago, I reviewed his Lady Macbeth and her Lover at one of New York's many festivals, and since that time he has had a novel, Champagne and Cocaine, published, as well as a book of poetry. Vetere may well be familiar to Boston audiences because of local productions of his plays Dogs and All the Way to Paradise.
Square One centers on the Daniels family, an African-American clan from Queens. They are dealing with the false arrest of its youngest member, who was falsely detained in a 'stop and frisk' by a bad cop who wanted to up his arrest record via profiling. Obviously, the piece delves into issues that face American minorities today. It is a heartfelt and painful two hours, dramatizing current headlines in a very human way. Deftly directed by JoAnna Rhinehart, Vetere's play is definitely ready for a full production.
Last night, Hotsy Totsy Burlesque performed their 2017 tribute to Dr Who, an annual show that has grown into a dependable crowd pleaser. The troupe performs a different program monthly at the Rococo Palace in the Lower East Side, The Slipper Room. Their enthusiastic audiences are surprisingly female heavy, with an accent on the Wall Street crowd.
The MC's of each show are Brad Lawrence, playing the male lead, and Cherry Pitts (our very own local Bostonian Cyndi Freeman, and Lawrence's real life spouse). Lawrence and Freeman, besides running these burlesque/ campy entertainments, are also accomplished writers and performers. Each one could be seen earlier this summer at PortFringe, the Portland, Maine theatre festival. Freeman's one-woman show I Was a Sixth Grade Bigfoot is a sad/funny play that addresses what it's like to be a misunderstood outsider struggling to survive in the often shallow world of pubescent girlhood. Lawrence's one-man show, The Gospel of Sherilyn Fenn is equally humorous, though more disturbingly blunt than his wife's. Together, they make effectively bittersweet companion pieces.
And the good news — Lawrence and Freeman are actively planning to bring these plays to Boston in the near future.
To end on an alarming note, the venerable 13th Street Repertory Company is on the ropes. One of New York's initial counterculture institutions, the theater space is now holding on by a thread. It was founded by Edith O'Hara in 1972; the Grand Dame is now 100. A decade ago a group that owns a hefty percentage of the building attempted to remove the troupe, but they and O'Hara came to an uneasy truce … but with the founder's failing health and her advancing age, time is running out.
I spent the first two years of my theater career as part of this hardscrabble theater and its politically engaged artistic community. Actors, directors, and staff often found cubbyholes to sleep in while honing their craft. I was there with Chazz Palminteri — a decade before his Bronx Tale became a hit. I was one of the countless directors of Israel Horovitz's Line, the longest running show in New York. These kind of showbiz memories are tough to eradicate.
There was an excellent article about the theatre's impending demise in The New York Times on September 1. It is a must read for those who care about the fate of this kind of vital fringe theater.
---
Paul Dervis has been teaching drama in Canada at Algonquin College as well as the theatre conservatory Ottawa School of Speech & Drama for the past 15 years.