An Arts Fuse regular feature: the arts on stamps of the world.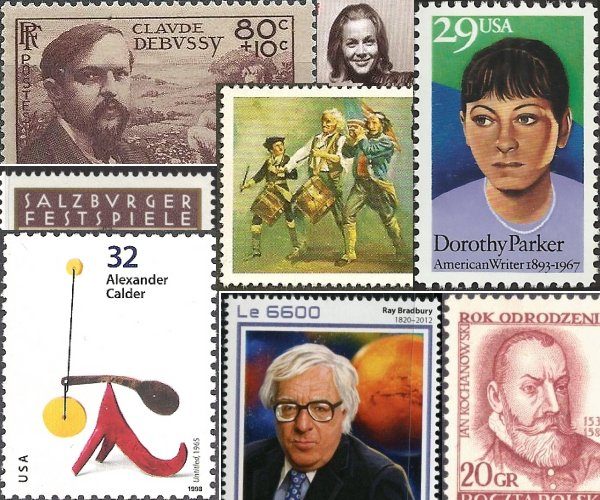 By Doug Briscoe
A very full house today. August 22 is the birthday of Claude Debussy, Dorothy Parker, Alexander Calder, Ray Bradbury, and Henri Cartier-Bresson, among numerous others.
The French stamp (at upper left) for Claude Debussy (1862 – 25 March 1918) is among the earlier issues honoring composers, having come out in 1939. (As I've said here before, the very first composer stamps were issued by Austria in 1922.) Below that, the stamp from Jersey comes from the same set containing the John Ireland stamp we saw earlier this month. At bottom left, the stamp showing Debussy seated was issued by Bulgaria for the composer's sesquicentennial in 2012. The one at bottom center was released in 2002 to mark the centenary of the première of Debussy's opera Pelléas et Mélisande.
Coincidentally, Pelléas was a rôle undertaken by one of our other birthday boys today, Edward Johnson (22 August 1878 – 20 April 1959). Outside North America Johnson went by the name Edoardo Di Giovanni. In the early years of the 20th century he was the leading tenor at La Scala and in 1914 gave the first performance in Italian of Wagner's Parsifal (under Toscanini). He made his North American opera debut in Chicago in 1919 and his Metropolitan Opera debut in 1922. Later, he became general manager of the Met, a position he held from 1935 to 1950.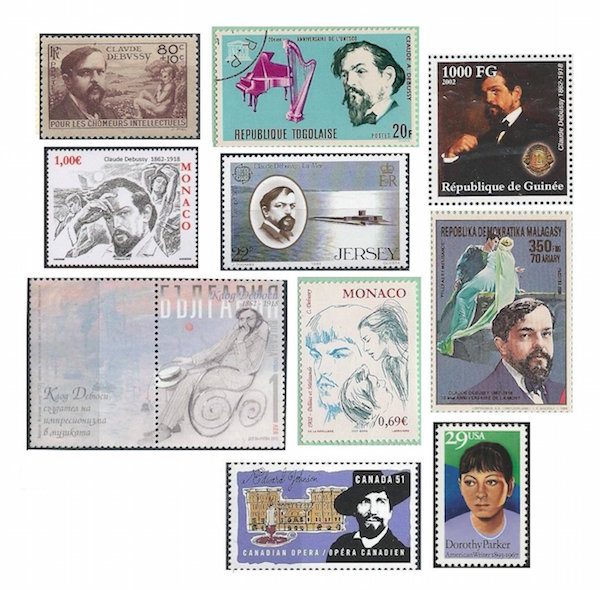 Whatever I can say about Dorothy Parker (August 22, 1893 – June 7, 1967) she could have said better. I have a bio of Parker by Marion Meade that's been sitting in my "To Read" stack for ages. Any good?
For the centenary of his birth the United States in 1998 issued a set of five stamps showing the works of Alexander Calder (July 22, 1898 – November 11, 1976). The American sculptor invented the mobile, in which suspended sections of the work can be moved by touch or the wind. The immobiles he called stabiles, and he also made wire pieces that resembled pen and ink drawings. The stamps show all these types: Black Cascade, 13 Verticals (1959), Untitled Stabile (1965), Rearing Stallion (1928), Portrait of a Young Man (c1945), and Un effet du japanais (1945). And don't forget MIT's La Grande voile (1966)! (A very similar design, Man, was created for Expo 67 in Montreal.)
A couple of years ago the USPS had a plan to issue a set of stamps honoring science fiction writers, and I'm sure one of them would have been Ray Bradbury (August 22, 1920 – June 5, 2012). I don't know why the issue was cancelled (or postponed), but in the event we must turn to Sierra Leone and Italy for currently available Bradbury stamps. The former acknowledges Bradbury's special citation Pulitzer Prize of 2007, and the latter his landmark novel Fahrenhiet 451 (the Italian edition was called Gli anni della fenice, The Years of the Phoenix). As a youngster I disliked Bradbury's stories because I found some of them too far-fetched (I particularly recall dismissing "Frost and Fire" as utterly beyond belief); but I was missing the point. Bradbury was a beautiful writer. A good example of that, I think, beyond his more well-known tales, is the sweetly nostalgic collection Dandelion Wine (1957), about the idyllic childhood of a boy named Douglas (Bradbury's middle name). Bradbury's dearest (grownup) friends included Charles Addams and Ray Harryhausen.
French photographer Henri Cartier-Bresson (August 22, 1908 – August 3, 2004) came from an affluent merchant family that allowed him to pursue his interests, which included not only photography but also music and painting. He learned English from his nanny and at Cambridge. If there was a single event that determined Cartier-Bresson's commitment to photography, it was seeing Hungarian photographer Martin Munkacsi's picture Three Boys at Lake Tanganyika (1930), after which he put aside his paintbrush. "I suddenly understood that a photograph could fix eternity in an instant." He traveled throughout Europe and held his first photography show in New York in 1932. Returning to Europe, he worked with Jean Renoir and acted small parts in a couple of films. During WWII Cartier-Bresson was a prisoner of war for three years before escaping and joining the Resistance. His career in photojournalism had already begun in 1937 (with the coronation of King George VI), and he went on to cover Gandhi's funeral and the end of the Chinese Civil War. In the later decades of his life he largely turned away from photography and resumed painting. He was honored on a French stamp in 1999, five years prior to his death at age 95.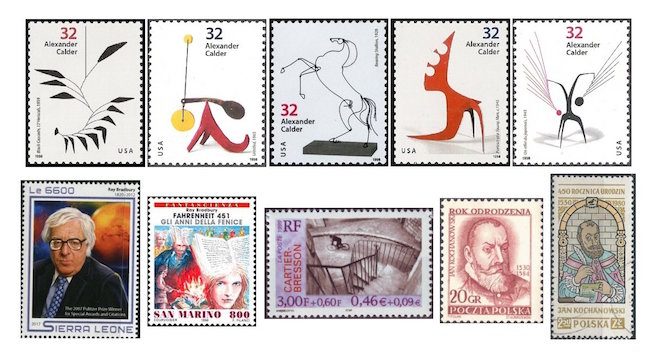 Besides our birthday artists today, we have one who died on this date. Considered the finest Polish poet before Mickiewicz and the greatest Slavic poet before the 19th century, Jan Kochanowski (1530 – 22 August 1584) was already fluent in Latin by the age of fourteen. He attended universities at Krákow, Königsberg, and Padua. On traveling to France he met Pierre de Ronsard (whose birthday is next month). From the age of 29 he was back in Poland, serving for a time at the royal court. Although he also wrote in Latin, Kochanowski's importance to Polish poesy cannot be overestimated. He not only adapted foreign forms to the language but created some of his own. He wrote the first blank-verse tragedy in Polish, Odprawa poslów greckich (The Dismissal of the Greek Envoys, 1578), as well as a collection of 19 poems on the death of his infant daughter, Treny (Threnodies, 1580), and his much more light-hearted Fraszki (Epigrams, published 1584), modelled to some extent on Boccaccio. Chess lovers will be intrigued by his poem on that topic, the story of which was reconstructed in 1912 as an actual game.
The American painter Archibald MacNeal Willard (August 22, 1836 – October 11, 1918) is known, really, for just one picture, The Spirit of '76, but it's a dandy. (In fact, its alternative title was Yankee Doodle). Several versions of the painting exist, with the original hanging in Abbot Hall in Marblehead. Willard, who was born and died in Ohio, painted the canvas around 1875. 101 years later, the USPS issued this nice strip of three stamps, one of its multiple designs for the bicentenary. Many other countries paid tribute to the United States on that occasion, and a few of them also used Willard's famous work. Here are examples from India, Nicaragua, Tunisia, and Grenada Grenadines.
As his verse seems to lend itself well to music, Swedish poet Gustaf Fröding (22 August 1860 – 8 February 1911) has been a popular source for popular music lyrics in Sweden. I find no settings, however, among the country's "classical" composers. Fröding is also regarded as one of the major poets of the language. The latter half of his life was plagued with mental illness, alcoholism, and diabetes.
Now here's something out of the ordinary, philatelically speaking. The German author Gorch Fock (22 August 1880 – 31 May 1916) has no stamp, but he does have two ships that were named for him, and the ships have stamps! I'm going to take the high road and avoid any jokes regarding the name Fock, especially as it wasn't the writer's real name anyway. He was born Johann Wilhelm Kinau on an island in the Elbe River in Hamburg, and he knew the sea—his father was a fisherman, he worked for a shipping company, he served in the German navy, and the sea was his subject. Fock wrote his works in the Low German (Plattdüütsch) dialect of the North, also using the pen names Jakob Holst and Giorgio Focco (I kid u not). After serving in World War I in Serbia, Russia, and at Verdun, he requested a transfer to the navy and was killed at the Battle of Jutland. His best known work is Seefahrt ist Not! (a literal translation, if not a particularly resonant one, would be Seafaring Is Danger! Maybe a better English title would be The Hazards of Earning a Living as a Fisherman on the Island of Finkenwerder, or perhaps The Perfect Storm or Sharknado). The navy went on to name two training windjammers for him, the first in 1933 and the second in 1958. Both are still afloat. The earlier ship was claimed as war reparations by the Soviet Union and renamed the Tovarishch, and even that version has a stamp! After sailing briefly under the Ukrainian flag in the 90s and lying for years in drydock, the ship was returned to Germany and rechristened with its original name. In the meantime, a second Gorch Fock had been commissioned in 1958, and that ship shows up on a North Korean stamp (go figure!) and a German stamp of 2008 for the vessel's 50th anniversary. If they go on making ships with this name they could call the fleet the Cluster Fock. So much for the high road.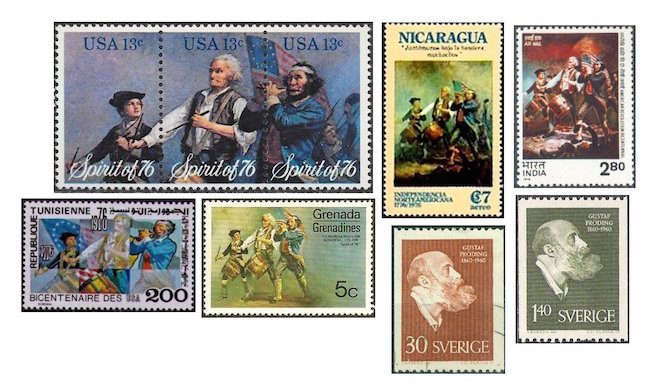 American cartoonist George Herriman (August 22, 1880 – April 25, 1944) was the creator of the comic strip Krazy Kat, which ran from 1913 to 1944. Herriman was born to mixed race parents in New Orleans and grew up from the age of ten in LA. (Evidence in his work suggests he was troubled by his ethnicity; certainly he kept it a secret from his colleagues, passing for "Greek".) He worked as a newspaper artist (illustration and engraving), with his first comic strip appearing in 1902 (!), after a move to New York. Krazy Kat first appeared as a character in a 1910 strip and got his own series three years later. The character is one of those chosen for a USPS sheet of popular comics issued in 1995. Herriman also illustrated the Archy and Mehitabel books by Don Marquis.
American screenwriters Julius (August 22, 1909 – December 30, 2000) and Philip Epstein (August 22, 1909 – February 7, 1952) are best known for their collaboration with Howard E. Koch on the script for Casablanca (1942). This deservedly won the Oscar for Best Adapted Screenplay in 1943. Julius Epstein was also nominated for three other Oscars: the musical Four Daughters (1938) and two adaptations from novelist Peter De Vries, Pete 'n' Tillie (1973) and Reuben, Reuben (1984). The Epstein brothers' other memorable screenplays were for The Man Who Came to Dinner (1942), Arsenic and Old Lace (1944), and Mr. Skeffington (1944), and after Philip's death, which affected Julius profoundly, Julius wrote The Tender Trap (1955) and others. There is no stamp for the Epsteins, but there is one from Sierra Leone for Casablanca, so here's looking at you, kids.
We remain in the field of screen entertainment for our next subject. Happy birthday to English actress Honor Blackman (born 22 August 1925). She was the first female partner (before Diana Rigg and Linda Thorson) for The Avengers spy John Steed, played by Patrick MacNee. These episodes, in which Blackman played the character of Dr. Cathy Gale, were not shown in the United States. She went on to create the iconic role of Pussy Galore in the James Bond classic Goldfinger (1964). She has also worked on the stage and as a singer. At 92, she continues to work and has appeared in a film as recently as 2015.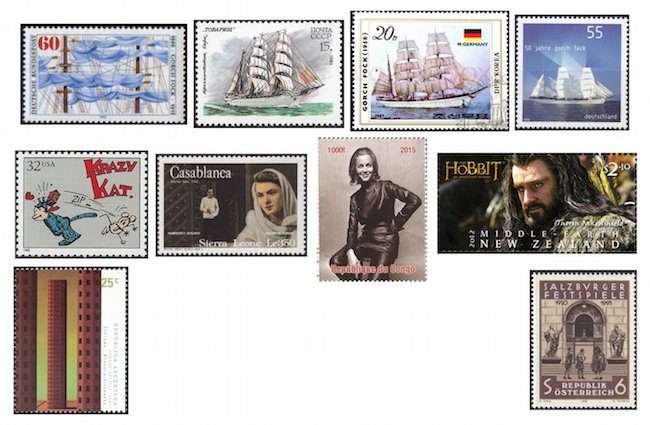 And a happy birthday to another English star of stage and screen (and voice over), Richard Armitage (born 22 August 1971), who took on the role of Thorin Oakenshield, leader of the dwarves, in the Peter Jackson Hobbit trilogy.
The Argentine painter and sculptor Roberto Aizenberg (22 August 1928 – 16 February 1996) was the descendant of a "Jewish gaucho", a man (one of many) who took advantage of Argentina's welcoming immigration policy (for the purpose of expanding agriculture in the country) to escape the pogroms of his native Russia and find a new life. Aizenberg himself started in architecture and turned to painting, but the fascination with the former infuses much of his later work, as can clearly be seen in the Argentine stamp of 2001. He held his first exhibit in Buenos Aires in 1958. As a result of the brutal military dictatorship that controlled the country from the mid-1970s, all three of his wife's children and their spouses went missing and remain so to this day. Aizenberg lived in Paris and Italy before returning to Argentina in 1984.
The first official Salzburg Festival took place 97 years ago today, on August 22, 1920. On that occasion, only Hugo von Hofmannsthal's Jedermann (Everyman) was performed. Music became a feature of the festival the next year, and opera the year after that, when Richard Strauss conducted Mozart's Don Giovanni with Richard Tauber. The first festival hall went up in 1925. (There had been an older music festival in Salzburg, held at irregular intervals between 1877 and 1910.)
I'm a bit surprised to find no stamps for sculptor Jacques Lipchitz (22 August [O.S. 10 August] 1891 – 16 May 1973), not particularly surprised that there isn't one yet for E. Annie Proulx (born August 22, 1935), and not at all surprised that there aren't any for Leni Riefenstahl (22 August 1902 – 8 September 2003).
---
A graduate of the University of Massachusetts with a B.A. in English, Doug Briscoe worked in Boston classical music radio, at WCRB, WGBH, and WBUR, for about 25 years, beginning in 1977. He has the curious distinction of having succeeded Robert J. Lurtsema twice, first as host of WGBH's weekday morning classical music program in 1993, then as host of the weekend program when Robert J.'s health failed in 2000. Doug also wrote liner notes for several of the late Gunther Schuller's GM Recordings releases as well as program notes for the Boston Classical Orchestra. For the past few years he's been posting a Facebook "blog" of classical music on stamps of the world, which has now been expanded to encompass all the arts for The Arts Fuse.