An Arts Fuse regular feature: the arts on stamps of the world.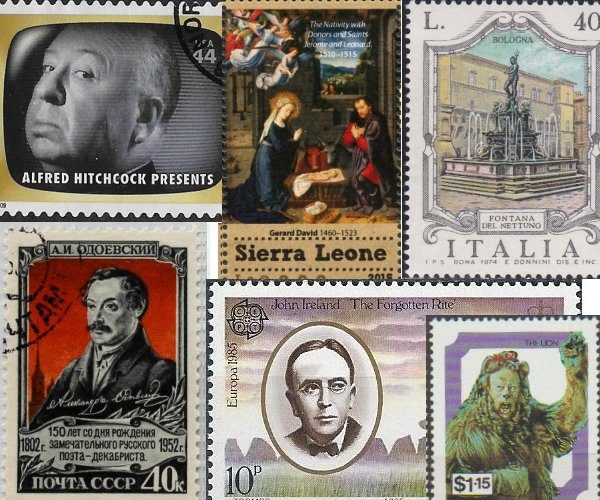 By Doug Briscoe
The most recognizable name on today's birthday list is that of Alfred Hitchcock (13 August 1899 – 29 April 1980), whose image can be found on two postage stamps from the United States, the first a near-centennial issue of 1998 and the second from a sheet of popular TV shows. Hitch also appears on a British stamp and a couple of sheets from Sierra Leone, from which I show one stamp.
Actually, today is not the birthday of Netherlandish painter Gerard David, which is unknown (some time around 1460), but the day on which he died in 1523. He was born in Oudewater and spent most of his life in Bruges, where he became the foremost painter after the death of Hans Memling, whom we just celebrated here the day before yesterday. David went on to become head of the city's artists' guild. Mostly known for his religious paintings, he was completely forgotten until the middle of the nineteenth century. The United States chose his vividly colored Rest on The Flight into Egypt (c1510) for its 1979 Christmas issue. A later treatment (1523) of the same subject appears on a stamp from the New Hebrides. The Baptism of Christ, the center panel of a triptych dated c1505-08, is seen on a stamp from Cambodia. Next to this on the Belgian stamp is purportedly a detail of Mary Magdalene, but it's from a painting I'm not otherwise able to identify. The next row begins with Nativity with Donors and Saints Jerome and Leonard (c1510-15, stamp of Sierra Leone) and Madonna and Child with the Milk Soup (c1510-15, stamp of Fujeira). Merely attributed to David is this Virgin and Child, seen on stamps from both Aitutaki and Benin.
Despite his Italianate name, the sculptor Giambologna (1529 – 13 August 1608) also came from the Low Countries, born Jean Boulogne in Douai. He was about 21 when, after studies in Antwerp, he moved to Rome. There Pope Pius IV commissioned him to work on the Fountain of Neptune in Bologna (shown on the Italian stamp of 1974). Giambologna created the Neptune and uppermost figures, while the base and its lactating nereid sculptures were executed by the painter Tommaso Laureti. (Incidentally, it was the trident design from this statue that was the model for the logo of the Maserati car company.) Although this may be Giambologna's most famous work, most of his creative life was spent in Florence, where he contributed to another Fountain of Neptune. Another celebrated piece is The Rape of the Sabine Women (1574–82).
Prince Vladimir Fyodorovich Odoevsky (13 August [O.S. 1 August] 1803 – 11 March [O.S. 27 February] 1869) has been called the "Russian Hoffmann" because, like E.T.A. Hoffmann, he was a music critic who wrote fantastic tales. In one of these, dated to the late 1830s, he essentially predicts elements of the internet and an idea similar to Facebook, whereby people by means of interconnected "magnetic telegraphs" send one another "household journals" containing "family news, various thoughts and comments, [and]…invitations." Odoevsky was also a philosopher, literary critic, magazine founder and co-editor (in the latter capacity he worked with Pushkin), museum curator, philanthropist, pedagogue, and scientist who contributed to the development of electroplating!
The English composer and teacher, organist and choirmaster John Ireland was born on this day in 1879. He loved the Channel Islands, visited them often, and wrote music inspired by them, including the piano pieces The Island Spell (1912) and Sarnia: An Island Sequence (1940). For this reason, he is honored on a stamp issued by the Bailiwick of Jersey, which, like its sister bailiwick Guernsey, has an imprimatur from the Crown to issue its own postage stamps. (The Forgotten Rite, cited on the stamp, is an orchestral prelude that has no connection to the Channel Islands, however.) He studied under Stanford at the Royal College of Music from 1897 and taught there from 1923, Benjamin Britten and Ernest John Moeran being among his students. Wikipedia informs us: "Ireland retired in 1953, settling in the small hamlet of Rock in Sussex, where he lived in a converted windmill for the rest of his life." He died on June 12, 1962.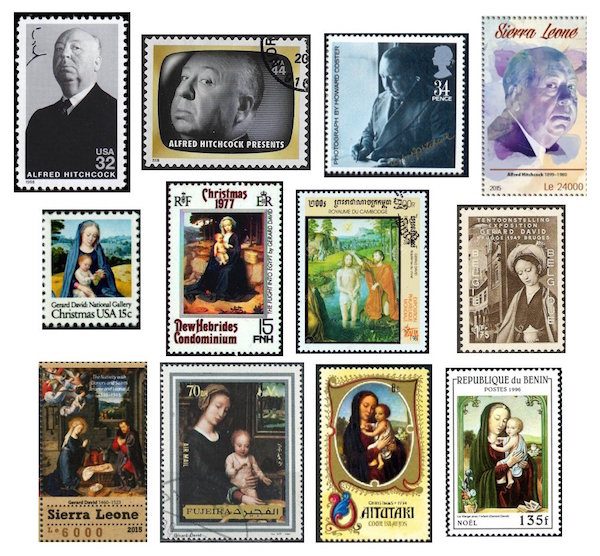 János Mattis-Teutsch (13 August 1884 – 17 March 1960), whose name is rendered in a number of different spellings and configurations, was an artist of Romanian and Saxon background, born in Transylvania, which at the time was in Austria-Hungary. He went to Hungarian- and then German-language schools and spent those heady artistic years in the art centers of Budapest, Munich, and Paris. Among the various exhibitions in which he took part was the 1924 Contimporanul show, in which his paintings were on display alongside those of Paul Klee, Kurt Schwitters, Constantin Brâncuși, and Hans Arp, among others. Mattis-Teutsch was active also a sculptor, graphic artist, art critic, and poet. The 2004 Romanian stamp shows his Composition (1923).
Another painter from Eastern Europe was the Czech artist Jaroslav Grus (13 August 1891 – 13 October 1983). He was successively inspired by Impressionism, Fauvism, and Socialist Realism and received numerous state awards. Otherwise, information about him seems rather difficult to come by. The Czech stamp of 1973 shows his contemporaneous Flowers in Window (1972).
American actor Bert Lahr (August 13, 1895 – December 4, 1967) was the Cowardly Lion (and farmhand Zeke) in The Wizard of Oz. Born Irving Lahrheim in New York City, he worked more on the stage—and very successfully—than he did in the movies. Here are a few surprises for you. He played Estragon in the US premiere of Waiting for Godot! (This was opposite Tom Ewell at the Coconut Grove Playhouse in Miami in 1956.) On the other end of the spectrum, he had been considered as a replacement for the Three Stooges' Shemp Howard. His son John is married to John Cleese's ex-wife Connie Booth (Polly on Fawlty Towers). Bert Lahr died during the filming of The Night They Raided Minsky's.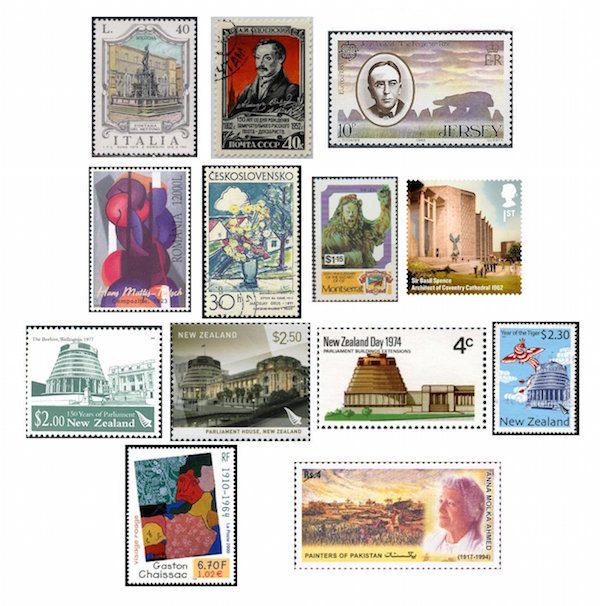 Scottish architect Sir Basil Spence (13 August 1907 – 19 November 1976) is best known for the buildings shown on the stamps: Coventry Cathedral and the "Beehive" in Wellington, New Zealand. Born in Bombay, Spence was granted a scholarship at the Edinburgh College of Art. He worked under Edwin Lutyens in London, then returned to Edinburgh until the war. He was involved in the D-Day landings and rose to the rank of major. Ten years after the Luftwaffe bombing of Coventry in 1940, Spence's design for a new cathedral was chosen. He insisted that the surviving portions of the old 15th-century cathedral, the spire, the wall behind the altar, and other fragments, remain in place next to the new building. Spence received a knighthood for this project. As for the "Beehive", properly the Executive Wing of the New Zealand Parliament Buildings, it was erected between 1964 and 1977 and shows up on at least four stamps of New Zealand. Most of Spence's buildings are in Britain, but he also designed the British Embassy in Rome in 1971.
French painter Gaston Chaissac (13 August 1910 –7 November 1964) is about equally known for his extensive correspondence and his poetry. Almost entirely self-taught, he was encouraged by his artist neighbors Otto Freundlich and Jeanne Kosnick-Kloss. "A new master is born," said Freundlich, and Chaissac's work was praised by Albert Gleizes, Raymond Queneau, and Jean Dubuffet, with whose Art Brut movement Chaissac came to be associated. Afflicted with ill health from childhood, Chaissac's renderings of the human figure typically appear gaunt or seem to express suffering, as in the case of his Red Face (Visage Rouge, 1962), shown on the French stamp of 2000.
Today is the centenary of the Pakistani artist Anna Molka Ahmed (13 August 1917 – 20 April 1995—or 1994, according to Pakistan Paedia and Russian Wikipedia). She was born Molly Bridger in London to Jewish parents from Russia and Poland and converted to Islam on her marriage to her Royal College of Arts pupil Sheikh Ahmed in 1935. They relocated to Pakistan in 1939. In 1940 she was instrumental in creating the Fine Arts Department at the University of Punjab (now the College of Fine Arts and Design), the first such institution in the country to admit women. Ahmed also wrote poetry. She is seen on her postage stamp along with her painting A Village Outside Lahore.
---
A graduate of the University of Massachusetts with a B.A. in English, Doug Briscoe worked in Boston classical music radio, at WCRB, WGBH, and WBUR, for about 25 years, beginning in 1977. He has the curious distinction of having succeeded Robert J. Lurtsema twice, first as host of WGBH's weekday morning classical music program in 1993, then as host of the weekend program when Robert J.'s health failed in 2000. Doug also wrote liner notes for several of the late Gunther Schuller's GM Recordings releases as well as program notes for the Boston Classical Orchestra. For the past few years he's been posting a Facebook "blog" of classical music on stamps of the world, which has now been expanded to encompass all the arts for The Arts Fuse.