An Arts Fuse regular feature: the arts on stamps of the world.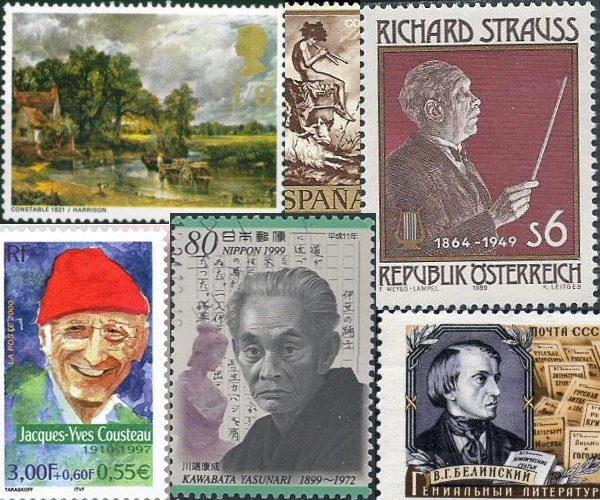 By Doug Briscoe
Marry, good gentles, 'twas but some dayes past that mine honourable patron the inestimable William of Marx hath writ unto me, imparting he would, in good sooth, sharpen his bodkin to redress the manifest hurt done unto his favourite, Master Ben Jonson should he, I mean the valiant Ben, be struck to the quick by most injurious slight of postal oblivion. This selfsame cause to address, have I with ardent perséverance sought to soothe my lord of Marx his wroth. And lo! mayhap his high and haughty rage may be assuagèd by these means: look you now, I have a thing discoverèd that maketh modest trial to guerdon the thrice-worthy Ben. 'Tis but a trifling toy, I warrant, and maye not suffice the grave offense t'assuage, so stiffen up the mettle for these most grievous news, and yet prepare the soul to solace with mollifying remedy. Nay, there is, alack, no stamp to grace the name of England's great poet Ben Jonson (c. 11 June 1572 – 6 August 1637), but there is a stamp from Nicaragua (what be this faery place of name so uncouth to English ears?) that offereth a painting by Karel van Mander, a Dutcher contemporaneous with Ben and the mighty Bard, that portrayeth them both. Be that all and nothing more—an if this will not serve, beshrew me, I am undone. As Ben himself might say—well, actually, did say—
Droop herbs, and flowers,
Fall grief in showers,
Our beauties are not ours…
He was not of an age, but for all time!
Another great Englishman of later date (two centuries later, and two centuries from us) was the painter John Constable (11 June 1776 – 31 March 1837). Constable, though, is reasonably well represented on postage stamps, with Britain having issued a stamp of his famous Hay Wain (1821) away back in 1968. Next to it, on a stamp from Cuba, is Malvern Hall in Warwickshire (1809). Much more recently, the African nations of Côte d'Ivoire and Guinea have released two sheets. The lovely Ivoirian issue has as its backdrop one of the artist's favorite subjects, Salisbury Cathedral From the Meadows (1831); the stamp at right offers another view: Salisbury Cathedral from the Bishop's Grounds (c1825); and the group portrait is of The Bridges Family (1804). (At the bottom right of the sheet is Portrait of John Constable, dated 1796, by Daniel Gardner.) The generous sheet of nine stamps from the Republic of Guinea gave me some trouble: I could successfully identify only six of the paintings: at upper right A Cottage in a Cornfield (1833), at center left, I think, is Weymouth Bay (1816); next to it is, again, Salisbury Cathedral From the Meadows; in the bottom row we have Golding Constable's Flower Garden (1815), Dedham Lock and Mill (1820), and Brighton Beach (1824). I welcome additional information.
Today's third titan is German composer Richard Strauss (1864 – 8 September 1949; no relation to the waltzing Strausses). He is best known (in these degenerate times) as the composer of the Theme to 2001: A Space Odyssey. Actually, it's the introduction to his great, half-hour long tone poem Also sprach Zarathustra (Thus Spake Zoroaster) after Nietzsche. Some of Strauss's most beautiful scores, including the Oboe Concerto and the Four Last Songs, were written in what they used to call old age. The two stamps in the middle row were both issued three years ago for the sesquicentennial of Strauss's birth.
Portuguese composer Carlos Seixas (SAY-shas; 1704 – August 25, 1742) succeeded his father as cathedral organist at the age of fourteen. Although much of his work was destroyed in the famous Lisbon earthquake of 1755, around a hundred keyboard sonatas did survive, along with three orchestral pieces and a few sacred choral works. There is a story that when Seixas went to study with Domenico Scarlatti, the older composer graciously said that it was he who should be studying with Seixas.
German instrument maker Matthias Klotz was baptized at the beautiful town of Mittenwald on June 11, 1653. His exact birthdate is unknown. His father was a tailor, but Klotz showed an early interest in music and instruments and was allowed to be apprenticed at age 12 to a lute maker in Padua. (Imagine the difficulties of arranging an apprenticeship in a foreign country with a foreign language for an ordinary person in a small town in 1665! He must have been blessed with adoring parents.) Klotz defied our modern stereotype of the thwarted, short-lived artist—he lived to be 90, passing on 16 August 1743.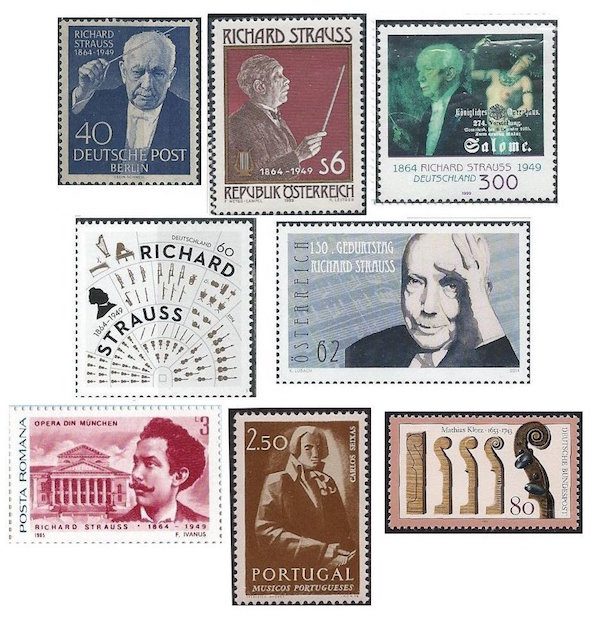 My Lord of Marx will no doubt be pleased to learn that there are stamps for Russian literary critic Vissarion Belinsky (June 11 [O.S. May 30] 1811 – June 7 [O.S. May 26] 1848). He was born in what today is Finland, then moved to Penza before attending Moscow University. In St. Petersburg he became a critic with two important literary magazines. He was a Westernizer who put the individual above other considerations and thus condemned serfdom, repression of women, the insolence of office and the law's delay, while also railing against the effects of poverty, prostitution, drunkenness, and so on. It was for circulating one of Belinsky's letters that Dostoevsky was arrested and sent to Siberia. Belinsky was an associate of Herzen and Bakunin and encouraged and worked with the younger poet and publisher Nikolay Nekrasov. Belinsky was about to be arrested when he died of tuberculosis a few days short of his 37th birthday. His centenary was widely celebrated in 1910, and the Soviet Union honored him with at least three stamp issues, the first, from 1948, comprising a set of three of differing colors and denominations.
Spain has remembered native son Marià Fortuny (Marià Josep Maria Bernat Fortuny i Marsal; June 11, 1838 – November 21, 1874) with a set of ten stamps of his paintings from which I've chosen five to share with you. Orphaned at twelve, Fortuny was brought up by his grandfather and encouraged in his artistic pursuits by older artists, one of whom helped him get into the Academy of Barcelona, where he earned a scholarship for further study in Rome. Not yet out of his teens, he was commissioned by the government to document the Spanish-Moroccan War (the 19th-century version of being "embedded"). The result was his huge and, alas, unfinished masterpiece The Battle of Tetuan (1862-4). A detail from this fifteen-meter wide canvas is seen on the four peseta value stamp. Others from the 1968 set are one of his self-portraits (I can't find a date for this one), Fantasy on Faust (1866, a portrait of pianist Joan Baptista Pujol River playing a piano fantasy on Gounod's opera), Idyll (1868), and Old Man in the Sun (1870). Like Vissarion Belinsky, Fortuny lived only into his thirties, succumbing to the effects of malaria at 36. Much more of his work can be seen on this Catalonian Wikipedia page.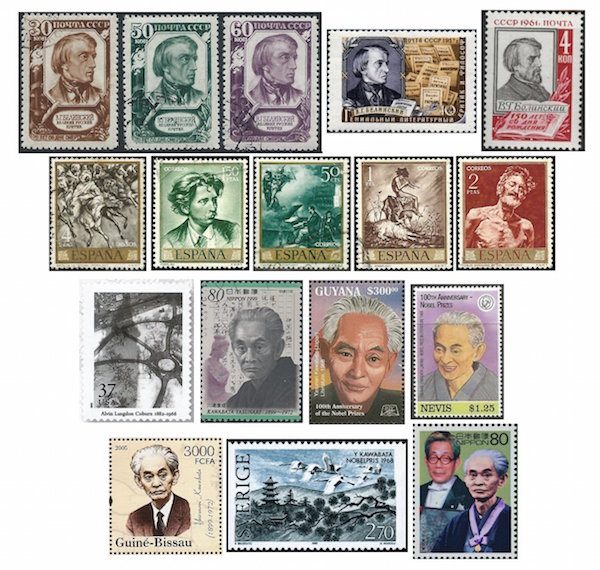 Bostonian Alvin Langdon Coburn (June 11, 1882 – November 23, 1966) received a camera as a gift when he was eight, and within a few years he was proficient in both photography and processing. It happens that he had a cousin, F. Holland Day, who was already a famous photographer, and from him Coburn received tuition and encouragement. Day took him to an exhibition in London (adding one of the seventeen-year-old's photos in the show), and Coburn went on to Paris, where he studied for a few months with Edward Steichen. Then, on his return to America, he had lessons with Gertrude Käsebier in New York. He had a one-man show when he was just 21. The next year he was back in London, where from 1904 to 1906 he made photographic portraits of G. K. Chesterton, George Meredith, H. G. Wells, Henry James, and others. There is much more to Coburn's story, including his experiments in abstract photography, his invention of the "Vortoscope", and his pioneering work in capturing images from great heights, as exemplified in The Octopus (1912), seen on the stamp from a 2002 sheet celebrating American photographers. What to me is an enormous tragedy is that in later life Coburn lost interest in photography and destroyed some 15,000 of his negatives. He lived many years in Britain and became a British citizen in 1932.
Time for another Nobel Prize winner. Today it's Japanese novelist and short story writer Yasunari Kawabata (11 June 1899 – 16 April 1972), who was awarded the prize in 1968. He was the first Japanese author to win. Kawabata was an orphan at the age of four and lost both his caretaker grandparents by the age of fifteen. These losses are reflected in the isolation of many of Kawabata's characters. He contributed to literary magazines, worked as a reporter, and started a journal in 1924. His first claim to national prominence came with the novel Snow Country, one of three books cited by the Nobel committee. He repudiated Japanese militarism, but neither was he in favor of post-war political reform. Kawabata himself regarded The Master of Go (1951) as his finest work, although the two other novels named by the Nobel committee were Thousand Cranes (1949-52) and The Old Capital (1962). His death by gas is not definitely attributed either to suicide or accident. Again there are rather more stamps for him than I would have expected—seven—with the second Japanese one also saluting fellow Nobel Prize winner Kenzuburō Ōe.
We celebrate two Greeks from the film world on this June 11: it was on this date in 1985 that actress Sapfo (Sappho) Notara (born c1907) died, and it's the birthday of Michael Cacoyannis (11 June 1921 – 25 July 2011), who directed Zorba the Greek in 1964. Notara, née Chandanos, worked on the stage and as a singer as well as an actress known for playing comical aunts and housewives. Cypriot filmmaker Cacoyannis was nominated for Academy Awards a total of five times. One of these films was Elektra (1962), which did win several international prizes that year, including the Grand Jury Prize at Cannes. It is Elektra, starring Irene Papas and Aleka Katselli, that we see referenced on the stamp.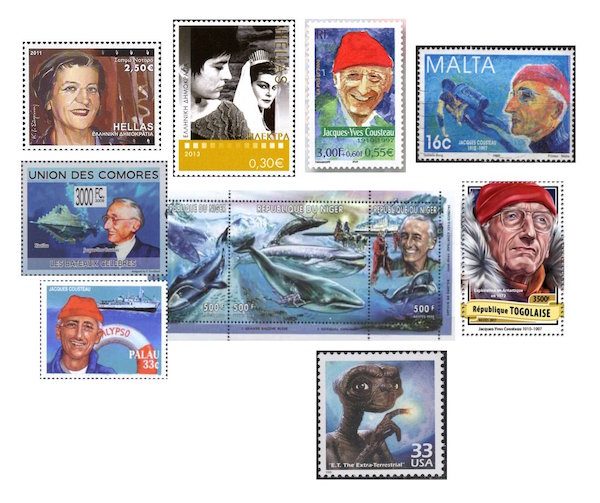 When I went looking for stamps for Jacques Cousteau (1910 – 25 June 1997), who I thought should be included here for his work as a documentary filmmaker, I hardly expected to find such a mass of them! His native France and the island nation of Malta are joined by the Comoros Islands, Palau, Niger, and Togo (plus several others not shown) in honoring the distinguished explorer, conservationist, scientist, photographer, and author.
Finally today, we note the premiere on this date 35 years ago of Steven Spielberg's E.T. the Extra-Terrestrial.
Honorable mention, in lieu of stamps, goes to William Styron (June 11, 1925 – November 1, 2006), the late lamented Gene Wilder (born Jerome Silberman, 1933 – August 29, 2016), and Tyrion Lannister, I mean the greatly gifted American actor Peter Dinklage (born June 11, 1969).
---
A graduate of the University of Massachusetts with a B.A. in English, Doug Briscoe worked in Boston classical music radio, at WCRB, WGBH, and WBUR, for about 25 years, beginning in 1977. He has the curious distinction of having succeeded Robert J. Lurtsema twice, first as host of WGBH's weekday morning classical music program in 1993, then as host of the weekend program when Robert J.'s health failed in 2000. Doug also wrote liner notes for several of the late Gunther Schuller's GM Recordings releases as well as program notes for the Boston Classical Orchestra. For the past few years he's been posting a Facebook "blog" of classical music on stamps of the world, which has now been expanded to encompass all the arts for The Arts Fuse.