We're losing Lewis's generation of Depression-bred, Borscht Belt-weaned entertainers with their un-ironic neediness for laughs and their canny way of getting them.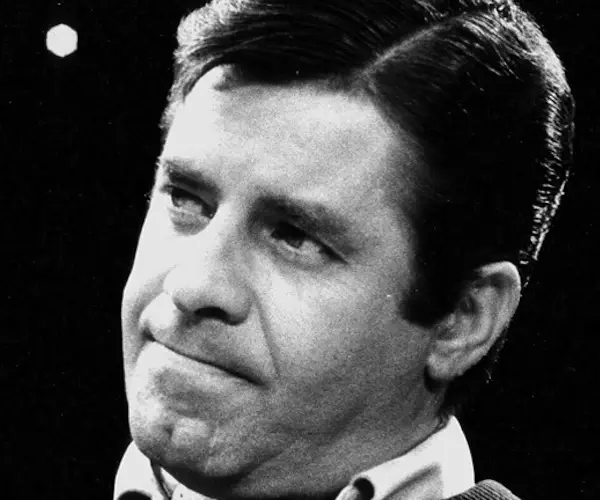 By Betsy Sherman
Aw, nuts. Jerry's gone.
It's not that I'll stop being a Jerry Lewis obsessive just because our Dear Leader has passed away at age 91. It's that there's a space where that big personality—the irritant that produced those pearls, his movies—used to be.
His work stands on its merits, and I'll keep watching the ones he directed, like The Nutty Professor, The Ladies' Man, The Bellboy, and ones he acted in, like Artists & Models, The Disorderly Orderly, etc. (maybe some Boston-area theater will play the movies on a big screen, please please please). I'll watch and laugh and look for subtexts, like I've been doing for decades. Complex work by a complicated man—believe me, there's a lot going on underneath that "Hey, lay-dee!"
I've called my fandom "love-hate" as a kind of short-hand, but there was never any hate: it's love for both the light side of Jerry's creative work and his philanthropy, and the dark side of the off-screen Jerry Lewis as jaw-dropping showbiz gargoyle. We're losing his generation of Depression-bred, Borscht Belt-weaned entertainers with their un-ironic neediness for laughs and their canny way of getting them.
To plagiarize something I wrote about Jerry years ago:
I sincerely honor his talent as a comic actor and filmmaker, but I live for his glorious contradictions, some of which were captured by Martin Scorsese in the movie The King of Comedy. I love the ingratiating funnyman who can be breezy, then pedantic, then maudlin, then downright bilious, and for a finale stick a water glass in his mouth, a pencil up each nostril and clap like a walrus.
Now this will have to be past tense, he "could" instead of "can."
That life force came in so many forms: the wacky/ballsy "Kid" character that took the country by storm when paired with handsome smoothie Dean Martin; the confident, innovative filmmaker who used his screen self as raw material in a string of comic classics in the early 1960s (followed by some interesting-to-deconstruct flops later in the decade); the beloved-in-France icon whose filigreed pontification has been lovingly recreated in Martin Short's impression; the tireless Muscular Dystrophy Association Telethon host who'd bond so movingly with a child one moment and then have a tantrum directed at his bandleader the next; the mature actor who had a series of small but choice roles in the '80s and '90s and debuted on Broadway in Damn Yankees; and the Kid in old age, who'd make cringe-inducing pronouncements (a biggie for him was proclaiming the un-funniness of women comedians).
Oh, the bookmarking I'd do whenever he'd make an outrageous statement while on some tour in, say, Australia. My most recent link was to last year's disastrous on-camera interview with a Hollywood Reporter writer, which got off on the wrong foot and became a nightmare: it's called "Jerry Lewis interview painful awkward awful 7 minutes."
Alas, no more.
I myself got the painful-awkward treatment (thankfully, not on camera), when I interviewed Jerry in his dressing room during the Broadway run of Damn Yankees in 1995. He didn't care for my questions, and when I could have used some pontificating, he gave short, flat answers. But did he give me a performance to treasure: he pulled in the stage manager and demanded that if the guy whose job it was to toss Jerry his cane for a big tap dance number was off by a fraction of a second, the guy was to be fired. This was Broadway, so he was right—but launching into this tirade in front of a writer with a tape recorder going? Gloriously wrong, and so Jerry.
There were powerful forces driving Jerry Lewis, and one strain of fanatics has a terrific time speculating on and analyzing those forces (our bible is Shawn Levy's biography King of Comedy: The Life and Art of Jerry Lewis, and our audio passion is Gilbert Gottfried's Amazing Colossal Podcast). Jerry's creations were intriguing icebergs (with a lot beneath the surface) as well. Of course we're still waiting to meet one Jerry character, Helmut Doork—hero of the unreleased, legendary concentration-camp drama The Day the Clown Cried. Made in 1972 in Sweden, it's a film that Lewis didn't speak about for years, but some clips have become available recently.
There was sweetness in Jerry's comedy (occasionally to the point of syrupiness), and the man would extol, in that Martin-Short-impression cadence, "the good 'n' the nice 'n' the love." But I stand with the gritty Jerry, the egomaniacal Jerry, the journalist-eviscerating Jerry, the S.O.B. Jerry. I stand with Buddy Love, the Mr. Hyde character in The Nutty Professor And I raise a toast with Buddy's drink of choice, an Alaskan polar bear heater. Sir, you were one of a kind.
---
Betsy Sherman has written about movies, old and new, for The Boston Globe, The Boston Phoenix, and The Improper Bostonian, among others. She holds a degree in archives management from Simmons Graduate School of Library and Information Science. When she grows up, she wants to be Barbara Stanwyck.