Collectors and serious blues fans will want to own this invaluable set.
Down Home Blues: Detroit, Weinerworld, 3 discs, $38.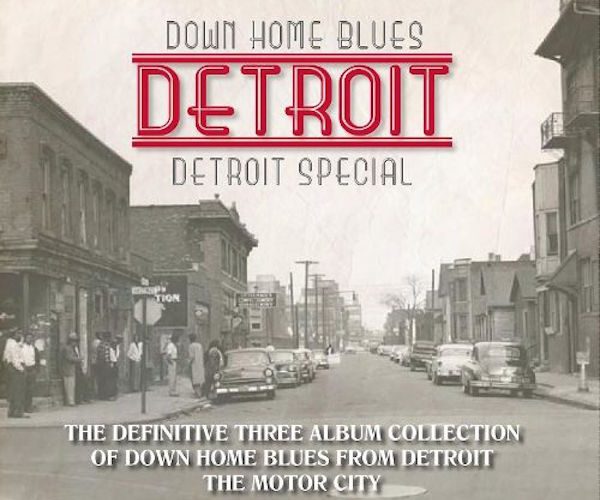 By Michael Ullman
The cover of this box of blues recorded between 1949 and 1961 boldly proclaims that, with its 82 tracks by 21 artists, it is "The Definitive Three Album Collection Of Down Home Blues From Detroit The Motor City." That is technically correct, though there is competition: a three disc collection Detroit Blues: Blues from the Motor City 1938-1954 that is on JSP Records. There is some overlap: the sets feature the same 19 songs by one of the stars of Detroit blues, Baby Boy Warren. Collectors and serious blues fans, though, will want both sets.
Thanks to the car industry, WWII, and the general unpleasantness of life in the South the black population of Detroit doubled in the 1940s. Nonetheless, the city did not, as in Chicago, develop a specific style of the blues. The informative notes to this collection suggest why: the African-American migrants came from a wide swath of the South, approximately 18 percent from Alabama, 17 from Georgia, and 13 from Mississippi. Delta migrants flooded into Chicago, so the city's blues were largely influenced by musicians from Mississippi, who created an updated version of the blues. I call it orchestrated Robert Johnson. (Listen to Johnson's "Dust My Blues" and then the electric version by Elmore James and you'll hear the connection.) Chicago also had the benefit of the thoughtfully progressive Muddy Waters and the energetically retro Howling Wolf. More significantly, it had the Chess brothers, who tirelessly recorded, supported, and sold Chicago blues on their Aristocrat and Chess Record labels. Their offices were a gathering point for blues musicians, who evolved the city's style as they learned to play with and for each other.
In contrast, Detroit blues were recorded more haphazardly, and the results reflect that. The undoubted star of the Detroit scene was John Lee Hooker, whose first hit, the seemingly improvised tune "Boogie Chillen," celebrates Detroit's Hastings Street, which was then at the center of the city's blues world. Down Home Blues: Detroit includes seven of Hooker's early, rare sides, including his lament to "Miss Lorraine" and his "Talking Boogie." No one, though, could generate a school based on Hooker's idiosyncratic style, which was predicated on one or two chords and rarely, if ever, followed the typical 12 bar form. Many bands and musicians tried to imitate Hooker, including Muddy Waters, but they floundered in their attempts to sound like a man could mesmerize even as he whimsically changed tempo.
Guitarist Baby Boy Warren grew up in Memphis, where he started his career, appearing on Sonny Boy Williamsons' radio show for Helena, the King Biscuit Hour. In 1942, he moved to Detroit to work in the car industry. Five years later he started a fitful recording career on a half dozen small labels. It's a pleasure to have his lazy, graceful blues available again, particularly "I Got Lucky." Bobo Jenkins was just as distinctive a player: he is represented in this set by a dozen sides, including the topical "Democrat Blues," made after the Eisenhower election. He criticizes the American electorate: "The democrats put you on your feet, baby,/ and you had the nerve to throw them out."
Listeners will also be drawn to the driving songs of Eddie Burns, including "Superstition." Others will no doubt be enticed by the early recordings of a man I first heard in 1970: Doctor Ross the Harmonica Boss, who was a one-man band when I heard him. Here, on numbers such as "Cat Squirrel," he leads a rhythm and blues band. ("Cat Squirrel" seems to be a version of "Catfish Blues.") The collection also wisely gathers blues performed by Eddie Burns, Eddie Kirkland, and other deserving but neglected musicians. It took a half dozen collectors to gather together the recordings in Down Home Blues: Detroit — and this collector is grateful.
---
Michael Ullman studied classical clarinet and was educated at Harvard, the University of Chicago, and the U. of Michigan, from which he received a PhD in English. The author or co-author of two books on jazz, he has written on jazz and classical music for The Atlantic Monthly, The New Republic, High Fidelity, Stereophile, The Boston Phoenix, The Boston Globe, and other venues. His articles on Dickens, Joyce, Kipling, and others have appeared in academic journals. For over 20 years, he has written a bi-monthly jazz column for Fanfare Magazine, for which he also reviews classical music. At Tufts University, he teaches mostly modernist writers in the English Department and jazz and blues history in the Music Department. He plays piano badly.