The harder Sarah Ruhl attempts to disclose (or force) similarities between the powerful then and now, the further away she gets from making substantial points, satiric or otherwise.
Scenes from Court Life, or the whipping boy and his prince by Sarah Ruhl. Directed by Mark Wing-Davey. Staged by Yale Repertory Theatre at University Theatre, 222 York Street, New Haven, CT, through October 22.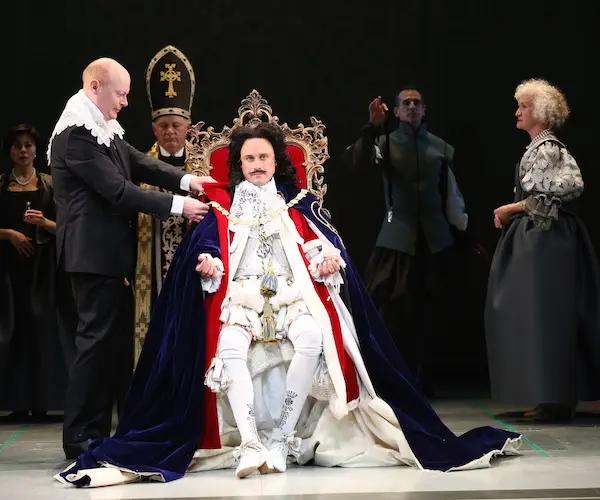 By Justin Sacramone
As we storm to the conclusion of a political season in which the campaign motto for a major presidential candidate is pure nostalgia ("Make America Great Again"), historians, journalists, twitter yowlers, etc, are trying to figure out when (or if) we were ever all that great. American dramatists are putting in their two cents, with one of the most celebrated of our contemporary playwrights, Sarah Ruhl (via a commission from Yale Rep), picking through the entrails of American and British history in Scenes From Court Life or the whipping boy and his prince in a quest to figure out how our sense of who we were shapes who we are now.
Court Life takes a nonlinear look at two political and royal dynasties at the apex and decline of their power: the Stuart family of 17th-century England and the Bush family of 20th-and 21st-century America. The action begins on a tennis court (two-ton pun intended) as the Bush family discusses Jeb's political aspirations to run for the governorship of Florida. George Sr. (T. Ryder Smith) and Barbara (Mary Shultz) are obviously smitten with Jeb (Danny Wolohan), who is personable, intelligent, and a far better candidate in their eyes than elder son George Jr. (Greg Keller), who is envious and desperately wants to make his father proud. In an effort to garner maximum attention he announces his intention to run for office at the same time as Jeb.
We are then tossed backwards in time and introduced to a young Charles II (also Greg Keller) and his whipping boy (also Danny Wolohan).The latter is among the poorest sods on the royal family's payroll; his only job is to endure the beatings earned by Charles II's  misbehavior. Charles II has grown to like the whipping boy and is rooting for him to move up the ladder. Pinging and ponging back and forth between the two timelines (like a tennis match!) we get the idea Ruhl is telling us that Jeb is playing the whipping boy to George Jr.
The problem with Ruhl's time-skipping experiment is obvious: Why are these two stories being intertwined? What, beyond the tiresome one-joke juxtaposition, is the disjointed narrative telling us of interest about the mentality of our ruling political junta? The harder Ruhl attempts to disclose (or force) similarities between the powerful then and now, the further away she gets from making substantial points, satiric or otherwise. In place of substance, Ruhl's script is festooned with distractions; there's excessive theatricality, such as a bloodbath execution scene, and musical episodes filled with singing and choreography.
Court Life would have worked if its lampooning had dug deeply into rotten foundations of the Bush family. Ruhl tries to explore how the Bush family turned itself into a political machine, but most of the scenes serve up stale anecdotes and cliches, settling for easy chuckles. Interesting possibilities are thrown away: a tense moment when President George W. Bush learns there are no weapons of mass destruction in Iraq would have been an opportunity to use the play's device of parallel circumstances with the Stuart family to unpack how royals feel when they have been forsaken by the Divine. Instead, Ruhl chooses to skip the Stuart clan and give us George W. in a painting class where he learns the term "perspective."
Fortunately, though Ruhl's script lacks vitality, Yale Rep's cast and design team make up for the cartoon ennui considerably. The ensemble of eight principal actors are double and triple cast and portray a wide range of characters from both families. Familiar political archetypes are sent up in high, precise, and entertaining stylizations. The personalities of King Charles I and George Sr. are not all that charismatic, but there's plenty of delight in watching how T. Ryder Smith portrays both characters differently and sometimes similarly.
Director Mark Wing-Davey transitions between the timelines well, but other elements of his staging are as heavy-handed as the script. The opening moment presents us with a traditional, regal dance setting, with Olde England making way for a rollicking hoedown. The ham-fisted culture shock is clear to the point of banality. Most writers playing with time — from H. G. Wells on — usually manage to be more surprising.
Marina Draghici's set (she also did the costumes) takes place on a "real" tennis court in act one; different worlds and eras impishly sit hidden behind doors on the upstage wall. In the second act the set evolves into an increasingly expressionistic playing space. Stephen Strawbridge's lighting design enhances the feel of a gymnasium/tennis court with hanging fluorescent lights.
Philip Roth once memorably quipped that the outrageousness of American reality overwhelms the imagination of even our best writers. The intellectual thinness (Stoppard-lite?) of Court Life suggests that Ruhl is yet another victim of our homegrown buffoonery.
---
Justin J. Sacramone is a producer, director and dramaturge who received his Bachelor of Fine Arts in Theatre from Salem State University in 2012. Justin has been a theatre critic with Broadway World and an adjudicator for the Massachusetts Educational Theatre Guild since 2014. He has produced for the Creative Entertainment Studios of Walt Disney Imagineering & The Orlando International Fringe Festival.