With an artist as focused and sharp as Danilo Pérez as its musical director, Jazz 100 makes you sit up straight and hang on every note.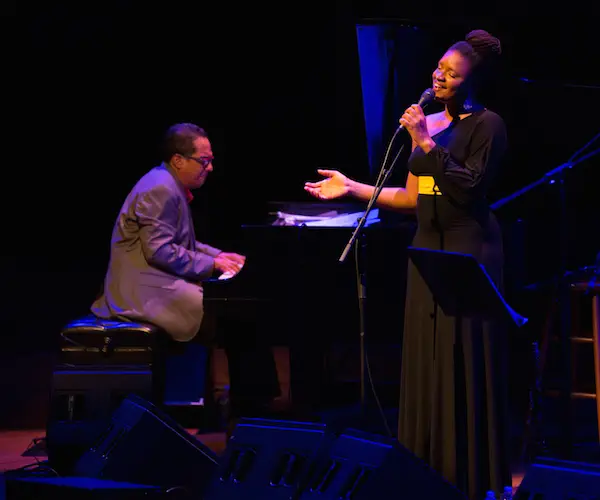 By Steve Elman
[Disclosures: I received press tickets to this event from the Celebrity Series. I'm indebted to Victor L. Schermer for information about the arrangers of each piece, found in his October 7 allaboutjazz.com article.]
Danilo Pérez's current project, "Jazz 100," is a septet with vocalist built around a Concept. On many occasions, Concept can get in the way of Execution, but not this time.
The basic idea should be familiar to anyone who knows the work of SFJAZZ Collective: you form an ensemble of top-class talent (any of whom could lead a band on his or her own), give each one a tune by a jazz master to arrange as innovatively as possible, and turn them loose to play their butts off. Others have noted the similar approaches of the two groups, and in fact, Jazz 100 opened for SFJAZZ Collective on October 7 in Costa Mesa, California. But Jazz 100 is setting some distinctive parameters of its own, and it more than fulfilled its potential in last Sunday's concert at Sanders Theater, which was presented as part of the current Celebrity Series season.
In a moment, the pleasures of the music … but first, a somewhat wordy raison d'etre for the band's name: 2017 marks the 100th anniversary of the release of the first commercial recording to use the words "jass" or "jazz" on its label – a 78 by the Original Dixieland Jazz Band. It also marks the 100th anniversary of the births of three jazz giants – Dizzy Gillespie, Thelonious Monk, and Ella Fitzgerald. So Pérez conceived of Jazz 100 as a way of getting the anniversary year underway a bit early (see Marketing 101), honoring some musical pioneers, and bringing some venerable tunes up to date. He stretched the concept a bit to get Latin music into the act and simultaneously commemorate the 95th birthday of one more giant, Mongo Santamaria.
With this broad a mandate, the band could have gone in almost any direction, and their concerts could be billed as "All-Stars Play the Classics," with all the tedium that implies. But with an artist as focused and sharp as Pérez as its musical director, and his regular rhythm partners Ben Street and Adam Cruz providing the foundation, Jazz 100 makes you sit up straight and hang on every note.
The band is a tribute to Dizzy Gillespie more than to any of its other forebears. This makes sense: Pérez worked for three years as pianist with the trumpeter's last working ensemble, the United Nations Orchestra, and Gillespie's pioneering efforts to bring Latin music into full partnership with jazz is one of his lasting legacies, so the two share much common ground. Pérez complemented the usual section of piano, bass, and drums with the addition of Havana-born percussionist Román Diaz, who showed that he is just as strong a singer of santería chants as he is a player of congas. That decision revived the spirit of another pioneer, Cuban conguero Chano Pozo (born 1915) and ensured that Jazz 100 would have more than just a Latin tinge.
The program reflected the tilt to Gillespie right away. Pérez intro'd the music with tape of Gillespie's inimitable speaking voice, which led directly into bassist Ben Street's arrangement of "Jessica's Day," a Quincy Jones tune that was part of the United Nations Orchestra's repertoire. But this wasn't some cut-price version of a big-band flagwaver. Street rethought the whole thing, brightening the tempo (the original rides on a light, medium-slow groove which wouldn't work for a lead-off tune) and adding an introduction, an improvised duet by Pérez and trumpeter Avishai Cohen. Cohen set a virtuoso standard immediately, evoking Lee Morgan and Miles Davis as much as Gillespie. With the entrance of the full ensemble, saxophonist Chris Potter and trombonist Wycliffe Gordon showed they had the chops and smarts to match Cohen note for note. Street gave himself a mini-spotlight on the bridge of the tune, and then it was off to the races, with solos by each of the horns leading into a collective improv at the climax.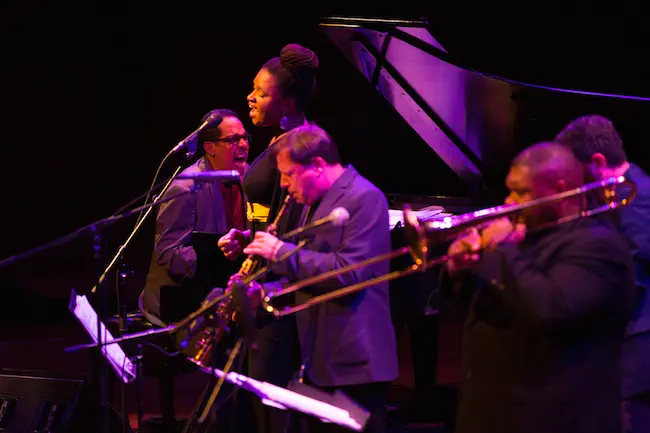 The follow-up (without any pause for applause) was even more ambitious, possibly the most adventurous music of the evening – a reduction of George Russell's "Cubano Be – Cubano Bop." Russell collaborated with Gillespie and Chano Pozo in 1947 to create this "modern music" showpiece for Gillespie's big band. Refashioning it for small group must have been a formidable task for arranger Mao Stone, but he or she (sorry – I'm not familiar with this musician's work in any other context) captured all the elements and flourishes. The original had a simple conga introduction to establish the rhythm, but Jazz 100's version expanded that to a full course of chanting and conga from Román Diaz as a transition out of "Jessica's Day," and Diaz returned to channel Pozo in the transition between the two parts of the composition. Maybe the Stravinskyesque grandeur of the big band score had to be sacrificed, but Jazz 100 played Stone's arrangement superbly, with Cohen again masterful in the trumpet part.
Gillespie's legendary humor came to the fore in Wycliffe Gordon's arrangement of "Ow!" with an interpolation of "Oop Bop Sh'Bam." Gordon upheld both parts of the trombone tradition, inhabiting the "wild man" persona that so many bone players embrace with scatting that incorporated beat-box and falsetto, and playing his horn brilliantly. The tune also gave Pérez his first solo, where he nodded to Monk, prefiguring a later part of the program.
The rest of the set had more conventional repertoire, but the tunes were interpreted just as enthusiastically. Lizz Wright came on stage to do the Ella Fitzgerald numbers – the ancient standard "How High the Moon" and Frank Foster's "Shiny Stockings," with lyrics by Ella. Her magnificent contralto, which I have never heard in a hall before, filled Sanders sumptuously, and I'll bet she could have done so even without a mic.
Pérez ushered in the Monk segment with a solo version of "'Round Midnight," strongly different from the one on his CD Panamonk (Impulse, 1996). At Sanders, he created an illusion of three-handed piano, with his right hand playing insistent patterns at the middle of the keyboard and his left darting back and forth for treble and bass comments.
Chris Potter's tenor sax solo on his own arrangement of Monk's "Off Minor" was another highlight, beginning in duet with drummer Adam Cruz, then joined by bass and piano, then breaking off for a duet with the piano, and finally bringing drums and bass back for a powerful conclusion.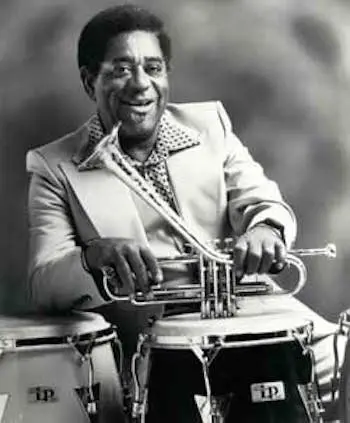 Latin numbers rounded out the evening – Pérez's arrangement of Mongo Santamaria's "Afro Blue," with (in my opinion) somewhat uninspired lyrics by Oscar Brown, Jr., which gave Wright and all the instrumental soloists ample time to stretch out and, as an encore, Cohen's arrangement of Gillespie's "Manteca," where the Sanders audience showed its hipness by lustily echoing Diaz's chants in the call-and-response section, and Gordon displayed his prowess on the rarely-seen slide trumpet.
But there was one more surprise, which I must deal with out of order, because it was the concert's most magical moment. Between "Off Minor" and "Afro Blue," Pérez and Wright performed one of the very few tunes with both music and lyrics by Ella Fitzgerald, her 1967 memorial to Martin Luther King, Jr., called "It's Up to Me and You." This is such an obscurity that its initial release, a 45 rpm single, never had a subsequent issue on LP or CD, as far as I can determine from web searches. It is, however, available for hearing on YouTube, and Ella's performance, especially in the reprise, leaves no doubt about how deeply she felt the lyric. The tune isn't a masterpiece – the melody is treacly, and the words could be taken from a Hallmark card – but its sentiments, now almost fifty years old, are all the more poignant for the wounds of the past several years and the old ones that are still open. Wright made every second count, so much so that by the time she sang the bridge ("Peace, no violence / We can live in harmony / He had a goal / Gave his heart and soul / To set all people free") the silence in the hall was audible, and Pérez's face showed that he felt every word.
There's a significant way in which Jazz 100 can improve: give Wright some juicier material for her other features. On stage, she felt she had to apologize ("as a feminist") for Ella's lyric to "Shiny Stockings," where the singer has to lament losing her man to another girl with flashier hose. Why not set this item aside and memorialize Ella's great collaborations with Duke Ellington by resurrecting "I'm Just a Lucky So and So" or "I Didn't Know About You"?
Fortunately, Pérez has time to tweak this and to add more repertoire before the band undertakes a tour of France in February 2017 and then swings through the Midwest (Chicago, Madison, Des Moines, etc.) in March. After that, there'll be nine more months in 2017, plenty of time for more gigging. Jazz 100 is a Concept that deserves much more exposure before its marketing hook goes dull.
---
Jazz 100's set list for its Celebrity Series concert, October 16 at Sanders Theater, Cambridge:
"Jessica's Day" (Quincy Jones; arr. Ben Street)
"Cubano Be – Cubano Bop" (George Russell / Dizzy Gillespie / Chano Pozo;
transcribed and adapted by Mao Stone)
Medley: "Ow!" (Gillespie) / "Oop Bop Sh'Bam" (Gillespie / Gil Fuller)
(medley arr. Wycliffe Gordon)
"How High the Moon" (Morgan Lewis / Nancy Hamilton; arr. Danilo Pérez / Lizz Wright)
"Shiny Stockings" (Frank Foster / Ella Fitzgerald; arr. Pérez)
"'Round Midnight" (Thelonious Monk) [solo by Pérez]
"Off Minor "(Monk; arr. Chris Potter)
"It's Up to Me and You" (Ella Fitzgerald) [duet by Pérez & Wright]
"Afro Blue" (Mongo Santamaria / Oscar Brown, Jr.; arr. Pérez)
Encore: "Manteca" (Gillespie / Pozo; arr. Avishai Cohen)
Thanks again to Victor L. Schermer for much of this information.
More:
The Celebrity Series continues its commitment to top-flight jazz programming through the rest of its 2016-17 season. Of particular note in the months to come:
• Just ahead, tenor saxophonist Joe Lovano and pianist Chucho Valdés, who gave one of the most memorable concerts of last year's Celebrity Series, will collaborate at the Berklee Performance Center on November 6.
• Violinist Regina Carter will memorialize Ella Fitzgerald in her performance at Sanders Theater on February 1, 2017.
• Chris Potter, fresh off next year's tour with Jazz 100, will lead an all-star quartet (guitarist Kevin Eubanks, bassist Dave Holland, and drummer Obed Calvaire) at Sanders on May 6.
• Wynton Marsalis and the Jazz at Lincoln Center Orchestra, featuring drummer Ali Jackson, will celebrate the legacy of Buddy Rich at Symphony Hall on April 9.
• Pianist-composer Vijay Iyer will perform with his sextet at Sanders on March 9.
Lizz Wright is scheduled to perform with Jazz 100 when they tour the Midwest next year:
Mar 16, at Overture Center for the Arts, Madison WI
Mar 17, at Symphony Center, Chicago
Mar 18, at Hoyt Sherman Place, Des Moines IA
Mar 19, at Yardley Hall, Johnson County Community College, Overland Park KS
Two other vocalists have worked with Jazz 100. Ledisi Young (an impressive and talented R&B singer who headlines under her first name) gigged with them on October 14 and 15 at Lincoln Center. Robin McKelle (a singer with credentials in both soul and jazz who has a tone and range very similar to Ella Fitzgerald's) sang the Philadelphia show on September 30. McKelle will rejoin the group for its European tour.
---
Steve Elman's four decades (and counting) in New England public radio have included ten years as a jazz host in the 1970s, five years as a classical host in the 1980s, a short stint as senior producer of an arts magazine, thirteen years as assistant general manager of WBUR, and currently, on-call status as fill-in classical host on 99.5 WCRB since 2011. He was jazz and popular music editor of The Schwann Record and Tape Guides from 1973 to 1978 and wrote free-lance music and travel pieces for The Boston Globe and The Boston Phoenix from 1988 through 1991.