Authoritarianism is at its most chilling, at least in the theater, when everyone, the weak and the strong, takes it for granted.
Ui [oo-ey], adapted from The Resistible Rise of Arturo Ui by Bertolt Brecht and Party Time and New World Order by Harold Pinter. Directed by Josh Short. Staged by the Wilbury Theatre Group, 393 Broad Street, Providence, Rhode Island, through October 1.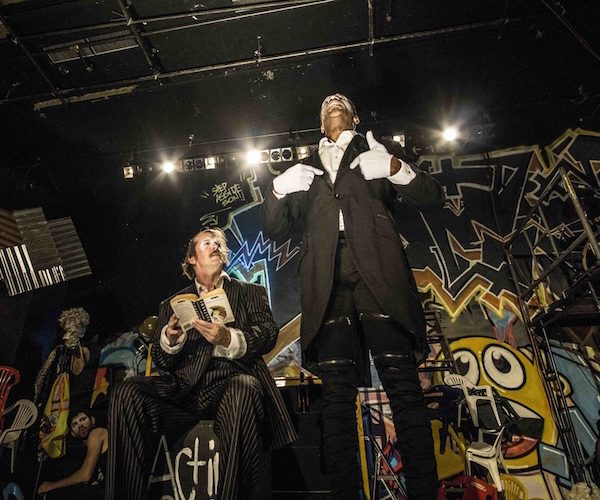 By Mary Paula Hunter
You have to give credit to Josh Short, Artistic Director of Providence's daring Wilbury Theatre Group and the director of the company's ambitious season opener, Ui [oo-ey]. You are not taking the easy way out with a thought-provoking if sometimes confusing, mash-up of scripts by Harold Pinter and Bertolt Brecht. He deploys Brecht's The Resistable Rise of Arturo Ui, a 1941 tale of a bully's rise to absolute power, to comment on our current political situation. As if that wasn't enough, he adds a double bill of short Pinter plays to point out the dangers of widespread economic inequality, a world in which the wealthy are uncaring, aside from being fiercely committed to protecting their vast wealth and privilege.
Allegory and realism make for an uneasy mix-and-match; predictably, the evening is a bit of a hodge podge. That said, the production's energetic chaos generates some beguiling moments. The hybrid production opens with Brecht's satire — awash in garish lighting — of the sinister world of post-Weimar Germany. David Tessier is Arturo Ui, Brecht's stand-in for Hitler, and the actor does his best to remind the audience of Donald Trump, particularly the latter's preening, obnoxious pontificating. "What is right is right!" Tessier yells, evoking any number of Trump's outlandish proclamations. But the political connections between Brecht's play and the current presidential campaign are more tenuous than Short thinks. Brecht's play was not intended to be a parable that could be adapted to particular circumstances. All the events and the characters in the text are connected, concretely, to Nazi Germany. Trying to force it into fitting American circumstance distorts the play in a way that diffuses its power.
For example, the warehouse conflagration in the play represents the Reichstag fire; each character in Brecht's play is linked to a specific member of Hitler's inner circle. The text carefully links its characters and dramatic action to the rise of Nazism and the National Socialist Party. Think what you will about Trump: virtually nothing in his ever-shifting vision of unreality (or the efforts of his disorganized campaign) resembles the pitiless machinery dedicated to death that Hitler assembled.
Still, Short's staging is always exciting and in the spirit of Brecht's Epic Theatre, which sought to meld entertainment with political provocation, particularly a condemnation of authoritarianism's barbarity. The price for keeping the trains running on time can be mass murder. Stand-ins for Goebbels, Herman Göring, and Paul von Hindemith revel in their petty thuggery, charging about in front of vivid constructionist backdrops that resemble Stalin-era posters. A pastiche of musical accompaniment is fun, though "Don't Cry for Me Argentina" comes off as somewhat out of place. Phoenyx Williams, as the Emcee, is a dynamic physical actor whose full-throated rock singing contrasts nicely with zombie-esque dancers going through mechanical routines.
Unfortunately, the exhilaration flattens out during the Pinter segments. The sparse minimalism and protracted silences of his plays demand nuanced tension and flickering suggestions of dread. Short and company give us a dull fussiness.
In 1991's Party Time, actors decked out in wigs and fancy costumes (signs of pampered wealth) are hamstrung by faux English accents and a vague sense of time and place. Pinter set the play during the Gulf War, but Short doesn't seem to care when the action is taking place. The upscale duds and spoiled manner seem to be stereotypically '20s, an era often used to illustrate the callousness of the upper class.
Instead of Pinter's razor-sharp satire, we watch actors waltz in circles as they cross-examine each other on matters involving clubs, island vacations, and the superficial dalliances that are (supposedly) the hallmark of the upper crust. Rather than feeling horrified by the group's inane obsessions, we are distracted by entrances and exits, parlor dances that — though inventive at times, particularly when the advancing dancers become stuck to their chairs — do little to power up the sardonic juxtaposition of the 1% and the rioters in the street. A wealthy woman asks about her apparently outcast brother, and her buffoonish husband responds by reminding her of the fate of those who cause disturbances in clubs: "If they do we kick them in the balls and chuck them down the stairs with no trouble at all." This kind of two-ton dialogue — delivered without Pinter's icy cruelty — comes off as cartoonish and hyperbolic.
The New World Order is another late (and accusatory) short play of Pinter's. Here a prisoner is strapped to a chair and bedeviled by a pair of sadistic keepers. Pinter's extreme situation demands a relaxed, detached theatrical approach; this demonic questioning should be an example of everyday bureaucratic efficiency. One should be able to imagine this torture chamber set up in a living room somewhere in London. Instead, Short has the prisoner bound to a wheel chair; a white spotlight beams down on him, a needless underlining of his helpless plight. The victim's fate is discussed, ardently, by two authorities. Hyped up in this way, Pinter's image of vulnerability menaced by brutality becomes trite, a scene from a James Bond movie. Authoritarianism is at its most chilling, at least in the theater, when everyone, the weak and the strong, takes it for granted.
---
Mary Paula Hunter lives in Providence, RI. She's the 2014 Pell Award Winner for service to the Arts in RI. She is a choreographer and a writer who creates and performs her own text-based movement pieces.