Marjorie Prime explores the complex connections generated among four family members as they attempt to make sense of grief.
Marjorie Prime, directed by M. Bevin O'Gara. Staged by the Nora Theatre Company at the Central Square Theater, Cambridge, MA, through October 9.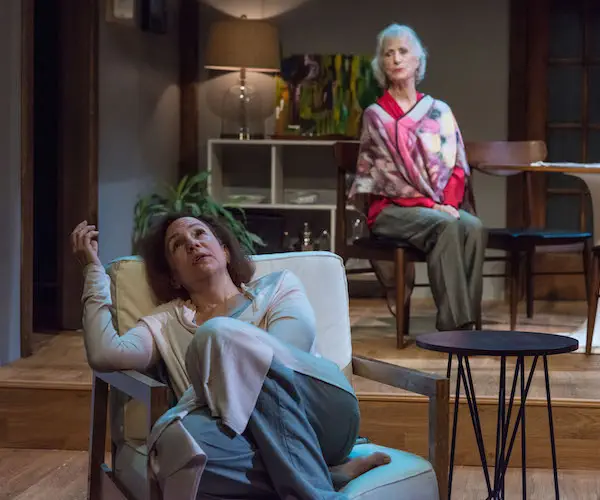 By Justin J.Sacramone
There isn't one of us who would turn down the opportunity to spend five minutes with a deceased loved one. The time could be used to go over essential unfinished business, to lighten the duty to grieve, or to stroll down memory lane, going over treasured details and passions. In Jordan Harrison's drama Marjorie Prime, our wish is granted all three ways. Its combination of technological speculation and family melodrama touched a critical chord: the script had its New York premiere off-Broadway at Playwrights Horizons last winter, where it was praised by New York theater reviewers and was nominated for a Pulitzer Prize in Drama.
Marjorie, the family's elderly matriarch, is suffering from debilitating memory loss and is paired up with a pixilated Artificial Intelligence or "Prime" version of her late husband Walter, who serves as her memory's external hard drive. Set about 50 years in the future, it is a world where Primes provide comfort to the afflicted by taking the form of a deceased loved one. Of course, the more time the Prime spends with a patient, the more humanlike the virtual reality becomes. So humanlike, in fact, that some patients forget that their companion is an example of Artificial Intelligence.
While the cognitive development of Primes make them much more than human, there are areas in which Primes fall short of humanity. Primes are nurturers, but they can't handle any of the physical care needed by their assigned loved ones. In the case of Marjorie, pragmatic responsibility falls to her daughter Tess and Tess's husband, Jon. Tess and Marjorie's relationship is strained and their estrangement continues as Marjorie associates Tess with the more unpleasant qualities of life (ie: hygiene, eating, etc).
Marjorie Prime explores the complex connections generated among four family members as they attempt to make sense of grief. In his brief 85 minute play, Harrison also explores the mysterious intersection between identity and memory, particularly as the latter fades. Despite the science fiction context and its resonate abstract ideas, Marjorie Prime manages to remain an intimate drama. Harrison does this by focusing on how A.I. impacts a domestic situation — the relationship among individuals — instead of addressing the socio-political impact of A.I.
Thus the emphasis of a production must be on the intimate rather than the polemical. Director M. Bevin O'Gara provides the necessary finesse  with wordless transitions between scenes, which are beautifully scored by Arshan Gailus. We get a sense of the complexities of these characters through their physical interactions. But, for some reason, director O'Gara can't transfer this sensitivity to nuance to the scenes with dialogue. Furthermore, these silent mini-interludes return us to the play with no sense of a passage of time. Some transitions breakup years or even centuries in the play's narrative, yet there is no discernible shift in emotional energy among the actors on stage. For example, one scene occurs following a trip Marjorie takes to the hospital — the performers give us characters who have not been changed much by this event.
The cast's handling of character development is minimal; the actors often shout at each other for no motivated reason. Tess flies off the rails after every line Marjorie delivers. Each of the four characters seem to be living in different worlds and  interact awkwardly. This is not the type of alienation that Harrison intends. Yes, one could argue that "Primes" should appear distant from humanity, but Harrison explicitly advises in this text that we "should be able to forget they aren't real."
Alejandro Simoes' Walter Prime, a younger A.I. version of Marjorie's late husband, speaks with a robotic delivery and doesn't dramatize how this instrument of technology can learn from its environment. Sarah deLima's Marjorie is far too alert and peppy for anyone to believe she's only a few years away from death. More disappointing are the wooden performances from Barlow Adamson as Jon and Lee Mikeska Gardener (Nora Theatre Company's Artistic Director) as Tess. They are simply not convincing enough to earn our empathy, which undercuts the tragic fate of their characters.
In some ways, Marjorie Prime is a mood piece which depends on ambiance. Here the Nora Theater Company production delivers the goods. Gailus's original sound design and music are stellar. Sara Brown's set depicts a lovely modern home that manages to move through time without coming off as either dated or futuristic. (Mid-century decor never goes out of style!) Wen-Ling Liao's lighting design evokes the underlying theme of anguish. But O'Gara and cast do not evoke the vision of humanity under pressure  that's essential to put across this intriguing tale of technology impinging on identity.
---
Justin J. Sacramone is a producer, director and dramaturge who received his Bachelor of Fine Arts in Theatre from Salem State University in 2012. Justin has been a theatre critic with Broadway World and an adjudicator for the Massachusetts Educational Theatre Guild since 2014. He has produced for the Creative Entertainment Studios of Walt Disney Imagineering & The Orlando International Fringe Festival. At the end of September, he will be studying with Tennessee Williams Institute in Provincetown, MA