For my money, the biggest star on Friday night turned out to be none other than Antonin Dvořák.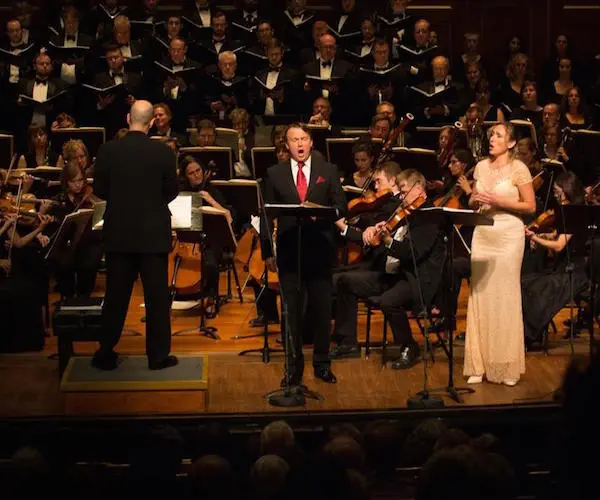 By Jonathan Blumhofer
Odyssey Opera's first performance of its 2016-17 season was a thoroughly inspired concert production of Antonin Dvořák's neglected Dimitrij at Jordan Hall. As with two of Odyssey's previous three September performances (Rienzi and Die tote Stadt), Friday's was the opera's belated local premiere.
First performed in 1882, Dimitrij takes place in Russia at the turn of the 17th century. Its plot, convoluted and gory as it is, comes from the historical record, though Marie Červinková-Riegrová's libretto shades and stretches the truth a bit (with the help of Friedrich Schiller and Ferdinand Mikovec, no less). It opens, following the death of Boris Godunov and the murder of his son and wife, with the arrival of Dimitrij, who claims to be the son of Godunov's predecessor, Ivan the Terrible. Ivan's widow, though she knows Dimitrij not to be her child (he was murdered on Boris's orders), acknowledges him publicly as her son and he's acclaimed Tsar. In the meantime, Dimitrij comes to realize that his wife, Marina, doesn't love him but only craves the power her marriage to him can bring. He summarily finds himself attracted to Godunov's surviving daughter, Xenie. When Marina discovers this, she reveals to Dimitrij that he's not of noble birth, after all: he's a peasant, an imposter. Dimitrij's shaken and tries to win Xenie for himself but, since his followers slaughtered her family, she understandably rejects him. Not knowing this, Marina sends a cabal of assassins after Xenie and she's quickly dispatched. Having lost his love, had his world quite thoroughly turned upside down, and questioned once more about his ancestry, Dimitrij comes clean and is promptly executed by his archrival, Shuisky, who then becomes Tsar. Thus endeth the opera.
After its first performance, Dvořák revised Dimitrij twice, once in 1883 and again in 1894, the second time replacing much of its natural lyricism with a more consciously Wagnerian style. Shortly before his death in 1904, he considered a third reworking of the piece but died before he could undertake any changes. Friday's concert used Milan Pospíšil's 2004 critical edition, which reinstates much of the original material plus some of Dvořák's earliest revisions. The result is a glorious, if slightly bloated, performance version: filled with sweeping tunes, iridescent scoring, and a real emotional involvement in the respective situations of its principal characters.
For my money, the biggest star on Friday night turned out to be none other than Antonin Dvořák. You might think that there's little more to learn about a composer whose last three symphonies and Cello Concerto are among the most popular orchestral works in the canon and whose chamber music is as broadly represented (and played as frequently) as Beethoven's and Mozart's. If you hail from that camp, you'd be in good company – but incorrect.
In fact, there's much by Dvořák that's neglected. True, some of it's not top-drawer. But lots of it – the Slavonic Rhapsodies; the Requiem; the four late, epic symphonic poems among them – is first-rate. Dimitrij is one of the latter. Yes, Dvořák's zeal for frenzied repetition is blatantly obvious in it (especially at the end of the overture and at the conclusions of the first two acts). And one can see how the last act might be condensed a bit to make its final quarter pack a little more of a punch. But the former provides a sure-fire way of revving up an audience to give a loud response (the technique worked very well on Friday) and to edit the latter would mean cutting long stretches of sumptuously beautiful music.
The truth is, Dimitrij is an opera that demonstrates Dvořák to be a composer of keen dramatic instincts and abilities. It breaks no new ground but neither is it beholden to convention: in it, the music responds viscerally to the story and Dvořák's natural gifts as a melodist are put very effectively to use. In fact, one of its most striking qualities is just how well – and demandingly – Dvořák, the quintessential late-Romantic instrumental composer, wrote for the voice.
For the title role, Dimitrij requires a singer of charisma and stamina – there's lots of high-tessitura writing in each act – not to mention beauty of tone and an easy command of the Czech text. And, in Aleš Briscein, Odyssey had just such a soloist. With his pure, clarion projection he reminded me a bit of René Kollo (who, in his prime, might have been fantastic in the part) and the hint of sweetness in his voice more than made up for a couple of patchy moments and an occasional habit of starting phrases a hair under pitch.
Compelling from his entrance in Act 1, Briscein saved his best for the opera's last two acts, singing with controlled shock and fury during Dimitrij's argument with his wife, Marina, and supple tenderness in the character's ill-fated courting of the princess, Xenie. His final confession of Dimitrij's true origins was steeped in nobility. In all, Briscein's was a performance that was thoroughly lived in the moment: complex, exhilarating, and deeply sympathetic. It ranks with Jay Hunter Morris's Paul (in Die tote Stadt) as one of the finest characterizations Odyssey's yet put before the public.
Also excellent was Dana Burešová's Marina. The character is a rather heartless one and Burešová's first appearance was suitably cold and steely. But, as the opera proceeded, she and Marina warmed, if not exactly appealingly, then at least appreciably. Marina's long duet with Dimitrij in Act 3 was powerfully sung and, even if I didn't buy the character's declarations of remorse after arranging Xenie's murder in Act 4 (here a true staging might have better helped pull it off), it was, by this time, impossible to take your eyes (and ears) off of Burešová when she had something to sing, so powerfully did her voice slice through the score's thick textures and her stage presence demand your attention.
Olga Jelínková brought enticing innocence and pure timbre to the role of Xenie, singing with impellent color and energy during her character's scenes with Dimitrij in Acts 2 and 3. Her singing in the climactic episode between Xenie and Dimitrij in Act 4 was a bit of a let-down, though that was more the fault of the orchestra covering her at some of the big moments than anything else.
As Dimitrij's rival, Shuisky, Mark S. Doss oozed vigor as well as a certain ferocity of purpose. Irina Mishura brought dusky warmth to the role of Marfa, Ivan the Terrible's widow. And the remaining leading parts – sung by Christopher Job, James Demler, and Seth Grondin – acquitted themselves boldly.
The Odyssey Opera Chorus, prepared by William Cutter, anchored the opera's drama with some stout singing, taking on a variety of roles in the process. And the Odyssey Opera Orchestra brought Dvořák's lush score vividly to life, highlighted by some glowing woodwind playing, creamy brass, and Ina Zdorovetchi's lucid harp.
Odyssey's artistic director Gil Rose has, in recent years especially, proven himself an impressive marshal of large forces and did so again on Friday. There were a few spots – as there always seem to be – when having the orchestra on stage (instead of in a pit) resulted in singers being covered and some in-your-face sonic apogees. But, for the most part, balances were well-executed and the whole performance nicely paced.
Indeed, with Friday's performance, Odyssey has made its strongest case yet to bring an unjustly ignored opera in from the cold. Whatever its flaws – and there aren't too many of them – Dvořák's score deserves far wider currency. On top of that, Dvořák, himself, merits a serious reappraisal: he's much more than just the composer of the New World Symphony and American Quartet, after all.
The back of Friday's program book announced the rest of Odyssey's '16-'17 season, which features four operas "inspired by the writings and world" of Oscar Wilde. Performances will be in November (Lowell Liebermann's The Picture of Dorian Gray), March (Mario Castelnuovo-Tedesco's The Importance of Being Earnest), April (Alexander von Zemlinsky's Der Zwerg), and June (Gilbert & Sullivan's Patience). More information can be found on Odyssey's website.
---
Jonathan Blumhofer is a composer and violist who has been active in the greater Boston area since 2004. His music has received numerous awards and been performed by various ensembles, including the American Composers Orchestra, Kiev Philharmonic, Camerata Chicago, Xanthos Ensemble, and Juventas New Music Group. Since receiving his doctorate from Boston University in 2010, Jon has taught at Clark University, Worcester Polytechnic Institute, and online for the University of Phoenix, in addition to writing music criticism for the Worcester Telegram & Gazette.