If you love classic musical comedy, this is a production you must see.
Bells Are Ringing, Book and Lyrics by Betty Comden and Adolph Green. Music by Jule Styne. Directed by Ethan Heard. Staged by the Berkshire Theatre Group at the Colonial Theatre, Pittsfield, MA, through July 26.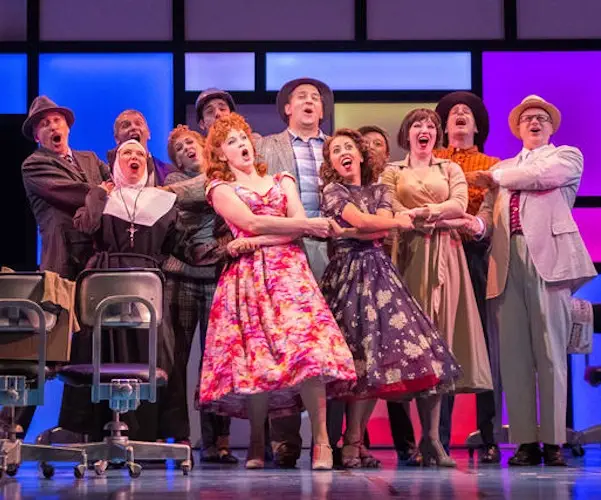 By Helen Epstein
Summertime is for musicals and Berkshire Theatre Group's bold, brash revival of Bells Are Ringing in Pittsfield's restored turn-of the-century Colonial Theatre is an inspired choice. Last year, Barrington Stage brought theatergoers the gifted writing duo of Betty Comden and Adolph Green via their show On the Town, with music by Leonard Bernstein. For Bells Are Ringing, the duo worked with composer Jule Styne. If you love classic musical comedy, this is a production you must see.
Written in the early 1950s for actress Judy Holliday, with whom Comden and Green had performed cabaret in Greenwich Village a decade earlier, Bells Are Ringing (like On the Town and Wonderful Town) still holds up as smart, funny, and great fun. This snappy BTG production, directed with comic book strokes by Ethan Heard, makes you wonder why it has not been revived more often.
Feisty girl heroine Ella Peterson (Kate Baldwin) has left her job at the Bonjour Tristesse Brassiere Company to work as a switchboard operator for Susanswerphone, an answering service for Manhattan's professional class, the rich and the  elegant. Susanswerphone is owned by her cousin Sue, a no-nonsense businesswoman. Ella, unlike her cousin, is a whimsical, dreamy young woman, who not only takes messages but fantasizes about her clients, particularly the man at Plaza-0-4433.
That phone number belongs to Susanswerphone's client Jeffrey Moss (Graham Rowat), a playwright suffering from writer's block. To quote one of the show's signature songs, its "a perfect relationship. I can't see him; he can't see me." And that might have been "the way it will always be" with love "retaining its mystery," but for Ella's insatiable curiosity and need to help.
The plot is driven by Ella's efforts to save Moss from losing his livelihood and involves a colorful bunch of New Yorkers: Sue herself (a shrewd Cheryl Stern); a zealous Police Inspector Barnes (a deadpan Greg Roderick), who suspects that Sue's answering service is actually a whorehouse, and his sly go-fer Francis (Andrew Cristi); nerdy dentist Dr. Kitchell (Ames Ludwig) who yearns to be a serious composer; and Sandor (Joseph Deliger), a Central European con-man who has the idea of using Susanswerphone as a conduit for his betting operation. Under the cover of the Titanic Record Company, bookies can place bets using an ingenious code based on composers such as Beethoven (for Belmont Park), Puccini (for Pimlico) or Shostakovich (for Saratoga) and their opus numbers
Bells Are Ringing was written for a knowing Broadway audience that was assumed to recognize Bonjour Tristesse as a risque novel written by Francoise Sagan, and that Beethoven wrote only nine symphonies. They would have recognized the line "schnitzel is high as an elephant's eye" as a reference to Oklahoma, as well as send-ups of Marlon Brando wannabes in a low-life bar as well as Ella, in bright red at a high-society cocktail party, where snobbish guests, all dressed in black, engage in a contest called "Drop that Name."
What's surprising is that the lyrics, period one-liners, and visual gags still work. The lead performers as well as the chorus deliver them with relish. Whether the ensembles are in a subway car or in 1950s offices, the New York characters — beatniks, European refugees, secretaries, a nun in traditional garb — are a delight to watch and the performers seem equally adept at singing, acting, and dancing.
Kate Baldwin and Graham Rowat (husband and wife off-stage) are both engaging actors who dominate the stage and invite us to believe in their romance. It's a treat to watch performers who look more like character actors than leads in the main roles. Their chemistry is palpable and their luxuriant voices perfect for such standards as "Just in Time," "Long Before I Knew You," and "The Party's Over," all given adept orchestrations by Matthew Aument.
The design team had a grand time with this production. The scenic design by Reid Thompson is built around a Mondrian-like scrim which is lit (by Oliver Wason) to look a number of different ways, from stained glass and a kaleidescope of colors to the black and white outline of a New York City office and apartment buildings, where silhouettes of Susanswerphone clients or other characters appear in the windows. The costumes (pink, red, green, purple) by David Murin are period perfect (except for one beige Diane Von Furstenberg wrap dress, which came 20 years later) and, with zesty choreography by Parker Esse, the scenes look like frames of a '50s comic book come to life.
I loved this revival of Bells Are Ringing. This is a show you can take everyone you know to see and feel certain they'll walk out smiling.
---
Helen Epstein is the author of Joe Papp: An American Life and the co-publisher of Plunkett Lake Press, eBooks of Life Writing.