Otto Piene's art is at once appealing, accessible, and yet somehow unworldly: joyful mystery yoked to dynamic playfulness.
Otto Piene & Electronic Art in New England, at the Cyberarts Space at the Green Street T Station in Jamaica Plain, Boston, through February 15.
ZERO: Countdown to Tomorrow, 1950s-60s, Guggenheim Museum, New York, Closed.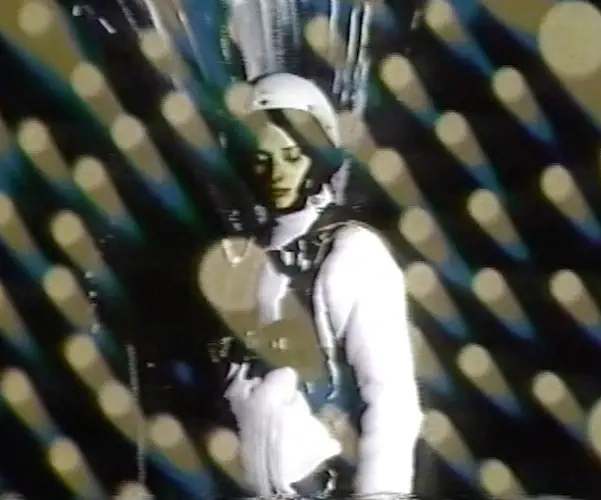 By Mark Favermann
In recent months, two exhibitions have celebrated the art and life work of the late Otto Piene (1928-2014), the former director of the Center for Advanced Visual Studies at MIT. Piene ran CAVS for 20 years and touched the creative lives of scores of artist fellows and students there.
The stunning Guggenheim Museum exhibition ZERO: Countdown to Tomorrow, 1950s–60s was thoughtfully curated: this was the first large-scale historical survey in the United States dedicated to the German artists' group ZERO (1957–66), which was founded by Heinz Mack and Otto Piene. The pair were joined in 1961 by Günther Uecker. Like-minded artists and collaborators included Lucio Fontana, Yayoi Kusama, Yves Klein, and Piero Manzoni. Technically provocative and often visually beautiful, the show, perhaps better than any but a very few previous exhibits in its 50-year history, filled the entire space of the iconic Frank Lloyd Wright spiral.
Having no political or ideological orientation, ZERO was an international network of like-minded artists from Europe, Japan, and North and South America. They all shared the group's aesthetic and philosophical aspirations to transform and redefine art in the aftermath of World War II. Technical collaboration was also a key ingredient. The Guggenheim exhibition explored the experimental practices developed by ZERO's extensive network of artists. Their creative approach — Otto Piene's artwork in particular — anticipated Environmental Art, Minimalism, Conceptual Art, and even Performance Art.
ZERO encompassed a diverse range of media: painting, sculpture, inflatables, light sculptures, works on paper, installations, and archival materials, along with publications as well as photographic and film documentation. The Guggenheim exhibition was organized around points of intersection, exchange, and collaboration. Among the themes explored was the establishment of new definitions of painting, monochrome (including serial structures), and Piene's fire and smoke pictures. The introduction of movement and light as both formal and idea-based aspects of art was one of ZERO's many breakthroughs.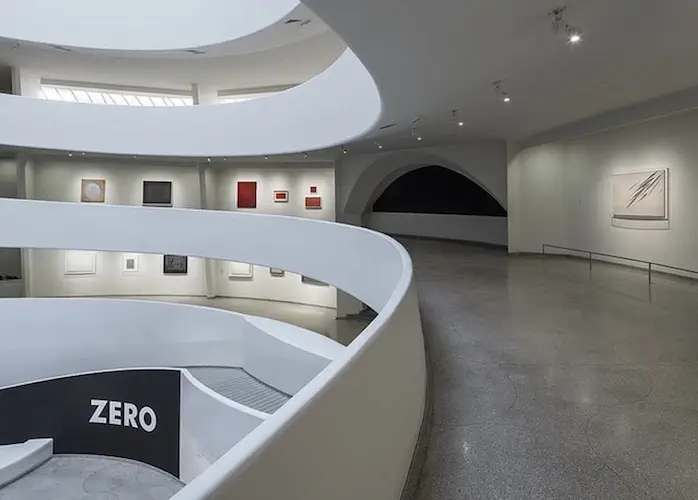 The group also first organized the use of space as subject and material. This was done with specific reference to the relationships among art, nature, technology, and the viewer. In addition, participatory art was incorporated into the production of live action events, one of the major (and prescient) inspirations for '60s "happenings."
At once a period snapshot of a specific creative group and a portrait of energetic aesthetic experimentation, the show honored the pioneering nature of both the art and the transnational vision advanced by ZERO during two pivotal decades of the 20th Century.
Piene had a great interest in nature and technology as ingredients for art, dating back to the smoke paintings and light installations he created as part of ZERO. From the early '70s on he focused on "Sky Art," in which he harnessed air itself as an aesthetic medium. His sculptured inflatables combined his customary abstraction with symbolic and realistic resonances. By adopting shapes drawn from nature (flowers, a star-like anemone, etc.) and mythology (Icarus, the Minotaur) he created something magical.
Filled with elegant paintings and sculptures, the Guggenheim ZERO show could not easily examine the monumental and festival aspects of the group's celebratory artistry. Piene, in particular, expertly balanced audience interactivity with art/aesthetics — an approach rarely seen in the current mania for digitally-driven events in which technology is the major message. Thus Otto Piene & Electronic Art in New England, in which Piene's Sky Art is the focus at the intimate space of the Boston Cyberarts Gallery, usefully rounds out our understanding of his achievement. Curated by George Fifield, Joseph Ketner II, and John Powell, the show draws extensively from the Center for Advanced Visual Studies (CAVS) archives at MIT — it examines the artist and his role as a founding figure in art and technology in New England.
From the time that György Kepes invited him to be a Fellow at his newly founded Center for Advanced Visual Studies (CAVS) at MIT in 1968, Piene fostered and mentored several generations of artists in collaborative ventures that combined nature and technology. These experiments in fusion evolved into a series of highly creative, thoughtfully interactive participatory events that engaged the public in spectacular environmental art experiences that Piene called "Sky Art."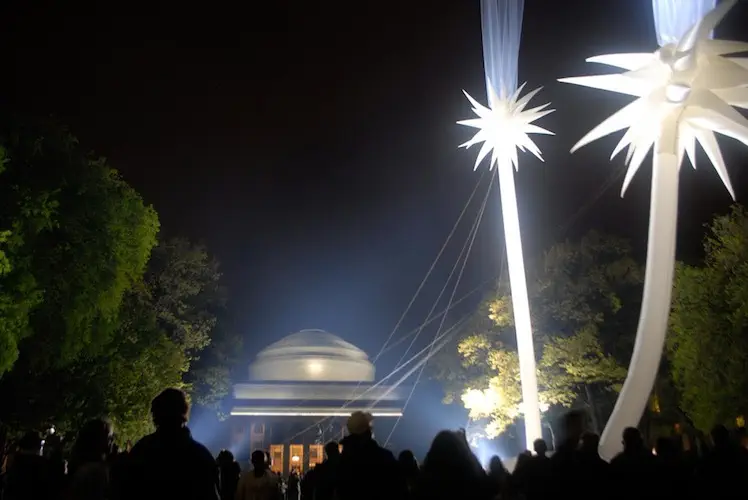 His work led to New England becoming a major international center of art and technology. As director of CAVS, Piene launched a new body of outdoor, inflatable sculptures that he referred to as "Sky Art." His first event was the Light Line Experiment at MIT in May, 1968. This presentation inspired his monumental rainbows, which he first produced locally at MIT and on the Charles River in 1971. It was featured during the closing event for the 1972 Munich Olympics.
Boston Cyberarts' striking and accessible exhibition documents the range of Piene's work in Boston from 1967 through 2014 as well as its international reach. The material ranges from inflatable sculpture to videos, projections, photographs, and ephemera that document key moments in Piene's career as well as the efforts of the many electronic artists who came through CAVS. Thus the show is not just a display of art — it is also a provocative history lesson on the development of art and technology in New England. A series of three Wednesday evening symposia on key elements in Piene's career and legacy in Boston are part of this exhibit.
Piene's art is at once appealing, accessible, and yet somehow unworldly: joyful mystery yoked to dynamic playfulness. Both of these very different but related exhibitions are testaments to the enduring artistic legacy of Piene's ethereal vision -– a provocatively visceral art dedicated to participation, movement, and inevitably, beauty.
---
An urban designer, Mark Favermann has been deeply involved in branding, enhancing, and making more accessible parts of cities, sports venues, and key institutions. Also an award-winning public artist, he creates functional public art as civic design. Mark created the Looks of the 1996 Centennial Olympic Games in Atlanta, the 1999 Ryder Cup Matches in Brookline, MA, and the 2000 NCAA Final Four in Indianapolis. The designer of the renovated Coolidge Corner Theatre, he has been a design consultant to the Red Sox since 2002.