For those of us who love Christmas music, Aimee Mann and company showed how to do it right: a lot of lovely songs and festive spirits, not a lot of sticky sentiment.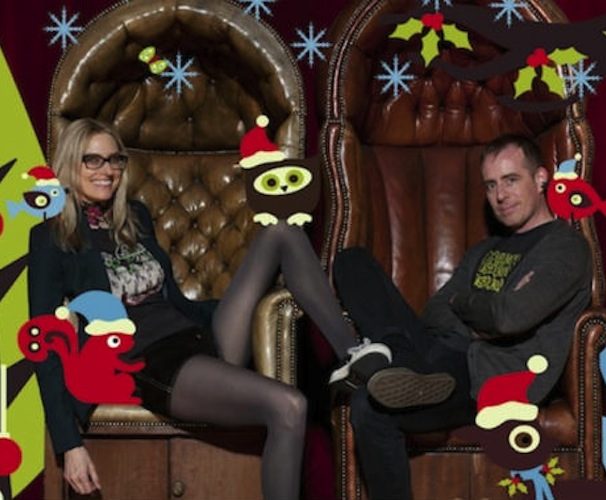 By Brett Milano
There's a priceless moment in Aimee Mann's Christmas show that pokes fun at a song we all hear too often at this time every year…the one that Paul McCartney wrote on one of his less inspired days. In the show at the Wilbur Theatre in Boston, Mann and current collaborator Ted Leo are rockers who double as detectives, and there's been a murder backstage. Their three special guests—Bill Janovitz (Buffalo Tom), Susanna Hoffs (the Bangles) and Jonathan Coulton—are the three main suspects, so they solve the crime by torturing each guest with "Wonderful Christmastime" until one of them confesses.
For those of us who love Christmas music—and hell, even for those of us with a grudging affection for the Macca song—Mann and company showed how to do it right: A lot of lovely songs and festive spirits, not a lot of sticky sentiment. Mann's been singing Christmas songs onstage for quite a few years now—I saw her slip Mel Torme's "Christmas Song" into a 'Til Tuesday encore back in the late '80s—and this week she revived the full-scale holiday tour after a three-year break. For her the shows are a chance to loosen up, collaborate with some friends, and reveal a sense of humor that seldom surfaced in the 'Til Tuesday days.
Humor was a main element of Tuesday night's gig, which had an old-fashioned variety-show feel about it. Along with the running secret-agent gag, there were moments for each guest to shake their serious image. Leo, whose lyrics are often on the spiky political side, got to emote for all he was worth on a mock-operatic ballad about a Christmas donkey. Susanna Hoffs delivered a parody of her Bangles hit "Walk Like an Egyptian," with part-Hebrew lyrics about Hanukkah. (Another Bangles hit, Paul Simon's "Hazy Shade of Winter" didn't need any changes to fit into a Christmas show). And Jonathan Coulton, whose own songs have their share of nerdy wit, did a dramatic reading of "How the Grinch Stole Christmas" to accompany Mann's singing of the theme.
Wisely though, they didn't stay goofy for the whole night. Mann treated "I'll Be Home for Christmas" like the mournful song it is, a natural fit for the perpetual yearning in her voice. Janovitz was characteristically intense of a pair of Buffalo Tom songs, "Reason Why" (a favorite of Leo's who gave it a ripping guitar solo) and "Mineral" a non-festive tune that at least mentions Christmas. The four singers did a traditional English carol, "Lo, How a Rose E'er Blooming". And Mann and Leo get some record-collector points for their opening tune: "It's Christmas Time" a goodie that the veteran UK band Status Quo recorded a few years back; odds are good that no other US band has ever covered it.
There was also a non-seasonal taste of the Both, Mann and Leo's collaborative project that played a full show at the Paradise earlier this year. These proved to be the musical highlights of the night. In some ways Mann and Leo are an odd pair, given his punk roots and her love for gently textured pop. But the two Both songs combined her melody with his energy and featured Mann, who usually favors acoustic guitar nowadays, rocking out on bass guitar—something that hasn't been seen in too long a time.
---
Brett Milano has been covering music in Boston for decades, and is the author of Vinyl Junkies: Adventures in Record Collecting (St. Martins, 2001) and The Sound of Our Town: A History of Boston Rock & Roll (Commonwealth Editions, 2007). He recently returned from New Orleans where he was editor of the music and culture magazine OffBeat.