As is the case with all public spaces, Magazine Beach reflects the sensibilities and desires of its users, who ruined, abandoned, embraced, and transformed the area.
Magazine Beach – A Place Apart at the Cambridge Art / Gallery 344, City Hall Annex, 344 Broadway, Cambridge, MA, through February 27, 2015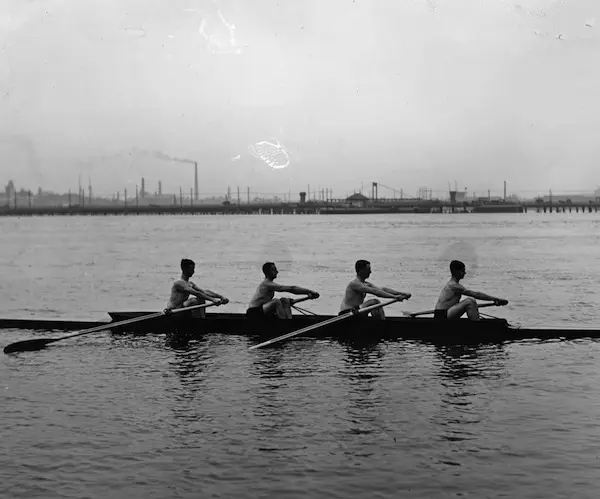 By Ira Papadopoulou
I'm gonna tell you a story
I'm gonna tell you about my town
I'm gonna tell you a big bad story, baby
Aww, it's all about my town.
Yeah, down by the river
Down by the banks of the river Charles
Aw, that's what's happening baby
That's where you'll find me
Along with lovers, buggers, and thieves
Aw, but they're cool people.
–The Standells, "Dirty Water"
Back in the '60s The Standells' song about the Charles River, "Dirty Water," became a smash hit. It told the story of a river, but also the story of a town and its people.
Magazine Beach – A Place Apart tells the story of a beach on that river.
Developed by the Cambridgeport Neighborhood Association (CNA) in collaboration with the Cambridge Arts Council, and drawing on the resources of the Cambridge Historical Commission, the exhibition – curated by a group of engaged citizens – provides an informative journey into local history.
For many people, these 15 acres of land along the Charles River presents an urban conundrum. Is it an island, a park, a river bathing beach, a recreational destination, a long-neglected public space?
The exhibition takes us back four centuries to when Magazine Beach was an island at high tide (Captain's island) and traces its history. It once housed a site to store gunpowder, then a boathouse for rowers. It was a favorite picnicking and bathing destination, but for a lengthy period of time became a polluted and abandoned public space.
In order to visualize these cycles of use and abandonment, the exhibition has come up with a fascinating timeline generated out of on old maps, photographs, postcards, newspaper covers, city plans (realized, proposed or failed) a film, and, of course, lots of written resources. Objects wisely positioned within the gallery — wooden scull and oars, plant specimens of the region, coastal trash, and medals from various years of Boston's Head of the Charles Regattas — make for sometimes surprising historical illustrations.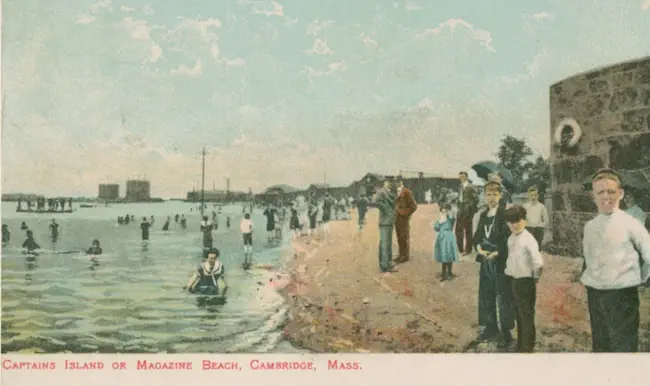 As is the case with all public spaces, Magazine Beach reflects the sensibilities and desires of its users, who ruined, abandoned, embraced, and transformed the area. Accordingly, a significant part of the exhibition is devoted to actively engaging visitors, either through interactive maps or posing questions (many on specially dedicated question-boards), thus providing an opportunity for community members to exchange memories and ideas.
The exhibitions' main wall text informs us that in 2015 there will be a public planning process for the western part of the park. The organizers, all volunteers for Magazine Beach Park revitalization, hope that this exhibit will inspire visitors to imagine what's possible for the future of this unique part of Cambridge. It urges citizens to participate in the transformation of a valuable and historic public space, a place that, as the Standells put it, is made to be a resource for the cool people.
---
Ira Papadopoulou is an arts manager and curator. She studied Sociology, Communications and Arts Management in London, UK. For over a decade, she served as Director of Cultural Affairs for the Hellenic-American Union, a cultural and educational institution in Athens, Greece, where she was responsible for the institution's cultural activities, including planning, curation and the implementation of a wide range of artistic, public and educational programs. She currently resides in Boston.