Even though it's the time of year when the T is clogged with wide-eyed college freshman trying to find Faneuil Hall, there are still lots of great shows to go see in Boston.
By Thomas Samph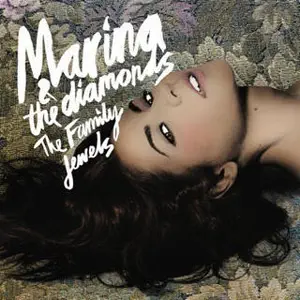 This month's selection of pop music begins with an up-and-coming female pop act from the UK whose Family Jewels are quickly rising on the charts, and ends with a singer whose last three singles have all been in the top 10 on Billboard even though he can't legally buy a drink at a bar until later this month.
Mid-September features groups at three distinct points in their careers: a band of twenty-somethings who have had an overnight rise to fame from their dorm rooms at Columbia University, a band that's still going strong after 5 studio albums and two decades of touring, and a group whose name is an optical illusion. Don't miss the chance to sing Jason Derülo's name along with him in person.
September 1st, Marina and the Diamonds at Paradise Rock Club
There's something hilarious and catchy about a cute little English girl singing about giving you the finger. Maybe that's why so many of the female pop acts that have come out of the UK in the recent past have been so popular: it's the bubbly vulgarity. Similarly to how Lily Allen, Kate Nash and Florence & the Machine sweetly serenade with lyrics about fighting, and fighting ex-boyfriends, Marina Diamandis of Marina and the Diamonds sings about giving the middle finger too, although her finger is aimed at Hollywood. Her latest single, Oh No from her album The Family Jewels was released last month and is more of a venture into mainstream girl pop sound for the Greek-born UK artist
September 12th, Vampire Weekend at the Bank of America Pavilion
Besides vocalist Ezra Koenig's brief venture into making films at the end of college, Vampire Weekend doesn't have anything to do with actual vampires. The band takes its name from a trailer for a film that Koenig made while at Columbia University called Vampire Weekend. The film was never made, but you can still see the trailer online. Although the band members got squirmy when reviewers wrote that they are like a modern day Paul Simon, Vampire Weekend are still proud to admit that their biggest influence is African Soukous music, a sound that's like a fusion of Calypso and Samba.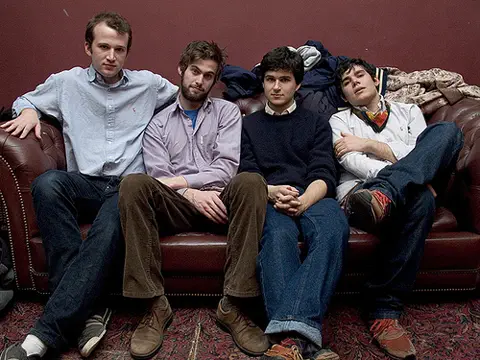 Since Soukous is meant to be dance music, it mixes well with Vampire Weekend's pop-rock application. Ever since the release of their first album, Vampire Weekend, in 2008, they've been making waves: the song 'A-Punk' opens the movie Step Brothers, the music video for 'Giving Up the Gun' features, among other unexpected cameos, a hilarious appearance by Jake Gyllenhaall, and the band's latest album, Contra, released earlier this year has triggered a lawsuit against the band. Former model Kristen Kennis, whose image is used on the album cover, is suing the band because she says she didn't give permission to use the photo.
September 18th, CAKE at the Orpheum Theatre
Everyone's a critic. At least that's the idea of the music video for CAKE's song Short Skirt/Long Jacket. The band asked people to listen to Short Skirt/Long Jacket while their reactions were video taped. The result is a music video made up of footage from those interviews. As the song plays in the background, the interviewees' comments range from, "I like it, it's a really nice song," and, "As a psychologist I'd have to say it has therapeutic value," to, "I don't think it will make it to the top of the pops," and, "I don't like all that thumping. It's kind of like it's trying to be so important by being noisy." So, what do we take away from the video? Some people like the song, others don't. In a larger sense, for every living person in the world, there is the same number of musical preferences. CAKE offers a unique and funny look at the world, and their sound is unmistakable for its catchy speak-singing, trumpet and guitar riffs and minimalist feel.
September 22nd, Phantogram at Paradise Rock Club
A phantogram is a set of 2D images that appears to the eye as a 3D shape when viewed through a pair of special glasses; it's like those cereal boxes you got as a kid with a pair of red and blue glasses inside that you could use to an image of Tony the Tiger pop out at you. Phantogram the band, however, is a kind of ambient dance music brought to life by the duo of Joshua Carter on guitar and Sarah Barthel on vocals and keyboard. Phantogram has hopped on with the movement of electronic pop with minimalist guitar patterns and breathy vocals that bands like The xx and Florence + the Machine has made popular. However, Phantogram's heavy drums and bass build a more swirling and ethereal sound, a sound that's much bigger than expected from only two musicians. Their first album, Eyelid Movies, was released in February of this year.
September 28th, Jason Derülo at House of Blues
You never really have to ask, "Who is this?" when a hip-hop or R&B song comes on because the artists always announce their names at the beginning of each track – kind of like a byline on a newspaper story or a magazine article. Even so, Jason Derülo takes the byline announcement to a whole new level. There is even a Facebook group devoted to his shout out, so you can become a fan of "The Way Jason Derülo Says His Name." Make sure to brush up on your falsetto before this show so you can sing along with the soon-to-be 21-year-old. But you'll probably have had plenty of practice already, since you can't turn on the radio without hearing at least one of the singer's hits from his album, Jason Derülo, released in March: Whatcha Say, In My Head, and Ridin' Solo.
Added Attractions

Measure – Sept. 5 – Middle East

Action Verbs – Sept. 8 – T.T. the Bear's Place

Hot Hot Heat – Sept. 8 – Middle East

Streight Angular – Sept. 9 – Great Scott

iLa Mawana – Sept. 9 – House of Blues

Vampire Weekend – Sept. 12 – Bank of America Pavilion

Dum Dum Girls – Sept. 12 – Bank of America Pavilion

Blue Scholars – Sept. 15 – Paradise Rock Club

Oranjuly – Sept. 16 – Great Scott

Of Montreal – Sept. 16 – House of Blues

Broken Social Scene – Sept. 17 – House of Blues

Bob Schneider – Sept. 18 – Harper's Ferry

CAKE – Sept. 18 – Orpheum Theatre

Caribou – Sept. 19 – Paradise Rock Club

Superchunk – Sept. 21 – Royale

Field Music – Sept. 22 – Great Scott

Phantogram – Sept. 22 – Paradise Rock Club

!!! (Chk Chk Chk) – Sept. 23 – Royale

EELS – Sept. 24 – Royale

Klaxons – Sept. 24 – Paradise Rock Club

Endless Wave – Sept. 25 – Great Scott

The Smoking Jackets – Sept. 25 – All Asia

Mates of State – Sept. 26 – Paradise Rock Club

Margot & The Nuclear So and So's – Sept. 27 – Middle East

Jason Derulo – Sept. 28 – House of Blues

LCD Soundsystem – Sept. 28 – Orpheum Theatre

Built To Spill – Sept. 30 – Paradise Rock Club