The tunes on Joey Pizza Slice's new album are personal enough to leave many listeners scratching their heads, asking "Is this guy for real?"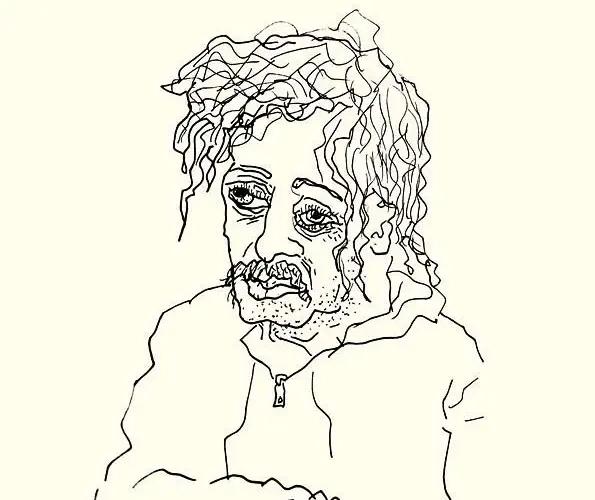 By Aidan Breen
It would be easy to dismiss Joey Pizza Slice – the Burlington, VT-based mastermind behind the group Salami Junior (aka Son of Salami) – as a weirdo whose music isn't worth much more than the tape it's recorded on. It would be easy to decide that the work Pizza Slice puts into his music was a waste of time, and that listening to it was the same. It would all be so easy – that is, if the music produced by Joey Pizza Slice wasn't so damn charming.
Deli Days/Sontava Nights is the definition of lo-fi. It was recorded on a handheld tape recorder with the eraserhead removed. This means each track on the vinyl album is recorded in one take; any mistakes are there forever. Even when you know how the music was produced, it is surprising to learn that each tune was recorded, one at a time, in single takes by the same guy.
The first and only time I was fortunate enough to see Joey Pizza Slice play live was with Feeding Tube Records label-mates and Boston-based psychos Guerilla Toss. After Guerilla Toss played their set, enter Pizza Slice. He came on stage drinking liquor out of a bottle in a brown paper bag, stumbled around for a bit, and said to the audience "I'm sorry, I'm going through a divorce." He then yelled "SHUT UP. Stupid people. Stupid people are everywhere" while he banged away on drums and cymbals, recording the sounds on his portable tape recorder. Later, after playing a few of his songs, he recorded another unique track and threw the tape out into the audience. My friend Dan caught it and I have forever been jealous.
Before hearing the Salami Junior album, it is important to understand that you need to take Pizza Slice's music with a grain of salt. The tunes on the CD are personal enough to leave many listeners scratching their heads, asking "Is this guy for real?" This over-the-top, "are you serious?" vibe is epitomized in the song "We Don't Need Drum Fills." The tune opens with a simple chord progression played on keyboard, followed by a drum fill. After the fill, the satiric vocals come in: "that was the worst drum fill ever/that really was the worst drum fill/ we don't need drum fills/ we don't need drum fills/ not anymore." Then there's another drum fill. The album is filled with this kind of wacky, tongue-in-cheek humor.
Still, don't take this seemingly slapdash approach as disposable. There are musically worthwhile things going on here. Pizza Slice shows off his admirable pop chops on songs such as "Resource Room" and "Baby Mayo," each of which could be a demented stadium synth-pop single. "Resource Room" deals with a sad high-school braggart, a kid who just wants to hang out with his friends in the so-called resource room. The lyrics revolve around the experience of this adolescent, who meets new friends, gets high with them, and has a good time. But the musical backdrop suggests a different story entirely. A somber minor chord progression is accompanied by a simple drum beat: the seemingly happy lyrics, juxtaposed with the melancholic music, gives the song an ironic depth. What is really going on in this antihero's head? Though a lot of the lyrics in Deli Days/Sontava Night initially come off as silly, even absurd, careful listening indicates that Pizza Slice's songs, and their messages, are deeply personal and surprisingly substantial.
Maybe no song demonstrates this balancing act better than "This World Is Shit." The conceptual inverse of "Resource Room," "This World Is Shit" couples a catchy major pop-rock synth line with a basic drumbeat. Meanwhile, Pizza Slice moans "this world is full of shit/ do your best to walk through it/ this world is shit." Amid the depression-magnets, the composer changes his message from time to time, as in such songs as "I Am Beautiful," where he croons "I am beautiful/I am beautiful/ I'm looking good today" and "looking good never looked so good."
Obviously, food and body image is a major theme. The opening track "Bread of Man" is immediately followed by a song called "Fat City." Tunes such as "Baby Mayo," "Poutin Skies," and "Sunday Gravy" further solidify Pizza Slice's food fetish, as though it weren't already apparent (his name is Joey Pizza Slice, people).
The album moves along well; the songs are short, the longest clocking in at 3 minutes 28 seconds. Given the strange nature of the music, Pizza Slice's brevity is wise, and it helps that each song is different from the last. After listening to the record a few times you know exactly which songs you love and which you wouldn't mind skipping.
The bottom line is that Deli Days/Sontava Nights is a brutal representation of Pizza Slice's ambivalent feelings about himself and existence. The lyrics may be simple, the music may not be complex or well produced, and some of the tones and noises will alienate many. But his songs are poignant because they are a testament to the revelatory power of contradiction: sad music, happy lyrics, and vice versa. Even the album art conveys the elemental message: simplicity, ugliness, and pizza come together to create a new kind of beauty, an honest glimpse into the heart of a man on the margins.
---
Based in Boston, Aidan Breen is a music lover, listener, and player, dedicated to plumbing the depths of underground releases and bizarreries. He only just learned to read, still working on writing.