The big "destination" jazz festivals are major events, but aficionados making vacation plans will be missing out if they don't at least take a look at the musical offerings of the smaller festivals.
By J. R. Carroll


2014 brings two major anniversaries for festivals that anchor the summer jazz schedule in New England—the Burlington Discover Jazz Festival turns 30, and the grandaddy of them all, the Newport Jazz Festival, doubles that with a 60th anniversary. These festivals are prime examples of major "destination" events, running multiple days (or even weeks) with dozens of musicians (including nationally and internationally renowned artists), often playing in a variety of locations. Others in this category would include the International Festival of Arts and Ideas, Paulie's NOLA Blues and Jazz Festival, the Green River Festival, the Litchfield Jazz Festival, the Rockport Jazz Festival, and the Berklee Beantown Jazz Festival.
Other festivals have a more modest scope and frequently a local focus, drawing their audiences primarily from their immediate areas, but jazz aficionados from elsewhere will be missing out if they don't at least take a look at the musical offerings and consider factoring one or more of these events into their vacation plans. (A whole other category are weekly or biweekly concert series, some of which are billed as "festivals"; the Arts Fuse will preview these series separately.)
It's still very early in the season, so a number of festivals have not yet announced their dates, times, and performers—check back in July for our Midsummer Festival Update. (And see below for a chronological listing of this summer's jazz festivals in New England.)
Northern New England
Memorial Day weekend marks the start of summer for many, with beaches opening, outdoor farmers' markets returning, and jazz fans flocking to the Burlington Discover Jazz Festival. (A cautionary note regarding beaches: The current water temperature of Lake Champlain is 44º.)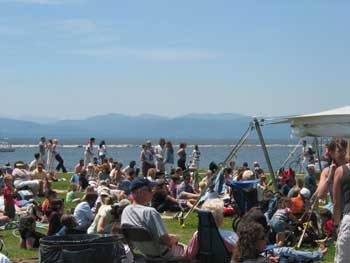 Running from Friday, May 30, through Sunday, June 8, the Discover Jazz Festival offers performances by 60+ artists in a variety of paid and free concerts, as well as gigs in local clubs (some with modest cover charges). There are also informal "Meet the Artist" sessions (Regina Carter, Benny Golson, Julian Lage, Geoffrey Keezer, and Warren Wolf), plus not-to-be-missed screenings of documentaries on the New York Art Quartet, Rahsaan Roland Kirk, and James Booker. Among the festival highlights: an opportunity to hear Tony Bennett in a jazz setting, and a double bill of NEA Jazz Masters Ron Carter and Benny Golson, along with concerts by Regina Carter, Gregoire Maret, Linda Oh, Julian Lage, Geoffrey Keezer, Maceo Parker, Warren Wolf, Donald Harrison, Cecile McLorin Salvant, Jerry Bergonzi, and Eddie Palmieri.
If you like your wavelengths long, the New Hampshire Bass Fest in Manchester gives you the lowdown. Daytime hours during the four-day event (Wednesday through Saturday, June 18-21) are dedicated to educational activities for the participants, but there's a free public concert every evening by the many and diverse faculty members.
For July and August, the action up north shifts to Maine. While we're still awaiting details of Boothbay Harbor's Lincoln Arts Festival Jazz Weekend, the Deer Isle Jazz Festival (Thursday through Saturday, July 31-August 2) in Stonington is set to open with Arrows to Infinity, a documentary by Dorothy Darr about saxophonist Charles Lloyd. The festival proper features two very different flavors of pianism, with Panamanian Danilo Perez performing on Friday evening and New Orleans piano professor Henry Butler wrapping up on Saturday night. (Regrettably, the Bar Harbor Jazz Festival seems to have been folded into a more general—and largely jazz-free—Bar Harbor Music Festival.)
Connecticut
With notable jazz scenes, particularly in Hartford and New Haven, Connecticut offers a rich variety of summer festivals. While embracing a wide array of artistic and intellectual endeavors, the two-week International Festival of Arts and Ideas in New Haven (spanning three Saturdays, June 14-28) includes performances by vocalists Dianne Reeves and Lalah Hathaway and violinist Regina Carter, Latin jazz with Mikata, and a host of world music fusion ensembles.
For those whose tastes are on the more traditional side (as in what the Brits call "trad"), head over to Essex for the Hot Steamed Jazz Festival (Friday through Sunday, June 20-22).
The Greater Hartford Festival of Jazz draws upon both its ample hometown scene and visiting artists, including saxophonists David Sanborn, Javon Jackson, and Azar Lawrence. The festival runs Friday through Sunday, July 18-20.

Nestled in the southern Berkshires, the Goshen Fairgrounds again welcome the Litchfield Jazz Festival (Friday though Sunday, August 8-10). The lineup is impressive: vocalist Cecile McLorin Salvant, pianists Cyrus Chestnut and Carmen Staaf, trumpeter Claudio Roditi, saxophonists Kirk Whalum, Jimmy Greene, and Jane Bunnett (with her formidable Cuban ensemble, Maqueque, including bassist/tres player Yusa), guitarist Mike Stern, bassist Mario Pavone, and large ensemble sounds from the Brussels Jazz Orchestra and the Litchfield Jazz Orchestra (in an all-Django-Reinhardt program).
Back where we started, the New Haven Jazz Festival (on Saturday, August 16) features bassist Nat Reeves and his quartet, including guest pianist Harold Mabern, as well as the Latin jazz of violinist Alí Bello and his Sweet Wire Band, and saxophonist Mike DiRubbo's quintet.
The Berkshires
The hole left by the demise of the Tanglewood Jazz Festival has never really been filled. There is the much more modest Berkshire Gateway Jazz Weekend, which comes to Lee much earlier this year, Thursday through Saturday, June 5-7.
2014 is the off year for the biennial Solid Sound Festival in North Adams, but it'll be back in 2015. Never fear—the Bang on a Can Summer Music Festival at MASS MoCA (Saturday, July 26 through Sunday, August 3) maintains the Wilco link through the participation of percussionist Glenn Kotche, most notably in the culminating Bang on a Can marathon, which includes the American premiere of Steve Reich's reimagination of two Radiohead songs, Radio Rewrite. (Not strictly jazz, but …)
The Pittsfield CityJazz Festival hasn't announced its dates or performers yet, but we can assume it will take place, as usual, in October.
Central Massachusetts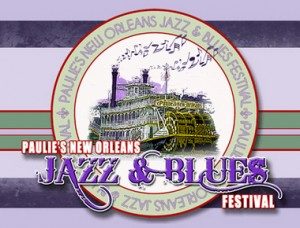 The middle of the state has a thriving series of festivals, kicking off with Worcester's annual slice of the Big Easy, Paulie's NOLA Blues and Jazz Festival (Friday through Sunday, June 20-22). Headliners include Meters bassist George Porter Jr. and his Runnin' Pardners, Marcia Ball, Glenn David Andrews, and Buckwheat Zydeco.
The rootsy, eclectic Green River Festival returns to Greenfield on Saturday, July 12, and Sunday, July 13, with another helping of New Orleans grooves from Trombone Shorty and Orleans Avenue, the Dirty Dozen Brass Band, the Iguanas, and the Dirty River Bourbon Show, plus the intriguing Gaslight Tinkers and the Ethiopian-inspired funk fusion of the Debo Band.
So far we know that the Northampton Jazz Festival will take place on Saturday, September 6, but the lineup hasn't been announced yet, and we have even less info on this year's Holyoke Latin Jazz Festival.
Rhode Island, Southeastern Massachusetts and Cape Cod
The southeast coast of New England gets the proceedings underway with a new event for the Memorial Day weekend (Saturday through Monday, May 24-26), the Plymouth Rock Assurance Jazz Festival. Performers include vocalist Rebecca Parris, saxophonist Greg Abate, and the Bebop Guitars.
Down on the South Coast, the New Bedford JazzFest returns on Saturday, June 14. The mostly local lineup has strong connections with the substantial music program at UMass—Dartmouth, as does the Onset Beach Jazz Festival, which returns after a year's hiatus to Buzzard's Bay on Saturday, July 19.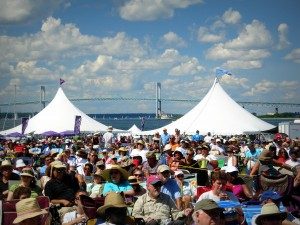 The beginning of August brings the Newport Jazz Festival, 60 years young, with George Wein still, at 88, at the 88s. Expanded this year to three full days (Friday, August 1 through Sunday, August 3), the roster still overwhelms you with a panoply of performers—and, unless you've discovered the secret of self-replication, you know you'll never be able to catch all of them. (Note that the set times and locations won't be announced until July.) Just a sampling of the more novel performances would include John Zorn's Masada Marathon, Miguel Zenón and the "Identities" Big Band, Rudresh Mahanthappa's Charlie Parker Project, the SFJAZZ Collective, the Newport Now 60 Band, Stefano Bollani and Hamilton de Holanda, and David Sanborn and Joey DeFrancesco with Billy Hart and Warren Wolf.
The bifurcated Provincetown Jazz Festival (Saturday, August 16 and Monday, August 18), opens on Saturday in Provincetown itself, and then moves on Monday to the Cotuit Center for the Arts, the latter featuring vocalist Rebecca Parris and bassist Avery Sharpe.
JazzFest Falmouth, scheduled for Saturday, September 27 through Tuesday, October 7, hasn't formally announced its lineup, but a little bird (by way of the artist's email list) has let us know that the headliner on Saturday, October 4, will be the terrific Catherine Russell.
Greater Boston
Last summer the biggest addition to Boston's roster of festivals was the wide-ranging (if sometimes perplexing) Outside the Box Festival, but unfortunately the festival will be taking a year off to regroup, aiming to return in 2015. It's also unclear whether the Merrimack Valley Jazz Festival will return this year, but we'll let you know if it does.
Meanwhile, the festival season has already gotten underway in Somerville with last Saturday's Porchfest (which was gifted with a spectacular and unexpectedly beautiful day, but was plagued by the website—and therefore the performers' locations—being inaccessible for much of the afternoon). Next up is Carnaval at SomerStreets on Sunday, June 1. Stretching along Broadway in East Somerville, the event includes performances by the Dirty Water Brass Band and Marcus Santos and Bloco Afrobrazil.
Due to the extensive construction going on at the usual site along the Charles River near Harvard Square, this year's Cambridge River Festival on Saturday, June 7, has been shifted to Central Square, where you can catch vocalists Diane Richardson and Shelley Neill, saxophonist Carlos Averhoff Jr., and pianist Laszlo Gardony.
It's back to Somerville on Saturday, June 21, for [Mayor] Joe's Jazz and Blues Fest. Performers will include reedman Mark Zaleski, guitarist Joey Vellucci, and the New Black Eagle Jazz Band. Somerville is also the destination for the annual ArtBeat festival. Scheduled for Friday and Saturday, July 18-19, performers and set times are still being finalized.
Now in its fifth decade, the South End's Festival Betances remains one of Boston's premier celebrations of Latino culture. Performers and times for this year's event (taking place Friday through Sunday, July 18-20) have not yet been announced.
Another recent addition to Boston's schedule has been the Summer Arts Weekend, this year happening on Saturday and Sunday, July 26-27. The roster includes flamenco jazz guitarist Jesse Cook, the Soul Rebels (from New Orleans), and Latin jazz master trumpeter Arturo Sandoval.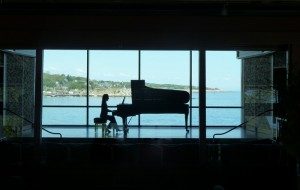 The breathtaking Shalin Liu Performance Center is home to the Rockport Jazz Festival, this year running from Wednesday, August 13, through Sunday, August 17. The impressive roster includes drummer Ali Jackson, pianists Donal Fox and Kenny Barron, bassist Christian McBride, and a swing guitar trio with Bucky Pizzarelli, Frank Vignola, and Vinny Raniola.
Down the coast a bit, the Salem Jazz and Soul Festival returns on Saturday, August 16, with a lineup including the Pocket Money Orchestra, New Orleans saxophonist Amadee Castenell, the intriguing Moon Hooch, and the Cape Ann Big Band.
The annual Labor Day (September 1) Bread and Roses Heritage Festival is still fleshing out its schedule, but with Lawrence as its home base, it's a good bet there'll be some Latin jazz in the lineup.
Newton's modest contributions to the autumn festival slate are the Newton Jazz and Wine Festival (Friday through Sunday, September 19-21), and Newtonville Village Day (date TBA). Details on both are still to come.
Boston's preeminent outdoor jazz event is, of course, the Berklee Beantown Jazz Festival, scheduled for Saturday, September 27. Performers have yet to be announced, but in the meantime you can check out our photo gallery from last year's event.
2014 Festival Chronology
Plymouth Rock Assurance Jazz Festival
Saturday, May 24—Monday, May 26
Plymouth, MA
Burlington Discover Jazz Festival
Friday, May 30—Sunday, June 8
Burlington, VT
Carnaval at SomerStreets
Sunday, June 1
Somerville, MA
Berkshire Gateway Jazz Weekend
Thursday, June 5—Saturday, June 7
Lee, MA
Cambridge River Festival
Saturday, June 7
Cambridge, MA
New Bedford JazzFest
Saturday, June 14
New Bedford, MA
International Festival of Arts and Ideas
Saturday, June 14—Saturday, June 28
New Haven, CT
New Hampshire Bass Fest
Wednesday, June 18—Saturday, June 21
Manchester, NH
Paulie's NOLA Blues and Jazz Festival
Friday, June 20—Sunday, June 22
Worcester, MA
Hot Steamed Jazz Festival
Friday, June 20—Sunday, June 22
Essex, CT
Joe's Jazz and Blues Fest
Saturday, June 21
Somerville, MA
Green River Festival
Saturday, July 12—Sunday, July 13
Greenfield, MA
ArtBeat
Friday, July 18—Saturday, July 19
Somerville, MA
Festival Betances
Friday, July 18—Sunday, July 20
Boston, MA
Greater Hartford Festival of Jazz
Friday, July 18—Sunday, July 20
Hartford, CT
Onset Beach Jazz Festival
Saturday, July 19
Onset, MA
Summer Arts Weekend
Saturday, July 26—Sunday, July 27
Boston, MA
Bang on a Can Summer Music Festival at MASS MoCA
Saturday, July 26—Sunday, August 3
North Adams, MA
Deer Isle Jazz Festival
Thursday, July 31—Saturday, August 2
Stonington, MA
Newport Jazz Festival
Friday, August 1—Sunday, August 3
Newport, RI
Litchfield Jazz Festival
Friday, August 8—Sunday, August 10
Goshen, CT
Rockport Jazz Festival
Wednesday, August 13—Sunday, August 17
Rockport, MA
New Haven Jazz Festival
Saturday, August 16
New Haven, CT
Salem Jazz and Soul Festival
Saturday, August 16
Salem, MA
Provincetown Jazz Festival
Saturday, August 16 and Monday, August 18
Provincetown, MA
Bread and Roses Heritage Festival
Monday, September 1
Lawrence, MA
Northampton Jazz Festival
Saturday, September 6
Northampton, MA
Newton Jazz and Wine Festival
Friday, September 19—Sunday, September 21
Newton, MA
Berklee Beantown Jazz Festival
Saturday, September 27
Boston, MA
JazzFest Falmouth
Saturday, September 27—Tuesday, October 7
Falmouth, MA
2014 Festivals with Dates TBA
Lincoln Arts Festival Jazz Weekend
Usually in July
Boothbay Harbor, ME
Merrimack Valley Jazz Festival
Usually in September
Lowell, MA
Newtonville Village Day
Usually in September
Newton, MA
Pittsfield CityJazz Festival
Usually in October
Pittsfield, MA
Holyoke Latin Jazz Festival
Usually in October
Holyoke, MA