SHUFFLE Concert has invented their own distinctive rules to performance, and their innovative approach, with its inspired programming, has been a hit.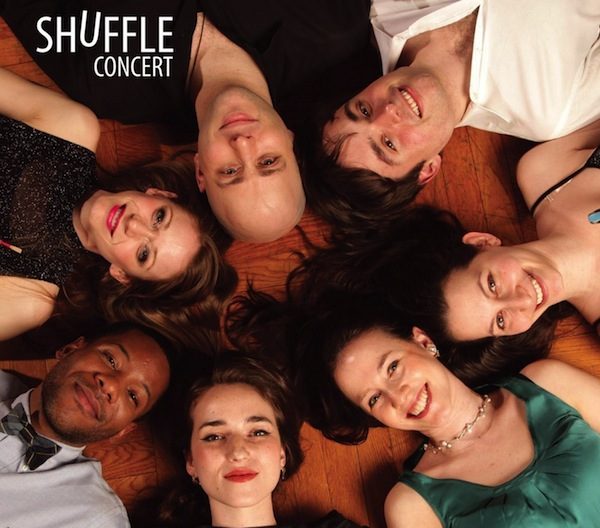 By Susan Miron
There is an unusual freshness and exuberance in the playing of the 4 year-old chamber group known as SHUFFLE Concert, whose eponymous new CD features 16 short pieces. Their playlist is unique, something few other groups would have considered putting together, but what is more important about this "musical democracy" is that it has invented its own distinctive rules to performance, and that their inspired programming has been a hit.
SHUFFLE Concert was the brainstorm of Israeli pianist Eliran Avni, who conceived of the idea at the gym when his MP3 player jumped suddenly from The Pretenders to Prokofiev. Wouldn't it be fun, he thought, to create concerts where styles, repertoire and players were never the same twice? Each SHUFFLE Concert is built-on-the-spot: random audience members choose what they want to hear from a menu of pieces in various styles. Much is left to chance. It's up to selected listeners, who from the potential offering — in a bingo-like fashion — chooses the next piece. There are, at the moment, forty pieces that the players and singer are ready to perform at the drop of a hat.
Usually twelve pieces are performed at a SHUFFLE Concert. Their new CD offers a delicious tasting menu of 16 pieces, a gathering that showcases each instrument along with some exquisite arrangements for the entire ensemble. I was impressed by the virtuosity and musical sensitivity of all seven of the group's extraordinary musicians: Eliran Avni- piano; Hassan Anderson – Oboe; Francisco Fullana – Violin; Ariadne Greif – Soprano; Linor Katz – Cello; Moran Katz – Clarinet; Jessica Pearlman – Oboe.
The CD opens exuberantly with a lively "Samba" from "Four Souvenirs" by Paul Schoenfield, arranged for clarinet and piano by clarinetist Charles Neidlich. Then, a winning version, beginning with solo cello, of "Bess, You is My Woman Now" from Gershwin's Porgy and Bess, arranged for the ensemble by composer Avner Dorman (Eliran Avni has recorded two CDs of Dorman's music). Soprano Ariadne Greif makes a sultry appearance in a superb arrangement by Jonathan Keren of the famous bassa nova song, "Desafinado" (which means slightly out of tune, but no one here is ever, thankfully, out of tune!) Greif steals the show each time she shows up on this CD. She is simply sensational.
How far from bassa nova can you go? Well, the next piece answers that question.The acerbic Scherzo from Shostakovich's Piano Trio No. 2 in E minor follows, then "Why Don't You Do Right?" for clarinet, soprano and ensemble (by Joe McCoy, arr. Dan Kaufman). The latter becomes a little dizzying, but the high level of musical performance keeps you hooked.
Schumann's lovely Romance for Oboe and Piano, Op 94, No 1 is given the beautiful performance it deserves by oboist Hassan Anderson, then onto an unusual arrangement by Linor Katz of Tchaikovsky's "Where? Where?" (Kuda? Kuda?) from Eugene Onegin for cello and piano. This transcription of Lenski's aria was a real find, and is played gorgeously.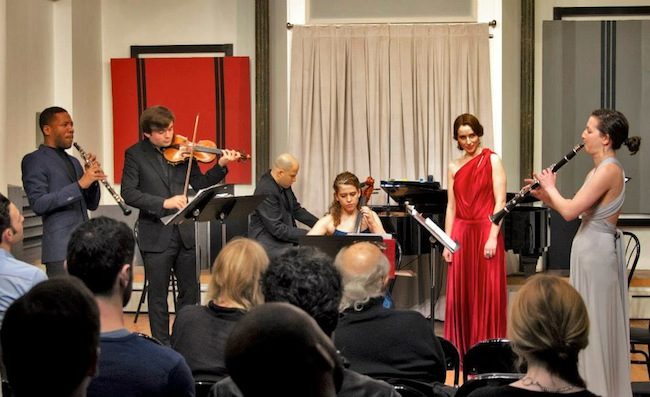 A lovely adagio by Telemann from Concert for Recorder, Oboe and Violin in A minor is followed by soprano Greif belting out "When You're Good to Mama" from "Chicago" (Kander & Ebb, arr. Noam Sivan).
If all this hasn't left you breathless, there's lots more, and it's all good. There's "Introduction and Finale" from "Fantasy Trio for Clarinet Trio" by the late American composer Robert Muczynski and a luscious lullaby by Sasha Argov for Oboe and Piano played, sublimely, by oboist Jessica Pearlman. The lovely Allegretto Grazioso from Brahms's Sonata No. 2 in A major, Op. 100 for Violin and Piano transports you to another world, followed by an ensemble arrangement by Jonathan Keren of Maurice Ravel's "Mouvement de Menuet" from his "Sonatine" (originally for piano). The tempo taken is somewhat slower than I am used to, but it works, especially when the soprano enters unexpectedly toward the end; one is pleasantly reminded of Ravel's Daphnis.
Avner Dorman wears his composer's hat in "Mantra: Preciso, con energico" for the ensemble, followed by "Fuga" from "Fuga Y Misterio" by the deservedly popular Astor Piazzolla (arr. by Noam Sivan). A great ending! Pianist Eliran Avni contributes exquisite playing here and throughout this terrific album.
---
Susan Miron, a harpist, has been a book reviewer for over 20 years for a large variety of literary publications and newspapers. Her fields of expertise were East and Central European, Irish, and Israeli literature. Susan covers classical music for The Arts Fuse and The Boston Musical Intelligencer. She is part of the Celtic harp and storytelling duo A Bard's Feast with renowned storyteller Norah Dooley and plays the Celtic harp at the Cancer Center at Newton Wellesley Hospital.