Daniel Jones is a beguiling writer, with a wonderfully irreverent way of addressing one of life's most serious sources of joy and disappointment.
Love Illuminated: Exploring Life's Most Mystifying Subject (with the help of 50,000 Strangers), by Daniel Jones. William Morrow, 224 pages, $25.99.
By Helen Epstein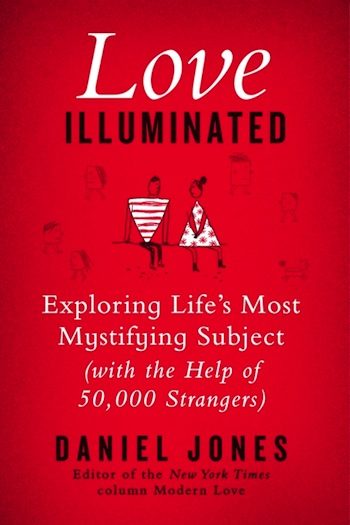 Whether you're an old married person like me trying to figure out how your offspring are navigating what Daniel Jones calls "the Sea of Love," one of those 20-somethings trying to swim in it, or anyone else on the planet, you'll be intrigued by Love Illuminated, a compulsively readable book by Daniel Jones, editor of the New York Times' Modern Love column for the past nine years.
During that time, Jones – who started out his writing life as a novelist — claims to have received, read, and mulled over some 50,000 essays about love, sex and romance. Unlike hundreds of other authors writing about intimate relationships, he makes no claim to professional credentials. "Very little scientific research underpins anything herein," he writes, "because I am not an esteemed doctor or lauded academic but a lowly newspaper editor, one who – rather improbably, I admit – reads other people's love stories for a living."
Apart from being an excellent editor (I know, because I submitted a piece to "Modern Love" some years ago that he rejected with perceptive feedback), Jones is a beguiling writer, with a wonderfully irreverent way of addressing one of life's most serious sources of joy and disappointment.
Love Illuminated is loosely organized as a travelogue that surveys the landscape of contemporary love, drawing not only on those 50,000 submissions that landed in Jones' Inbox. He draws on stories he's told wherever he goes as well as stories that have become media fodder in the last few years. One is about Notre Dame football player Manti Te'o, who fell for a Facebook photo of Lennay Kekua, "who turned out not to exist." Another is about the aging physics professor who was conned into smuggling drugs for an alleged Czech bikini model and arrested in Argentina. He also weaves a less dramatic but charming strand of memoir into the book from his own life as a boyfriend and husband in Northampton, Mass.
Although Jones' exuberance can occasionally veer into the puerile (his recurrent parody of self-help quizzes was okay at first but got old for me), Jones is never snarky about the vast spectrum of experiences people send him to read. Nor, unlike Dr. Phil or Dr. Ruth or any number of therapists, does he profess to diagnoses. He's often as mystified as writer and reader. We recognize ourselves and our friends in part of every story and wind up thinking, "There but for fortune go we all."
Jones includes deeply moving as well as harrowing and dizzy stories about old, young, heterosexual, homosexual, marital, extramarital relationships. He holds to a light conversational tone through thick and thin and kept me laughing or shaking my head for much of the book. For as much as we like to think we'd never do what some of these people did for love, none of it is unimaginable – not even the tale of the woman who fell for a Nigerian scammer.
The opening quiz gives you an idea of his style:
1. Do you think it's better to put a lot of effort into finding love, or leave it to fate?
2. If a word like destiny makes you gag, should you still try to believe in it?
3. Say you have some physical shortcoming, psychological issue, or medical problem you're embarrassed about that makes you insecure about starting new relationships. When is the best time to inform a new love interest about your perceived inadequacy?
And:
9. Say your husband or wife experiences a brain-injuring accident, falls prey to early-onset dementia, or succumbs to a destructive addiction. Like most, you sealed your bond years or perhaps decades earlier with idealistic pledges to stand by each other during sickness and health and in good times and bad…..What happens when the person you promised to love no longer seems to be the person you're married to?
"But are you learning any new information?" my husband asked, annoyed by my constant chuckling.
Occasionally, I said. But that's really not the point. We read for Jones' quirky take on columns we've read, stories we've heard, situations we've been in ourselves, back in the old days of blind dates and getting fixed up.
Jones' fearless correspondents on the new love frontier cover a wide range of territory, from hook-ups to nonsexual, virtual relationships, from arranged and religious marriages to porn-enhanced ones. The internet figures prominently in the majority of them and, in the grand journalistic tradition of participant-observer, Jones and his wife even try online dating incognito to see if they'll get matched up. They don't.
"Once ridiculed as a sordid meat market for the undesirable," Jones writes, "online dating is now the service of choice. . . . And these sites are not just for young people anymore, if they ever were. The fastest-growing segment of the online dating millions is people in midlife, the divorced and widowed with jobs and kids and routines that keep them busy and away from places where they might meet someone new."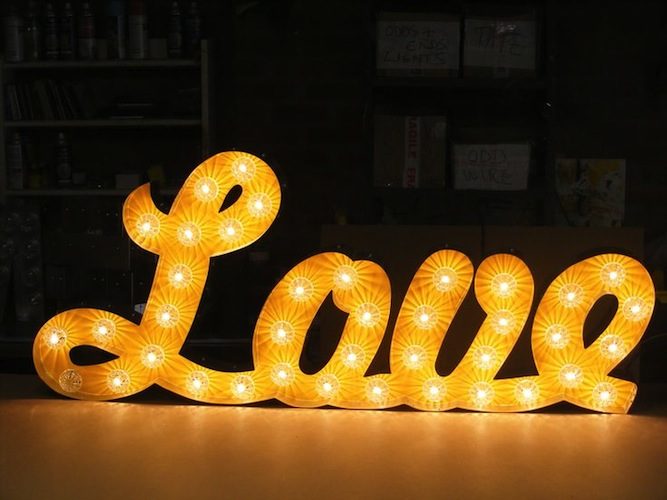 While internet dating offers up far more potential partners than anyone could encounter off-line, it "operates on the assumption that we know what kind of person we are looking for," he writes. "What began as a rush of enticing possibilities – thousands of them, all in our geographical area! – quickly devolves into a game of exclusion as we flee from variety and risk and mystery and meekly migrate toward the familiar, blackballing entire age groups, races, geographical areas, income brackets, and religions from our dating pool with a click of the mouse."
"We can even head straight to a specialized site that 'preweeds' according to variables such as vocation (FarmersOnly.com), level of attractiveness (BeautifulPeople.com), thereby lowering our risk of accidentally ending up in bed with a lawyer, an ugly person, an Episcopalian or anyone too young to want to meet for dinner at four thirty P.M. in the Leisure Pines cafeteria. . . . While real people of various persuasions might have a chance at winning our heart, a category never will."
It's a tricky thing to maintain a colloquial tone about the full life cycle of relationships, particularly the endgame which in our time includes surviving not only horrendous accidents but transfiguring illnesses such as AIDs and Alzheimer's. For the most part Jones manages to walk the narrative tightrope between compassion and irony well until the final chapters, when his approach can no longer sustain the weight of his material. But he is fearless about examining the challenges facing long happily-married couples.
"What's the best way to rediscover passion in marriage once monogamy has morphed into monotony, intimacy has constricted into claustrophobia, and familiarity has bred contempt? I wish I had the answer, because clearly millions of people would like to know. And I suspect they've already spent billions trying to find out."
Jones describes "those who quash" by rationalizing why they should accept the inevitability of diminished sexual passion; "those who sneak" by seeking out former loves or stalking strangers on FB (the internet again); "those who restore" by going to marital or sex therapy and/or consulting a library of books to address the issue (like his wife). His chapter on infidelity is the weakest, but then how could such well-traveled literary territory not be?
I had the sense that Jones didn't know how to end Love Illuminated or ran out of time or energy. But for most of the book I was pleased to listen to an empathic storyteller who sometimes reminded me of Dave Barry, sometimes of Gail Collins, sometimes of Russell Baker. I hope to read more of Daniel Jones.
---
Helen Epstein is a journalist, author, and co-founder of Plunkett Lake eBooks , whose most recent ebook is Jean-Denis Bredin's The Affair.