Lousy with Sylvianbriar proves that of Montreal is still fully capable of crafting catchy and rollicking rock songs when it wants to.
Lousy with Sylvianbriar, of Montreal. (Polyvinyl)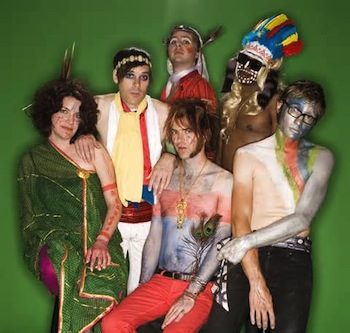 Of Montreal has had perhaps the most interesting trajectory of any band in independent music. The act was founded by frontman Kevin Barnes in 1996 as part of the eminent Elephant 6 Recording Company, and initially shared the 60's psych-pop esthetic of its affiliates: The Music Tapes, The Olivia Tremor Control, and Neutral Milk Hotel, among others.
However, of Montreal never had any trouble standing out from the pack, thanks to Barnes' unparalleled ability as a songwriter – his lyrics were incredibly candid about his dark side, to the point of bordering on the depraved. He had a very eccentric, flamboyant personality that came through loud and clear in his music, which listeners found to be either endearing or abrasive (or both).
These qualities were amped up after the band's signing to Polyvinyl for 2004's Satanic Panic in the Attic. The deal also sparked a major stylistic shift from the act, as it began making an increasingly conceptual and un-structured brand of manic prog-pop. This came to a head with the unapologetically gaudy Skeletal Lamping in 2008, a lush concept album about Barnes' reverse-transgender, Ziggy Stardust-esque alter ego, Georgie Fruit.
While of Montreal's newfound glitz and glam didn't please everybody, Skeletal Lamping and its predecessor, Hissing Fauna, Are You the Destroyer?, boasted the perfect blend of complexity and catchiness in both their songwriting and compositions. Yet another rewarding experience was provided by the band's 2010 R&B-infused False Priest, which featured fantastic guest spots from Janelle Monáe and Solange.
Last year, the band released its 11th album Paralytic Stalks, a much more refined and controlled LP than the previous few. It had some of the band's most expansive and gorgeous pieces to date, as well as some of Barnes' most personal lyrics, most of which dealt with his painful relationship with his wife, Nina. Given its ambitious fusion of progressive and baroque arrangements, the album was arguably grander in scope than its predecessors, though (ironically) it came across as somewhat toned-down because the band's glitzier, hyper-glamorous qualities were suddenly gone.
Lousy with Sylvianbriar is of Montreal's latest project, and it's an astonishingly raw affair. The songs are built out of conventional structures and traditional rock instrumentation, but Barnes and company manage to accomplish a lot within these parameters. The album has a 60's rebel rock esthetic that can be easily encapsulated with one word – badass. The Quadrophenia-evoking front cover makes that attitude clear.
Barnes' lyrics are as compelling as ever on this new record. The disc is kicked off by lead single "Fugitive Air," a bouncy, "Stones-y" rocker that features Barnes ruminating on his self-destructive behavior, calling himself an "anti-hero" while vividly painting the tune's downtrodden setting — a dinky town he's imagined himself in. This is followed by the smooth, slow-burning "Obsidian Currents," in which he reflects on his difficulty with facing the physical world, claiming to be too "conceptual."
On the sprawling, Dylan-inspired "Belle Glade Missionaries," Barnes starts by calling out a government conspiracy on the chorus and then calls out a (presumably former) lady friend for posting "naked .gifs of [her] epileptic fits" on the verse. On the other hand, "Sirens of Your Toxic Spirit" is a soft-spoken, moodily folksy acoustic number that smacks a bit of Simon & Garfunkel.
"Colossus" opens with maybe Barnes' darkest line to date: "Your mother hung herself in the national theatre when she was four months pregnant with your sister/Who'd have been 13 years old today/Does that make you feel any less alone?" The song is understandably somber, but it is also surprisingly (and ironically) catchy. The tune gives way to the LP's soaring midpoint, "Triumph of Disintegration" – that is, "soaring" in terms of its striking garage rock composition. The lyrics are another matter. On the chorus, Barnes wails, "I had to make myself a monster just to feel something ugly enough to be true."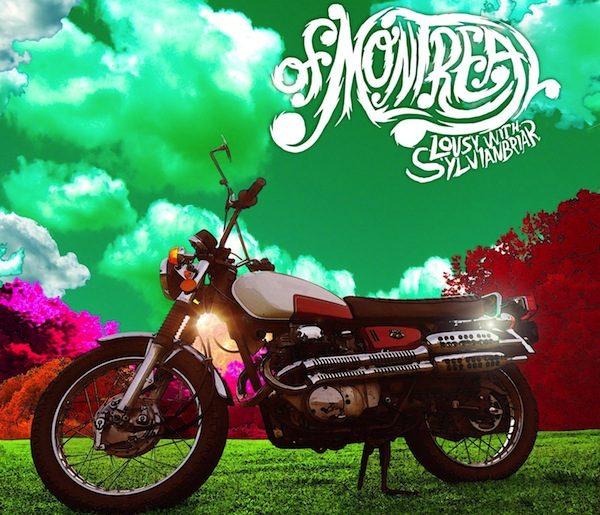 But the album's most powerful piece has to be the explosive single "She Ain't Speakin' Now." Barnes claims to have written the song while his wife and daughter were bedridden with a terrible illness, so the lyrics are appropriately concerned for their well-being. At the same time, he's worried that he might catch what they have, so an amusing element of understandable self-interest also comes through. Polyvinyl describes the song's angst-ridden chorus as sounding like "the best moments of Neil Young & Crazy Horse," which is an apt comparison.
Thankfully, of Montreal's foray into country on "Hegira Émigré" goes over much better than Deerhunter's on its last album. The former is well-performed, delightfully rowdy, and lacks the sickening level of self-awareness of the latter.
There's a change-up on the penultimate track, "Raindrop in My Skull," which is fonted by backing vocalist Rebecca Cash. Despite its brevity (under three minutes), its compositional progression is exquisite and Cash's singing is lovely. It sets up an interesting transition to the closer, "Imbecile Rages," Barnes' most scathing indictment of an ex-girlfriend (or anyone, for that matter) yet. He vents, "I guess you feel like you got this lifetime pass and you can be a dick and it doesn't matter/But I'm through, yeah I'm free, and basically, you're just dead to me."
Lousy with Sylvianbriar proves that of Montreal is still fully capable of crafting catchy and rollicking rock songs when it wants to, the album's stripped-back esthetic taking full advantage of Barnes' immense songwriting prowess, making the record a singular listening experience despite (or because of) of its embrace of the tried-and-true.