by Helen Epstein
I'm looking forward to what looks to be the best fall foliage season in years in the Berkshires.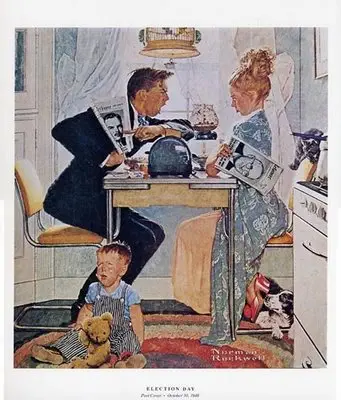 American Chronicles: The Art of Norman Rockwell at the Rockwell Museum in Stockbridge, MA through October 12. A very popular summer exhibit has been held over. It covers Rockwell's entire 65-year career, interpreted and contextualized by new scholarship and archival materials. If you haven't been to Museum, this is your chance to see it and the artist's studio in the best possible context.
Contemporary Art at the White-Ellery House presented by the Cape Ann Museum, Gloucester, MA, on October 3. A chance to see the work of artist Susan Erony, for the final date in a series of one-day modern art installations at the historic White-Ellery House in Gloucester, MA.
I interviewed the artist for a recent Culture Vulture piece on the Gloucester City Hall Murals. Erony's installation includes the works "Ode to Charles Olson: On Preservation" and "Olson Fragments, II," both works based on Olson's "The Maximus Poems," and "Thirty-Six Safe Places," a piece inspired by Franz Kafka's short story "The Burrow."
The White-Ellery House, a First Period structure built in 1710 on Gloucester's historic Town Green (now the Grant Circle rotary) and moved to its present location at 245 Washington Street, will be open for guided tours as part of 17th Century Saturdays, an Escapes North program on Saturday, October 3. This is the final day of the program this year; these programs are free and open to the public.
Kiss Me, Kate, a musical comedy by Sam and Bella Spewack (book), Cole Porter (music, lyrics) at the Lyric Stage Company of Boston through October 10. If you love the golden age of American musicals as I do, you cannot miss the Lyric Stage's sly, intimate, wonderful production of Cole Porter and Sam and Bella Spewack's "Kiss Me, Kate."
Everything about it — from the natural, unmiked voices accompanied by jazz band, to the production's gloss on period choreography, costumes, and set, to the experience of actually seeing a full-scale musical in a 240-seat theater — works to make this one of the most entertaining 2 and a half hours of theater I've ever experienced in Boston.
To begin with, "Kiss Me Kate" has one of the most beautiful scores in American theater, with nary a clunker among its twenty musical numbers. Predating Leonard Bernstein's "Candide" by nearly a decade, this is music that makes you want to stand up and sing along. Porter seemed to have had no problem spooling out melodies and spoofing other musical genres in songs that have become standards of the American songbook such as "So in Love," "Wunderbar," "Too Darn Hot," "From this Moment on" and the eminently quotable and irrepressible "Brush up your Shakespeare."
Sam and Bella Spewack, who are responsible for molding Arnold Subber's idea into musical comedy (Subber had been a stage manager's apprentice on a production of "Taming of the Shrew" with legendary actors Alfred Lunt and Lynn Fontanne who squabbled off-stage as much as on) had the temerity to do a Shakespeare on Shakespeare and transform "Taming" into a play-within-a-play that is on tour in Baltimore (standing in for Padua). This may be the source of all subsequent Baltimore jokes in theater: When a character asks for a loan the response is "If I had two dollars do you think I'd be in Baltimore?" the Spewacks' script, the lyrics, the dancing, the music all resonate with layers of references to post-war America, to other plays and other times as well as providing a satisfying storyline on their own.
The Spewacks were allegedly experiencing marital difficulties; she is said to have poured some of her grievances into the dialogue. If so, this is a refutation of the standard editorial wisdom of needing to have distance from your material.
The company — many of whom are local teachers at or graduates of local performance programs — was almost almost uniformly excellent. Amelia Broome as the Shrew seemed to luxuriate in her lines as both Katherine and Lilli Vanessi and tossed off the intricate coloratura sections of her songs as well as the beer-mug-slamming declamatory "I Hate Men (I can't abide them even now and then)" as though they were child's play.
Michele A. DeLuca's expressive face and voice and body was a satisfyingly cartoonish Lois Lane/Bianca. Peter Davenport as Petruchio /Fred Graham who "conceived, delivered, directed" and "starring" (according to his billing on the curtain of the "Taming of the Shrew") portrays the bullying egotist who is equal parts attractive and exasperating. Jack Agnew is quietly convincing as the fatherly Harry/Baptista and The show is brought to a dazzling stop twice: first. when the two gangsters played by Neil A. Casey and J.T. Turner sing and dance a magical "Brush Up Your Shakespeare" and second, when an outrageously hammy Timothy John Smith (General Harrison Howell) steals the show.
The 7-piece band of keyboard, bass, drums, and reeds was simply fabulous, exuberant, exact, full of unobtrusive charm. The chorus was full-bodied, full-voiced and great fun. As one of the men remarked on his way out when asked if he had a good time, "This is my playground."
Credit for all this must go to the Lyric's Artistic Director and director of "Kiss Me, Kate," Spiro Veloudos whose hands-on approach to theater and unpretentious artistic sensibility was evident the evening I attended: he was acting as chief usher and directing theatergoers to their seats. His production is subtle, intelligent and great fun both for theatergoers who know the play and those seeing it for the first time. In the pre-performance talk that has now become de rigeur in this time of financial crisis for the arts, he urged people not only to turn off their cell phones but to spread the word if they enjoyed the evening and keep quiet if they did not! Let me shout it from the rooftops: GO SEE KISS ME, KATE!
First Monday at Jordan Hall, Boston, MA, October 5, continuing on Mondays through May, 2010. This year marks the 25th Anniversary of "First Monday at Jordan Hall," a series of free chamber concerts performed by New England Conservatory faculty and friends. I live in the 'burbs and hate the rush hour traffic but the programming is so attractive that I will brave the problems of getting into the city and finding a place to park. Monday's First Monday concert includes a brass fanfare by Giovanni Gabrieli; J.S. Bach's Wedding Cantata "Weichet nur, betrübte Schatten" BWV 202; and Mozart's Quintet in g-minor K. 516.
All-Russian Program, The Boston Symphony Orchestra at Symphony Hall, Boston, MA, October 8 through 10. Given James Levine's sudden back surgery, it's impossible to predict whart the BSO will be doing this month, but I'd been planning to go hear Russian conductor Vasily Petrenko makes his BSO debut in what is sure to be an exciting all-Russian program. The line-up includes: Stravinsky's "Scherzo fantastique," Rachmaninoff's "The Isle of the Dead," and Shostakovich's "Symphony No. 10," his first major work after the death of Stalin.
Leonard Bernstein once remarked that it helps to understand a nation's language when conducting its music. I always listen with special attention to a musician performing the music of his or her country. Vasily Petrenko, born in 1976, was trained at the St. Petersburg Capella Boys Music School – the oldest music school in Russia — and the St. Petersburg Conservatoire.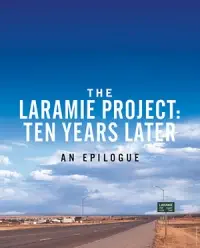 The Laramie Project: Ten Years Later (An Epilogue), at the Barrington Stage, Pittsfield, MA, on October 12. Part of a mass reading (in more than one hundred theaters across North America) of the critically acclaimed play that dramatized the murder of Matthew Shepard, a 21-year-old gay man in Laramie, Wyoming. I missed seeing the original play.
=================================================
Culture Vulture News: Francophone Edition: Helen Epstein's new book of essays on memoir and psychoanalysis has just been published in Paris by La Cause des Livres, with a preface by analyst and memoirist Philippe Grimbert. The book began as a lecture on Narrative in Memoir and Psychoanalysis for the relational psychoanalysts of the Stephen Mitchell Center at the New School in New York City.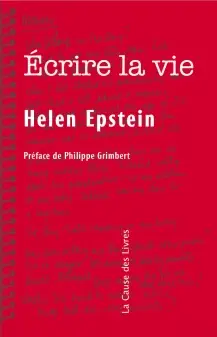 For more information go to www.helenepstein.com or to La Cause des Livres. An English version is in the works.