By Aaron Keebaugh
Víkingur Ólafsson's bold keyboard presence gave us a composer pressing against the conventions of his time while absorbing everything his ears took in.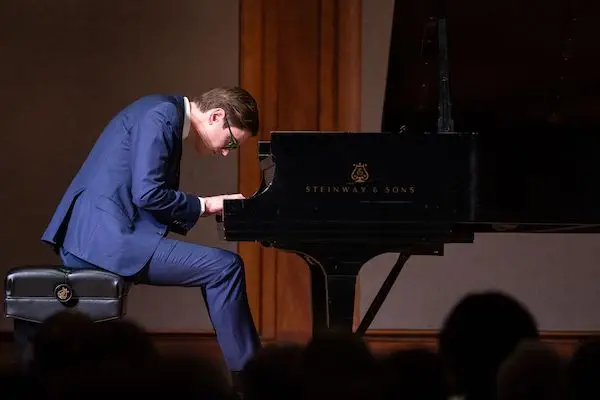 He had been raised to be a star. And usually that suited him.
But by the 1780s, Wolfgang Amadé Mozart had encountered significant difficulties. He married against his father's will, rupturing the patriarchal familiarity that had developed his talent. And in failing to attain a position in the Viennese court, the composer took the rare move of hiring himself, putting on concerts and writing the necessary music while absorbing the expense.
These real life struggles humanize and complicate a figure remembered colloquially — and passively — for towering genius. Pianist Víkingur Ólafsson taps into that complexity and discovers a freshness and vitality in the music Mozart created during the last decade of his life. His Celebrity Series debut at Pickman Hall on Tuesday night, which sought to place the composer in his contemporary context, revealed both the grace and fitful tensions of the man behind the myth.
The program paired familiar sonatas and smaller keyboard works by Mozart alongside those of Joseph Haydn, C.P.E. Bach, Domenico Cimarosa, and Baldassare Galuppi. In that light, Mozart came off as less elegant and more restless. Ólafsson's bold keyboard presence showed a composer pressing against the conventions of his time while absorbing everything his ears took in.
Compared with the chordal beauties of the Andante spiritoso from Galuppi's Piano Sonata in F minor, for example, Mozart's Sonata No. 16, K. 545 sounded fiery and propulsive. Ólafsson's technique is crystalline, his tone pearly and ringing. Phrases rarely languished in the moment. Rather, the Icelandic pianist subtly drove the intensity forward, the lines cresting in florid scales and arpeggios.
This was a Mozart that looked ahead towards romantic extravagance. The Sonata in C minor, K. 457 took on an unusual power and heft. Ólafsson's sturdy left hand octaves provided a spring for the wild scales of the Molto Allegro. He also brought palpable weight to the Adagio and concluding Allegro assai, the music suggesting Beethoven's Pathetíque Sonata a few decades early. Even more eye-opening, Ólafsson's rendition of Mozart's Fantasie in D minor had the weight of Schumann and the volcanic urgency of Chopin.
Yet there were delicate moments as well. Mozart's Rondo in F major, K. 494 was an essay in soft colors, with Ólafsson's nimbly bringing the lyricism to light. He leaned into the Rondo in D major, K. 485, his weightier tone adding zest to the customary finesse.
Haydn's Sonata No. 47 in B minor was likewise a study in contrasts. Poignant and urgent in his playing, Ólafsson reveled in the first movement's trills and mordents. The Menuetto lilted; the Trio coursed fervently. And he deftly supplied the finale's raw, knuckle-busting power.
Ólafsson treated works by the lesser-known composers with just as much conviction. The Larghetto from Galuppi's Piano Sonata No. 34 was searching in its cascading arpeggios. Cimarosa's brief Sonata No. 55 generated surprising chromatic delights with each phrase. Under the pianist's fingers, C.P.E. Bach's Rondo in D minor was a mix of subtlety and wild abandon.
Mozart revered Bach and channeled that soulful grandeur in a host of works. The plush harmonies of the Adagio from Mozart's String Quintet No. 3 relayed warmth in Ólafsson's tasteful idiomatic arrangement. The Adagio in B minor brooded quietly. And he nurtured the gentle yearning in Franz Liszt's transcription of Mozart's Ave verum corpus. He captured a similar reverence in his encore of the Adagio from J. S. Bach's Organ Sonata No. 4.
"We all come to Mozart with a little baggage," Ólafsson said in his opening remarks. But any struggle with prior musical conceptions, this performance suggested, only makes the end result all the more satisfying.
---
Aaron Keebaugh has been a classical music critic in Boston since 2012. His work has been featured in the Musical Times, Corymbus, Boston Classical Review, Early Music America, and BBC Radio 3. A musicologist, he teaches at North Shore Community College in both Danvers and Lynn.