By Sarah Osman
The People We Hate at the Wedding is far from one of the best entries in the comic wedding canon.
The People We Hate at the Wedding, directed by Claire Scanlon. Streaming on Amazon Prime.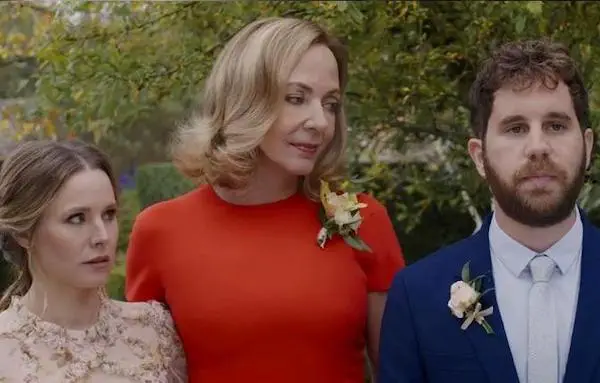 There are no Hollywood comedies about weddings without an epic catastrophe. Someone among the guests will say they love the bride at the worst possible time. Someone will inevitably ruin the bachelorette party by handing out too many shots. Someone will get into a fist fight in the middle of the rehearsal dinner. In real life, of course, most of these disasters do not occur (though the bachelorette debacle is plausible). The only wedding I have been to where a riot nearly broke out is when the food at the reception ran out (shortly followed by the alcohol). Hollywood matrimonial fare would have us believe — or project — otherwise, thus the overpopulated genre of the wacky wedding-adjacent comedy.
The latest entry in the matrimonial demolition derby competition is The People We Hate at the Wedding, based on the novel by Grant Grinder. This wedding centers on Eloise (Cynthia Addai-Robinson), a wealthy British socialite who invites her American half-brother Paul (Ben Platt), half-sister Alice (Kristen Bell), and kooky mum Donna (Allison Janney) to her upcoming nuptials. All three are a hot mess: Paul fears that his boyfriend has grown bored with him, Alice is having an affair, and Donna wolfs down weed gummies (five, to be exact) in order to make it on the plane. Donna's second husband, as well as Alice and Paul's father, has passed away, a detail that is mentioned but never elaborated on. Perhaps the novel doesn't let this omission go, but in the film it feels odd. How has death affected this family? We hear that his demise caused some rifts, but it doesn't make sense to go light on such a major plot point. We also learn little about Eloise's relationship with her stepfather, let alone how she feels about her own womanizing father. While Donna is funny (Janney is an ace comic), her role is probably the least interesting, partly because it is so superficial. The character desperately wants to reunite her clan, a sentiment Eloise shares due to a rocky incident the previous summer. Thus the importance of family, no matter how messed up its members are, is a key theme, but it comes off as a sentimental afterthought. Wedding films usually end with a serving of mushy feelings — The People We Hate at the Wedding fails to deliver the usual dollop of feel-good.
Eloise herself is the least interesting character. We know little about her beyond the fact that she's beautiful, rich, and a bit uptight. She feels torn between her two families, but we are never clearly told why. At some point it is implied that she shared a strong bond with her American relatives. No doubt that was elaborated on in the novel. In the film it feels like an afterthought. I can't help but guess that a lot (such as emotional substance) was lost in translation from novel to screen.
That said, there are some terrific comedic moments here. Bell somehow manages to be simultaneously charming and infuriating. Her best scenes come at the hen-do, when she makes Eloise's friends cackle by telling raunchy sex jokes — before she topples over their river jacuzzi. Donna is an oversharer, which is why she goes into detail to a stranger on the street about sex acts her son engages in with his partner (in stereotypical British fashion, the stranger is all ears). Platt's over-the-top neurotic Paul is particularly hilarious when he and his partner attempt a threesome. The film may be set in London, but the humor skews toward the broadly American rather than the archly British, though there are a few sly gags, such as when Paul is dragooned into being used as a table for chips during the aforementioned threesome.
The People We Hate at the Wedding is far from one of the best entries in the comic wedding canon. It is worth a watch because of its skillful farce, especially during the climatic rehearsal dinner party. This is the type of film to take in when it's raining outside and there's a high chance you might fall asleep on the couch. You can drift in and out and still catch the silliest moments which, come to think of it, is not a bad survival tactic when attending a wedding.
---
Sarah Mina Osman is a writer residing in Wilmington, NC. In addition to writing for the Arts Fuse, she has written for Watercooler HQ, Huffington Post, HelloGiggles, Young Hollywood, and Matador Network, among other sites. Her work was included in the anthology Fury: Women's Lived Experiences in the Trump Era. She is currently a first year fiction MFA candidate at the University of North Carolina Wilmington. When she's not writing, she's dancing, watching movies, traveling, or eating. She has a deep appreciation for sloths and tacos. You can keep up with her on Twitter and Instagram: @SarahMinaOsman