By Peg Aloi
The series is wise to center its attention on Jeffrey Dahmer's victims as often as possible. This is a heartbreaking saga of lives lost to a homicidal maniac.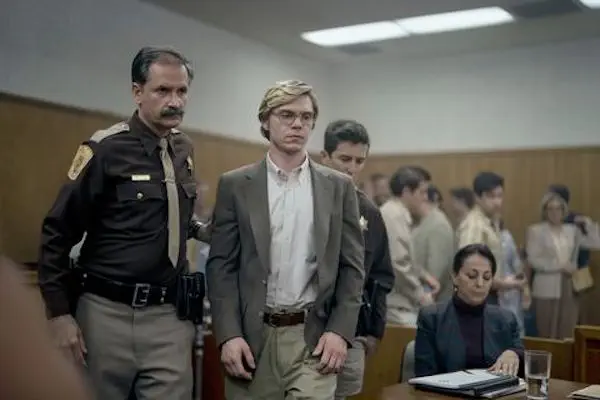 Two decades into his prolific and wildly successful career, TV creator Ryan Murphy has shown signs of being very hit or miss in recent years. His anthology series American Horror Story was marred by uneven writing and themes that often felt rather precious and indulgent. On the other hand, his foray into dramatized "true crime" has yielded some intriguing storytelling: I have nothing but unabashed praise for Monster: The Jeffrey Dahmer Story.
Co-created with Ian Brennan (who also worked with Murphy on Glee and Hollywood), the 10-part series begins on the night that Jeffrey Dahmer's killing spree in downtown Milwaukee may have finally come to an end. When a neighbor knocks on his apartment door, complaining of a foul odor, Dahmer brushes it off saying he has some "meat that went bad." He then goes out to a bar to lure a potential victim (Tracy Edwards, played movingly by Shaun J. Brown). Dahmer tells him he is a photographer who hires male models; back in the apartment, he drugs and handcuffs the man to the bed. Since we know going in how the famous killer's victims usually ended up, this first episode, which features a victim who escapes, is a powerful high-stakes set-up for the horrific murders that take place in subsequent episodes. Notorious for his grisly crimes, which included dismembering his victims and dissolving their limbs in barrels of acid, as well as bizarre acts of cannibalism, Dahmer eluded capture for years. His neighbor's constant complaints about the stench coming through the vents and suspicious screaming in his apartment were ignored.
The two performances at the center of the series could not possibly be better: Murphy veteran Evan Peters (also seen in Mare of Easttown) as Jeffrey Dahmer and Niecy Nash (best known for Claws and Reno 911) as his neighbor, Glenda Cleveland, the woman who, for years, tried to convince police that something criminal was going on in Dahmer's apartment. Nash's fear and determined air of concern for herself and her community are palpable. Peters supplies a stunningly complex portrayal: his Dahmer is a somewhat dim-witted yet calculatingly focused killer who has occasional moments of self-loathing and regret.
Early on, the story establishes a wide social context. Dahmer's choice to live in a mostly Black and poor neighborhood so he could prey upon young gay men of color was a tactic designed to escape police notice. Sadly, for the families of the seventeen known victims Dahmer killed between 1978 and 1992, this strategy was successful. Dahmer escaped apprehension for years, despite being arrested and briefly jailed for molesting a teenager. But, before the corrupt, devil-may-care attitude of the police is exposed, the narrative first finely crafts the backstory and history of Dahmer's childhood and road to depravity. Starting back in the '60s, the series portrays a troubled home life. His mother has episodes of difficulty with mental illness and his father, although well-meaning, decides to deal with Jeff's social awkwardness and inability to make friends at school by teaching him taxidermy and other hobbies at home. Of course, this encourages Jeff's sick fascination with dead bodies, possibly nurturing a pathology that later led to his gruesome crime spree.
When Jeffrey is a teenager, his father (Richard Jenkins shines in a difficult role) has an affair (with a woman he later marries, played by a wonderful Molly Ringwald, in a brilliant bit of casting nodding to the '80s sweetheart's pop culture fame) and moves out. His mother (the excellent Penelope Ann Miller) decides to leave town with Jeffrey's younger brother. Left alone in the house, Jeff stops going to school, buys beer, and spends his time drinking. His alcoholism becomes a problem as he grows older — it feeds his laziness and aimlessness, and there are angry outbursts at odd moments. Jeffrey does poorly in school and eventually does a stint in the military. Once discharged, he has trouble holding down a job. His father convinces him to move in with his grandmother (veteran actress Michael Learned), who is horrified when she stumbles on evidence of Jeff's strange fixations. Eventually, the guy does fairly well at a job he enjoys in the local deli. Peters relishes the moments when his character says innocuous things ("I like slicing meat" or "I like to cook pork chops"), imbuing them with a horrific subtext, a classic Murphy signpost of absurd humor/horror.
The series flashes back and forth in time, but one episode ("Silenced") stands out because of its focused timeline: a short relationship Jeff has with Tony (standout performance by Rodney Burford). Tony moves to Madison to attend a special school for the deaf; he visits Milwaukee to go dancing at gay clubs with his friends and try to get modeling gigs. Meeting Jeff at a gay bar, he is attracted but, cautious about casual relationships, he keeps him at arm's length until they gradually grow closer. Most of the episode places Tony as the "eyes and ears" of the story. It's a very moving portrait of the world of silence Tony inhabits, and of the close family bonds shattered when Dahmer killed beloved sons.
Monster: The Jeffrey Dahmer Story unfolds with a great deal of beauty, precision, and intelligence. The writing, directing, and acting are top notch, and the visuals — including costumes and authentic period details — are finely rendered. There's a multi-colored striped shirt Dahmer wears that anyone who came of age in the '80s will recognize immediately, and its ubiquitous colors may now irrevocably be associated with this psychopath. The score by Nick Cave and Warren Ellis is spare and haunting, an effective contrast with the high energy dance music on the soundtrack. I've watched the series twice now, and continue to find more in its subtle artistry, along with its compelling (if extremely disturbing) story of murder, insanity, and police corruption. Murphy and company were wise to center their attention on the victims as often as possible. It is hard to watch at times, but the series is a heartbreaking saga of lives lost to a homicidal maniac, and a revealing exposure of racism and homophobia in the Milwaukee police department. It also draws on what made Dahmer a fixture in popular culture, the weird and obsessive fascination we have with serial killers.
---
Peg Aloi is a former film critic for the Boston Phoenix and member of the Boston Society of Film Critics. She taught film studies in Boston for over a decade. She writes on film, TV, and culture for web publications like Time, Vice, Polygon, Bustle, Mic, Orlando Weekly, and Bloody Disgusting. Her blog "The Witching Hour" can be found on substack.