By Jason M Rubin
Chant For Our Planet is a great recording full of exciting ensemble playing, with lots of tasty solos and, if you want to listen in that way, an important theme that expresses deep concern for the state of the environment.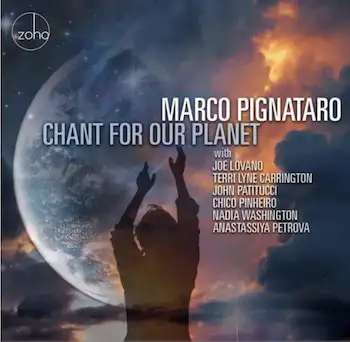 It was just last April that I wrote on Marco Pignataro's previous album, Awakening. I gave it a good review, as befits a musician of his caliber. But mere months later, the Italian-born saxophonist has come out with Chant For Our Planet, an even better album that is a standout in every conceivable way. It features a top-notch group of players, including Joe Lovano, who plays bass clarinet and alto flute in addition to his customary saxes; John Patitucci on bass; Terri Lyne Carrington on drums; and Brazilian guitarist Chico Pinheiro. Emerging talents Anastassiya Petrova on piano and singer Nadia Washington, who was also on Awakening, round out the cast. All have Berklee College of Music connections, as alum, faculty, or both.
The press release that accompanied the CD sent to me for review goes to great lengths to detail how Chant For Our Planet is a concept album focused on climate change and the sad state of our planet. An important subject, to be sure, both as a geopolitical issue and as inspiration for art. Still, while I appreciated the references to land, water, and air, as well as the thematic concerns for our vulnerable environment and humanity's impact on our celestial home, it all sort of evaporated as I played the album. Really, the music is what is important here and it is exceptional.
The opening suite, Patitucci's 18-minute "Suite Terra," is in three parts: "Terra (Earth)," "Mare (Sea)," and "Cielo (Sky)." Of the three parts, "Mare," which opens with Lovano's mournful bass clarinet, is the most subdued. Later in that piece, Lovano's flute and Washington's scat singing have a bit of a call and response with each other, then duet over Carrington's tasteful accompaniment. "Terra" and "Cielo," the latter opening with a Patitucci bass solo, egged on by Carrington, crackle by comparison. That made me momentarily wonder if the composer believes our oceans to be in worse shape than our land and our sky. But then I reminded myself that the music needn't be taken literally but can, and should, be appreciated on its own merits. Pinheiro's playing on "Cielo," especially his solo, is fluid and exciting. Petrova follows with a solo of her own before Pignataro finally steps to the fore to make his own empathetic statement.
The first of two standards, both of which fit the album's theme, comes next: Jobim's "Agua De Beber" (water to drink). Washington sings as though she has sung Jobim all her life, which she probably has. Pignataro and Pinheiro take fine solos, and Carrington is spot-on throughout. The other standard, the beloved "Nature Boy," comes later on. In Pignataro's arrangement, he opens with a solo tenor improvisation that leads to the main theme with Pinheiro playing gentle chords underneath.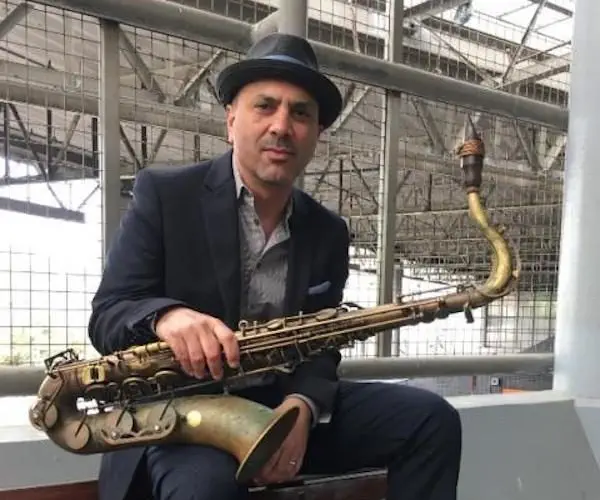 After the Jobim piece comes a Pignataro original, "Moon Threads," which opens with some beautiful playing by Petrova, followed by a sensitive reading by Pignataro. At more than 11 minutes in length, this "thoughtful musical meditation" (the press release's apt description) provides plenty of space for Pinheiro to again distinguish himself, his lengthy solo taking on a more playful shape compared to the beginning of the tune, which carries through to the end.
That's followed by a Lovano contribution, "As It Should Be." This piece flows rather gently for the first half, then comes to a brief stop that is broken by gradually building stabs on guitar, drums, and piano, eventually leading to a full-on assault with Lovano leading the way. The band then recedes, leaving Patitucci and Carrington to do a little pas de deux before it all revs up again.
Ominous drum thumps open "On Irene's Path," Pignataro's impressionistic take on 2011's Hurricane Irene. The high winds come from his and Lovano's horns, while Carrington and Patitucci carve a path of destruction. Pinheiro occupies some space in the eye of the storm, but soon he too becomes part of the chaos. The album closes with the brief title track, a rap by Washington accompanied first by the rhythm section, and at the end by the horns as well.
It is often said that those who can't do, teach. Pignataro and his Berklee pals put that notion to bed. Chant For Our Planet is a great recording full of exciting ensemble playing, with lots of tasty solos and, if you want to listen in that way, an important theme that expresses deep concern for the state of our planet. Either way, it's an album well worth owning.
---
Jason M. Rubin has been a professional writer for more than 35 years, the last 20 as senior creative associate at Libretto Inc., a Boston-based strategic communications agency where he has won awards for his copywriting. He has written for Arts Fuse since 2012. Jason's first novel, The Grave & The Gay, based on a 17th-century English folk ballad, was published in September 2012. His current book, Ancient Tales Newly Told, released in March 2019, includes an updated version of his first novel along with a new work of historical fiction, King of Kings, about King Solomon and the Queen of Sheba. Jason is a member of the New England Indie Authors Collective and holds a BA in Journalism from the University of Massachusetts Amherst.