By Paul Robicheau
Once the original Roxy Music core took the stage with their nine supporting musicians, most concerns melted into 100 sublime minutes of music.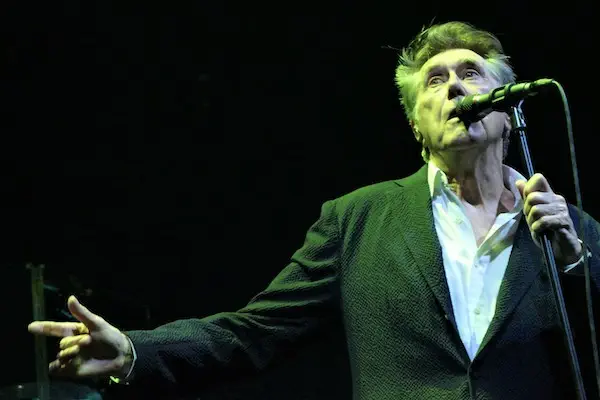 The news that Roxy Music was reuniting for its first U.S. tour in two decades to mark its 50th anniversary was enough to send fans of the stylish art-rock pioneers into anticipatory euphoria. Yet the glee was tempered by a sense that the band had an inflated view of its popularity, booking large arenas like TD Garden with lofty ticket prices.
Well, Roxy Music's 2019 induction into the Rock 'n' Roll Hall of Fame (including a reunion performance at the New York ceremony) wasn't enough to lift the English band to current mainstream weight. Arenas have been half full along the way and the Boston concert was eventually downsized to the new 5,000-capacity MGM Music Hall at Fenway, a far more fitting venue that made tickets scarce overnight.
Alas, a Fenway Park ballgame let out just as people arrived for Saturday's concert, long lines exacerbated by some Roxy fans who also needed to detour to the MGM box office to straighten out tickets bought for TD Garden. Some of them also were unsure whether St. Vincent was opening the show, as she did the rest of the tour (she was instead playing a Kentucky festival, having opening for the Red Hot Chili Peppers on the other side of the Fenway wall a week earlier). Roxy Music pushed off its starting time for an additional half hour to help get fans in the doors.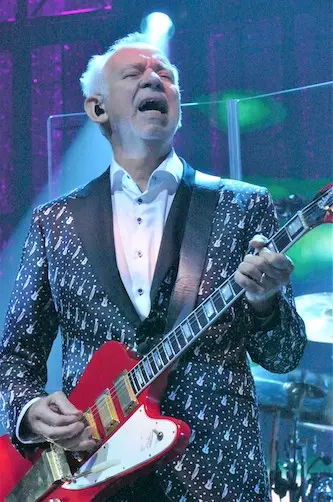 But once the original Roxy core of singer Bryan Ferry, guitarist Phil Manzanera, saxophonist Andy Mackay, and drummer Paul Thompson took the stage with their nine supporting musicians, most concerns melted into 100 sublime minutes of music.
The group crashed into "Re-Make/Re-Model" from Roxy's 1972 debut with singer Bryan Ferry pounding his electric piano and the musicians trading bursts before its deceleration to a stop, the fractal screens behind them flashing the Roxy Music moniker. A false start into "Out of the Blue" didn't counter the impression that, five dates into the tour, the ensemble was near-perfectly in sync with its musical choreography, doubling up the guitar, sax, and percussion as well as multiple keyboards and vocals.
The dapper Ferry remained the focal point, suavely floating his arms as if to snap fingers to the music. At nearly 77, he can't hit the high notes from his past. But on Saturday, his vocals sounded sure and steady within a narrowed range, especially as he dipped into the subdued ruminations of "While My Heart is Still Beating" and "Oh Yeah," where three backup singers slipped in for the melodic flair of the chorus "There's a band playing on the radio, with a rhythm of rhyming guitars."
Mackay's mournful oboe introduced "Ladytron," which grew to a gallop as he shifted to tenor sax for tradeoffs with Manzanera, who came alive with slashing chords and a vibrato-shaking squall, lifting his guitar overhead to carry through the throttle, reminding us that he was a progenitor of noise guitar. Both players also stood out in the country-tinged lope of "If There is Something," Mackey pressing his tart, silky alto into a sustained note before Manzanera injected his own solo, which hummed with string bends and slides up the neck.
That set up the show's mid-set peak, "In Every Dream Home a Heartache." As green orbs drifted on the screens to the song's pulsing keyboard drone, Ferry took his time parsing its creepy lines about an infatuation with an inflatable doll, culminating in the couplet "I blew up your body, and you blew my mind" to cue the band's eruption. Manzanera rang a fierce solo over cascading drum fills by Thompson, who made a welcome return to the fold for the anniversary tour.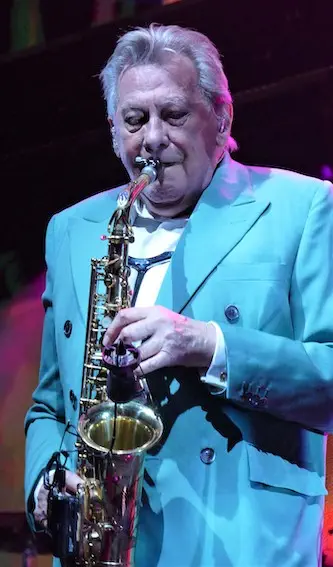 With a Mackay-led interlude of "Tara," Roxy flipped from its raw yet sophisticated glam-rock of the '70s to a second half dominated by the atmospheric romanticism of the band's more commercial early '80s era, its swoon and sway capped by the dreamy lilt of "Avalon." Ferry displayed the art of blending and ceding vocals to his backup trio in "Same Old Scene" and "Dance Away," during which screen imagery of a cool city skyline turned into a 45-rpm record spun with more intrusive Roxy Music branding. But the backdrop changed to tasteful horizontal bars for "More Than This" and abstract shadings for "Avalon," which highlighted longtime Roxy/Ferry singer Fonzi Thornton and especially Phebe Edwards, whose wordless scaling joined Mackay's steely tenor in taking that popular tune to a higher plane.
The band nudged the set back to the '70s with a prerequisite bop through "Love is the Drug," with double-sax harmony from Mackay and Jorja Chalmers, a longtime member of Ferry's solo band. The ensemble's smooth tone and orderly precision through the '80s material even seemed to carry a bit into old rave-ups "Editions of You" and "Do the Strand," which boosted the tempos more than the edges. Still, Mackay nailed his signature high-tenor squawk to round out the "Strand."
"I was dreaming of the past, and my heart was beating fast," Ferry sang to signal his traditional parting cover of John Lennon's "Jealous Guy," while flanking mirror balls sent light spots swirling across the wraparound balconies of the spacious yet intimate MGM Music Hall. Some fans surely wished for more, given Roxy's range of catalog and tendency to feature the same favorites on each tour (although "The Bogus Man" was a spooky rarity). That's a common scenario with aging bands of nostalgic greatness. Roxy neatly reconstructed its sound and vision across a 20-song set, though it might have been more of a thrill to hear them lose a bit more control.
---
Paul Robicheau served more than 20 years as contributing editor for music at the Improper Bostonian in addition to writing and photography for the Boston Globe, Rolling Stone, and many other publications. He was also the founding arts editor of Boston Metro.