As the age of Covid-19 more or less wanes, Arts Fuse critics supply a guide to film, dance, visual art, theater, author readings, and music. More offerings will be added as they come in.
Film
The Story of Film: A New Generation
through September 15
Brattle Theatre, Cambridge
The Story of Film: A New Generation is Mark Cousins's latest installment in his series on film history, which began in 2011 with 15 one-hour chapters. Written and narrated by Cousins, an Irish film critic, filmmaker, and scholar, this episode is a subjective (and broad) look at how film has changed in the 21st century. New ways of capturing an image have transformed our understanding of the visual, from traditional cameras and elaborate virtual reality to 3-D set-ups, iPhones, and Go Pro cameras. Innovative means of distribution have handed power from the creator to the consumer.
The Greatest Radio Station in the World
September 13 at 7:30 p.m.
Regent Theatre, Arlington, MA
"WPKN-FM is a free-form radio station in Bridgeport, Connecticut; it is, to be honest, the greatest radio station in the world. Its broadcast signal, at 89.5, can be picked up in parts of Connecticut, Massachusetts, and New York State, including almost all of Long Island. And it can be streamed by anyone who has an Internet connection. The station's programming is the work of roughly a hundred volunteer hosts, who typically spend hours researching and assembling their shows." (David Owen, The New Yorker)
Camden International Film Festival
September 15 -22
One of the top documentary film festivals in the world, CIFF brings the finest nonfiction cinema to the rugged coast of Maine with over 80 documentary features and short films from around the globe. This year's highlights include the US premiere of In Her Hands, which follows one of Afghanistan's first female mayors during the months leading up to the Taliban takeover of the country in 2021; Sr., which revolves around the life and career of Robert Downey Sr. and his relationship with his son, Robert Downey Jr.; and Steve James's A Compassionate Spy, which focuses on the Manhattan Project physicist, Soviet spy, and University of Chicago alum Theodore Hall. Each of the three featured documentaries will have made its world premiere before CIFF, at festivals in Toronto, Telluride, and Venice, respectively.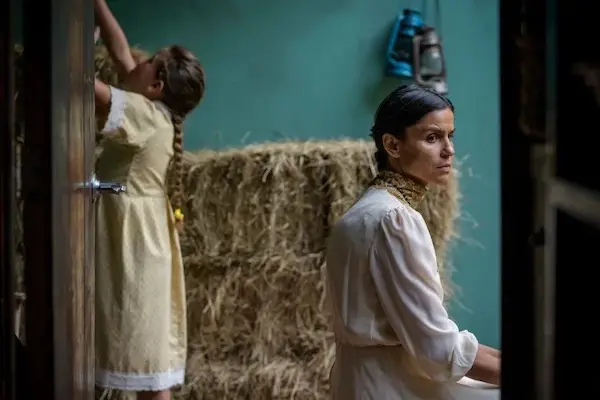 Boston Women's Film Festival Fall Showcase
September 23 – 25
Museum of Fine Arts, Boston
A wonderful selection of four films directed by women that played briefly, if at all, in local theaters. Murina follows a teenage girl who is plotting to escape her domineering father and the remote island where they work as eel divers; Piggy is a surprising and gruesome thriller whose protagonist is an overweight teen who vanquishes a psychopathic stalker in spite of her peers' bullying. Clara Sola is a surreal Costa Rican drama about a woman with mystical gifts who longs to be free of her strict religious family. The Happening has been recommended in this column before. The film follows a college student in the '60s who risks jail and worse for the sake of her budding future when she becomes pregnant. Times and dates
The Shawna Shea Memorial Film Festival
September 21-25
Hilton Garden Inn Worcester, 35 Major Taylor Blvd in Worcester
The Shawna Shea Film Festival celebrates independent films. The program is presented by the Shawna E. Shea Memorial Foundation Inc., a 501(c)(3) nonprofit public charity that honors Shawna's unique independent spirit. Schedule
Boston Film Festival
September 22-26
The 38th BFF program will take place with live events along with a virtual program. Selected films for this year's festival will be posted soon. Check the website for links to titles.
Everything Everywhere All at Once
September 22 at 7 p.m.
Bright Lights Screening Room at the Emerson Majestic Theater in Boston – 4th Floor
The first presentation of this season's artfully crated (and free) Bright Light Series film series from Emerson College. When an interdimensional rupture unravels reality, an unlikely hero must channel her newfound powers to fight bizarre and bewildering dangers from the multiverse. Of  course, the fate of the world hangs in the balance. Discussion with alumni cast and crew following the screening. Arts Fuse review.
Weird Local Film Festival #14
September 15 at 7:30 p.m.
Warehouse XI – 11 Sanborn Ct, Somerville, MA
WLFF is a "screening/warehouse party" that features films of any genre, 10 minutes or shorter, from filmmakers with a "reasonable proximity" to  the Somerville location.
LAVA Film Festival
September 15 -18
The LAVA Center in Greenfield, MA
This scrappy festival is now in its second year: it is a showcase for Massachusetts filmmaking talent, from students to professionals.
5th India International Film Festival of Boston
September 23-25
Academy of Creative Arts, Apple Cinemas in Cambridge, Cary Memorial Hall in Lexington, MA
IIFFB is about generating cultural conversations: the goal is to find commonality through the film and to build lasting relationships by reflecting Boston's growing Indian American community. Films are screened on three days in three different venues. Tickets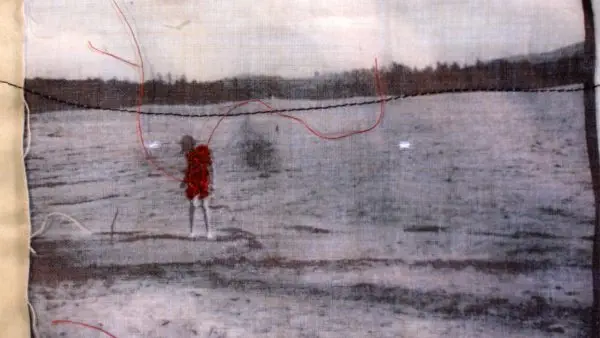 Still/Distill
September 25 at 2 p.m.
Brattle Theater, Cambridge
Presented by Revolutions Per Minute Festival, this screening presents Ariana Gerstein's Still/Distill, a collection of six short films, including a 16mm cinemascope piece, Images of Flying and Falling, along with four shorts from the scanner series and an excerpt of the experimental director's most recent unpublished work. Filmmaker will appear in person.
Pick of the Week
Moonage Daydream
September 12 in IMAX at AMC Theaters
September 22 at Coolidge Corner Theater, Brookline
The highly anticipated David Bowie documentary by Brett Morgan (Kurt Cobain: Montage of Heck) is not to be missed on a big screen — or even better on IMAX. The film is a stunning assemblage of cultural references, philosophy, and semiology all perfectly woven together with excerpts from Bowie's music, terrific concert footage, and Morgan's singular commentary. This wild and beautifully paced collage of images draws on poetry and visual metaphors to illustrate Bowie's philosophic ramblings on life and art. The rare documentary that moves seamlessly between ideas and biography.
— Tim Jackson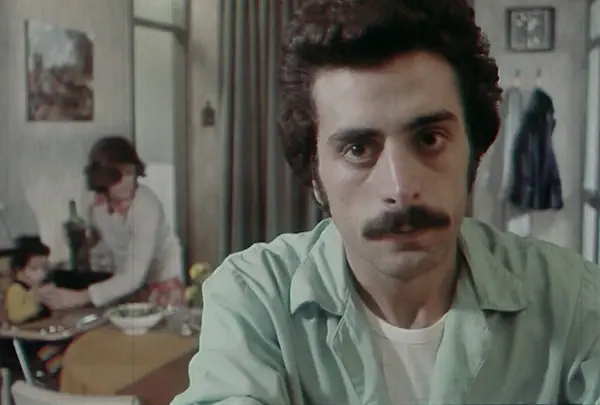 Early Kiarostami – A retrospective at the Harvard Film Archive in Cambridge, running through September 18. Films are in Farsi with English subtitles.
In 2016, cinema lost one of its great humanist auteurs. Iran's Abbas Kiarostami belonged to the school of filmmakers who don't create a world but capture a slice of it. His antecedents include the Italian neorealists and the Indian director Satyajit Ray; his contemporaries include Taiwan's Hou Hsiao-hsien and Belgium's Dardenne brothers; and his descendants include young independents such as Chloé Zhao. Anyone who's seen the moral-dilemma dramas of Iranian double-Oscar-winner Asghar Farhadi (A Separation, The Salesman) should know that ground was broken for him by Kiarostami. Arts Fuse preview
— Betsy Sherman
---
Theater
COVID PROTOCOLS: Check with specific theaters; requirements often include proof of vaccination or a negative Covid-19 rapid test. Also, companies are requiring masks at indoor performances.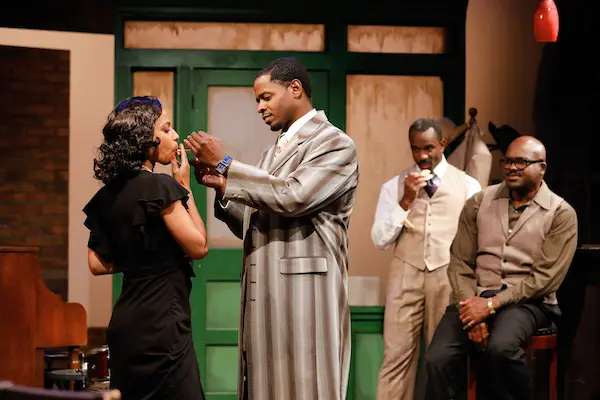 Paradise Blue by Dominique Morisseau. Directed by Elise Joyner and Logan Pitts. Staged by the Gloucester Stage Company, 267 East Main Street, Gloucester, through September 18.
A noir-inspired drama: "Blue, a gifted trumpeter, contemplates selling his once-vibrant jazz club in Detroit's Blackbottom neighborhood — it's 1949, and gentrification is banging on the door. The house band is desperate to stay, Blue's demons tempt him to leave, and the arrival of a seductive stranger turns everything upside down. Blue must choose between escaping his demons and the human cost of leaving the only home he's ever known." Arts Fuse review
Sing Street, Book by Enda Walsh. Music and lyrics by Gary Clark and John Carney. Based on the motion picture written and directed by John Carney. Directed by Rebecca Taichman. Choreography by Sonya Tayeh. Staged by the Huntington Theatre Company at the Huntington Calderwood/BCA, 527 Tremont St., Boston, through October 9.
A pre-Broadway run for a musical based on the hit 2016 indie film of the same title. "It's Dublin, 1982. 16-year old Conor tries to impress a mysterious girl, Raphina, by asking her to star in a music video for his band. If only he had a band. Teaming up with a group of schoolmates, Conor and Raphina use music to bring them together, escape their troubles at home, and carve out a place in their struggling community. With a score that embraces the new wave sounds of the 80s, Sing Street is an ode to the thrill of young love and a celebration of the power of music to lift us up."
Describe the Night by Rajiv Joseph. Directed by Tony Estrella. Staged at The Gamm Theatre, 1245 Jefferson Blvd., Warwick, RI,  through October 9.
"In 1920, the Russian writer Isaac Babel wanders the countryside with the Red Cavalry. In 1989, a mysterious KGB agent and future Russian president spies on a woman in Dresden and falls in love. In 2010, an aircraft carrying most of the Polish government crashes in the Russian city of Smolensk. Spanning 90 years, this Obie award-winning script from the author of Bengal Tiger at the Baghdad Zoo traces the stories of eight men and women connected by history, myth, and conspiracy."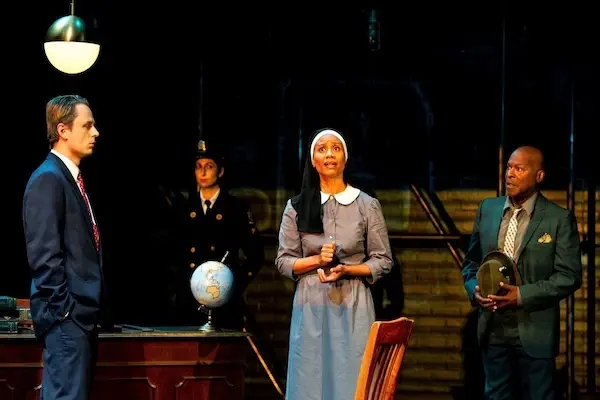 Measure for Measure by William Shakespeare. Directed by Alice Reagan. Staged by Shakespeare & Company at the Tina Packer Playhouse, Lenox, MA, through September 22.
For W.H. Auden, Shakespeare's notoriously bedeviling play "presents the problem of the earthly city and the vanity of the secular hope for creative politics, the hope that justice precedes love and that law can make people good — the hope, in other words, that you can start with the law and make people love it because it is right." The Shakespeare & Company cast includes Ariel Bock, Nehassaiu deGannes, Ally Farzetta, David Gow, Rory Hammond, Charles Sedgwick Hall, Vaughn Pole, and Indika Senanayake.
All of Me by Laura Winters. Directed by Ashley Brooke Monroe. Staged by Barrington Stage Company at the Boyd-Quinson Stage, 30 Union Street, Pittsfield, MA, September 21 through October 9.
The plot of this world premiere production: "Boy meets girl. Boy uses wheelchair, girl uses scooter. Boy and girl use text-to-speech technology to connect to each other and the world around them. Love is holding them together even when the people in their lives want to pull them apart. It's a romantic coming-of-age story that hasn't been seen before." Winner of the 2021 Burman New Play Award.
Masked by Glynn Cosker. Directed by Dan Gore. Staged by Ovation  at Windham High School, 64 London Bridge Rd, Windham, NH, on September 22 and 24.
The world premiere production of a play about the Covid pandemic. How novel! The script is "set during the early months of the pandemic, but is far less about physical masks and much more about the emotional masks we all wear to hide our true selves." The plot: "Tom has never grieved a devastating loss he suffered years ago — despite his wife's efforts to have him try the counseling that helped her. Meanwhile, their teenage daughter is fighting the relentless pressure of social media, and their other daughter has found her forever person at college, but the pandemic threatens to keep them apart. Distressing news sends one family member into a downward trajectory that might take them all down."
"Each performance of Masked will be followed by a discussion with the cast, facilitated by a mental health professional. The hope is that the production will inspire people to seek help."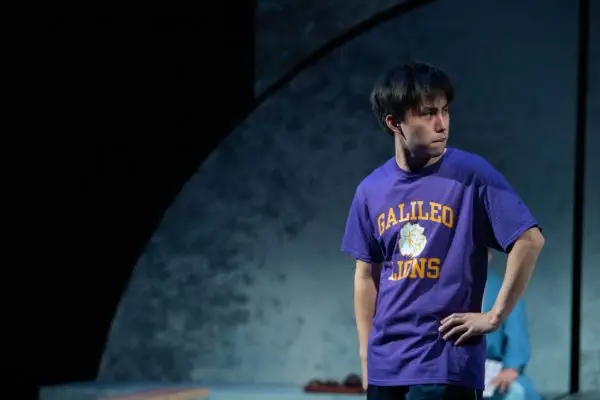 The Great Leap by Lauren Yee. Directed by Natsu Onoda Power. Staged by Portland Stage, Portland, ME, September 14 through October 2.
The plot: "Manford is 5'5", Chinese American, and desperate to make it onto the USF basketball team. If he can run the court as well as he runs his mouth, he might have a shot. Against his better judgment, Saul Slezac, the man who brought basketball to China, brings Manford to Beijing for a friendship game in the summer of 1989."
Deus Ex Machina, a collaborative, immersive theater event. Directed and designed by John Bechtold. Staged by Eggtooth Productions at Shea Theater, 71 Avenue A, Turners Falls, MA, on September 29, 30, October 1 at 7 p.m & 9 p.m.
First produced in 2017. "A love letter to the Shea Theater and to theater-making itself. Made for an intimate audience of 18 participants at a time, the hour-long piece guides them — scene to scene — through a series of encounters with characters inspired by the Shea's history and legacy.
"The audience plays many roles across the show, from witness to direct participant.  The encounters they have with the show's characters change scene to scene, moving them around the building's spaces and across several eras, including the Shea's history as a vaudeville house, a hippie commune, and a regional theater venue that has seen multiple iterations." Featuring Tara Boland, former Associate Enrichment Director of immersive theater giants PUNCHDRUNK."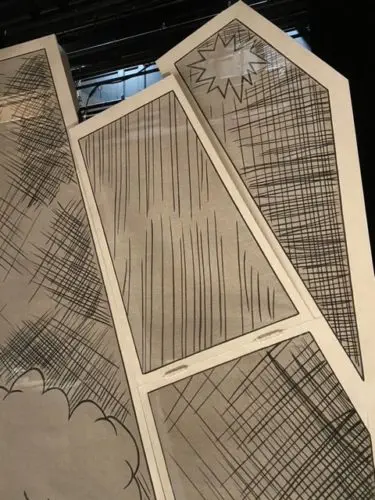 Fabulation, or the Re-Education of Undine by Lynn Nottage. Directed by Dawn M. Simmons. Staged by the Lyric Stage Company of Boston at 140 Clarendon Street, 2nd Floor, Boston, September 16 through October 9.
A satiric comedy from a Pulitzer prize-winning playwright: "Success. Love. Fabulous wardrobe. Undine has it all. Until her husband steals her hard-earned fortune, sending her tumbling down the social ladder. Pregnant and penniless, with life unraveling at every turn, Undine is forced to return home to Brooklyn and the family she left behind, in a complicated new reality." Arts Fuse review
The Revolutionists by Lauren Gunderson. Directed by Megan Nussle. Staged by the Wellfleet Harbor Actors Theater, through September 17.
"An irreverent, girl-powered comedy set during the French Revolution's Reign of Terror. Playwright Olympe de Gouges, assassin Charlotte Corday, former queen Marie Antoinette, and Haitian rebel Marianne Angelle hang out, murder Marat, and try to beat back the insanity in 1793 Paris. This grand and dream-tweaked comedy is about violence and legacy, art and activism, feminism and terrorism, compatriots and chosen sisters, and how we actually go about changing the world. It's a true story. Or total fiction. Or a play about a play. Or a raucous resurrection … that ends in a song and a scaffold."
Heroes of the Fourth Turning by Will Arbery. Directed by Marianna Bassham. Staged by Speakeasy Stage at the Stanford Calderwood Pavilion at the Boston Center for the Arts, 527 Tremont Street, in Boston's South End, through October 8.
A Boston premiere: "One week after the Charlottesville riots in 2017, four friends gather in a Wyoming backyard to gossip and reminisce. They've assembled to honor Gina, their mentor and the newly inaugurated president of a far-right Catholic university, of which they are all alumni. But as their celebration continues deep into the night, the reunion explodes into vicious insults, political accusations, and stunning revelations." Arts Fuse review
Twilight: Los Angeles, 1992, conceived, written, and revised by Anna Deavere Smith. Directed by Taibi Magar. Staged by the American Repertory Theater at the Loeb Drama Center, Cambridge,  through September 24.
This is "a stirring cry for reform. Thirty years ago, the news of the police officers' acquittal in Rodney King's police brutality case reverberated throughout the streets of Los Angeles. Called 'a riot,' 'a revolution,' and 'a social explosion,' the events that followed drew worldwide attention — and inspired playwright, actor, and scholar Anna Deavere Smith (Notes from the Field: Doing Time in Education, Let Me Down Easy, Fires in the Mirror) to dissect the anatomy of the civil unrest." Arts Fuse review
Ada and the Engine by Lauren Gunderson. Directed by Debra Wise. A Brit d'Arbeloff Women in Science Production and Catalyst Collaborative@MIT Production at the Central Square Theater, Cambridge, September 22 through October 23.
The plot of this historical drama: "1830. Britain's Industrial Revolution has dawned. The fiery, brilliant Ada Byron Lovelace, is the author of the first computer program and daughter of Lord Byron (yes, that Lord Byron). At 17 she befriends Charles Babbage, salon host and inventor of the first mechanical computer. What follows is a tempestuous collaboration wherein they envision a future where a "thinking engine" completes complex calculations."
Golden Leaf Ragtime Blues by Charles Smith. Directed by Raz Golden. Staged by Shakespeare & Company at the Elayne P. Bernstein Theatre, 70 Kemble Street, Lenox, MA, September 23 through October 30.
"The story of a young African American boy and an aging vaudevillian thrown together in circumstances beyond their control, Golden Leaf Ragtime Blues explores their unusual connection, as discovered through stories and music — illustrating how our basic needs and human emotions cut across the barriers of race, religion, and age."
— Bill Marx
---
Visual Arts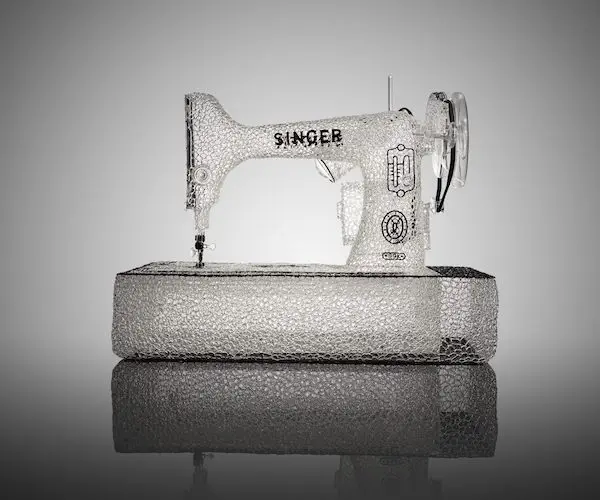 The history of glass-making goes back at least 3,600 years — so long ago that no one is really sure whether glass started in Egypt, Mesopotamia, or Syria. But the most astonishing developments in glass have arrived in the last few decades — monumentally scaled pieces 30 or 40 feet tall, elaborate installations that fill whole galleries, virtuosic new methods that create glass that resembles all sorts of materials and objects. There have also been socially engaged works that confront viewers' views on contemporary politics, sexual behavior and identity, race, and justice. Fired Up: Glass Today, which opens at the Wadsworth Atheneum in Hartford, brings together more than 55 glass artists and 160 contemporary glass works, many of them either created for the exhibition or shown to the public for the first time. The goal is to present these "fired up" changes in the medium. The show was organized as part of the celebrations of the International Year of Glass 2022.
Artists on view include Nancy Callan, Sidney Hutter, Dante Marioni, Lino Tagliapietra, and Tim Tate who test the physical limits of glass along with its aesthetic and expressive possibilities. Hannah Gibson's Recycling Narratives: A Tangible Hope was made from recycled Covid-19 vaccine bottles. Dan Friday's Schaenexw (Salmon) Run, explores the human impact on the balance of nature. The Wadsworth has planned a series of programs and demonstrations around the exhibition, including a drop-in "Hot Shop," glassmaking demonstrations in September and early October that will reveal a few of the craft's secrets.
The Davis Museum on the bucolic campus of Wellesley College opens its fall semester on September 15 with a quartet of shows. Freedom of Expression: African-American Printmaking looks at 10 20th-century African-American artists who migrated from the United States to find freedom and inspiration in modernist movements in France, Germany, Mexico, Africa, and beyond. In Lisa Reihana In Pursuit of Venus [infected], Maori artist Lisa Reihana has created a work based on a French 19th-century wallpaper design that romanticizes the voyages of Captain James Cook and other European encounters with the South Pacific.
The Davis's collection of ancient Greco-Roman finery, Gold, Glass, and Pearls Ancient Mediterranean Jewelry, looks at how adornments were transformed from raw material to sophisticated doodads via craftsmanship and technology. Meanwhile, the museum's Telling Time: Recent Acquisitions is not your typical attempt to show off newly acquired treasures in the collection. Instead, the exhibition's organizers have filtered the thousands of art works acquired by the Davis — through gifts or purchases over the past five years — through ideas about decolonial theory. The show is an examination of racist ideas about peoples who live "outside of time."
Following the British abolition of its colonial slave trade in 1807, Asian workers were much in demand in European colonies and in some recently independent Latin American countries like Peru and Brazil. Migrant workers poured into the Americas from India, China, Indonesia, and Japan to take jobs where there was a shortage of labor. Some of these migrants stayed on permanently after their compatriots returned home, creating complex patterns of assimilation and separation throughout the region.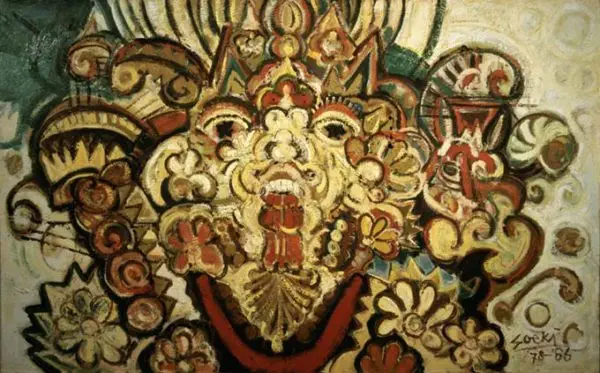 No Ocean Between Us: Art of Asian Diasporas in Latin America & the Caribbean, 1945-Present opens at the Middlebury College Museum of Art on September 15. The show includes some 70 works in many media by Latin American and Caribbean artists of Asian descent. The aim is to illustrate how these descendants of Asian immigrants built a body of modern work, drawing on their Asian heritage, their identities as inhabitants of the New World, and their interaction with the international movements of modern art. Featured artists include Wifredo Lam, Manabu Mabe, and Tomie Ohtake.
Before traders brought Chinese silks, inventions like gunpowder, and other rare goods to the Roman Empire across the Central Asian trade routes, China was on the edges of the European imagination. In the mid-19th century, outsiders began to push past earlier legends via trading concessions and treaty ports. At the time, the new invention of photography began to reach a global audience.  Power and Perspective: Early Photography in China, opening at the Peabody Essex Museum in Salem on September 24, shows how the medium responded to war, trade, travel, and a deep thirst for knowledge about an exotic and previously hidden place. On view are some 130 photographs along with paintings, decorative arts, and prints from the PEM collections. Together they are intended to offer a reassessment of the colonial legacy of the medium.
— Peter Walsh
---
Jazz
Michael Formanek's Elusion Quartet
Sept. 14 at 7:30 p.m.
Virtuosity Musical Instruments, Boston
The saxophonist Tony Malaby relocated from New Jersey last year to teach at Berklee and, based on his previous practice in the New Jersey-New York area, he's creating his own scene, booking his own bands and those of others. Here he's brought the extraordinary bassist and composer Michael Formanek — with too many accomplishments to list here (except, most recently, the Thumbscrew trio with Mary Halvorson and Tomas Fujiwara) — and his Elusion Quartet, featuring pianist Chris Davis, drummer Ches Smith, and Malaby on saxophones. For the suggested donation of $20, Malaby will also throw in a copy of his The Cave of Winds CD (Formanek, guitarist Ben Monder, and drummer Tom Rainey).  (Arts Fuse review of CD)
Dave Bryant
September 15 at 8 p.m.
Harvard-Epworth United Methodist Church, Cambridge
In his "Third Thursday" concerts at the Harvard-Epworth Church, keyboardist and composer Dave Bryant continues to explore Ornette Coleman's harmolodic approach to music (and life), which he learned as member of Ornette's Prime Time band.  This month he's joined by an especially heavy crew: fellow Prime Time vet G. Calvin Weston on drums, alto saxophonist Jim Hobbs (from the Fully Celebrated Orchestra, among many others), guitarist Dave Fiuczynski (Screaming Headless Torsos), and bassist Mike Rivard (Club d'Elf).
Samara Joy
September 16 at 8 p.m. and 10 p.m.
Scullers Jazz Club, Boston
The early-twentysomething singer Samara Joy has authority beyond her years: a plush vocal instrument, breathless phrasing, and insight into Great American Songbook standards (and a choice of songs) that suggest models like Sarah Vaughan, Carmen McRae, and Frank Sinatra (Joy won the 2019 Sarah Vaughan International Jazz Vocal Competition). And those song choices aren't necessarily obvious — Frank Loesser's "Can't Get Out of This Mood" (Vaughan), Ronnell Bright's "Sweet Pumpkin" (recorded by McRae, Blue Mitchell, and Gloria Lynne), and "Guess Who I Saw Today" (a Nancy Wilson chestnut recently brought back into circulation by another young virtuoso vocalist, Cécile McLorin Salvant), all on Joy's CD Linger Awhile, due for release today. Joy is at Scullers with pianist Conor Rohrer, bassist Felix Moseholm, and drummer Evan Sherman. As of deadline, the 8 p.m. show had sold out; the 10 p.m. show has been added.
Fabiola Méndez Sextet
September 17 at 3 p.m.
Arlington Street Church, Boston
FREE
Cuatro virtuoso and bandleader Fabiola Méndez and her sextet will play music from their recent Afrorriqueña, an album of music that "pays tribute to the African influences in Puerto Rican culture." The concert will start with a screening of Méndez's short film, "Negrura," showcasing "the stories of Afro-Latinx folks from Boston's Latin Quarter Cultural District." The concert is the first in a program of Celebrity Series of Boston's Neighborhood Arts concerts in the 2022-23 season celebrating Latina bandleaders, including Méndez, Verónica Robles, Sheila del Bosque Fuentes, and Patricia Zárate Pérez. The musical portion of this free show will also be available on demand, starting September 29, for three months.
Sheryl Bailey & Jon Wheatley
September 17 at 8 p.m.
Hope Central Church, Jamaica Plain, MA
Two deeply accomplished and highly esteemed Berklee guitar profs, Bailey and Wheatley for this show dig deep, deep, deep into the history of jazz and jazz guitar "to honor and interpret the music of the late bebop guitar giant Jimmy Raney, and to delve into the work of classic swing and bebop composers Joe Puma, Ted Dunbar, Frank Foster, Frank Wess, and Thelonious Monk."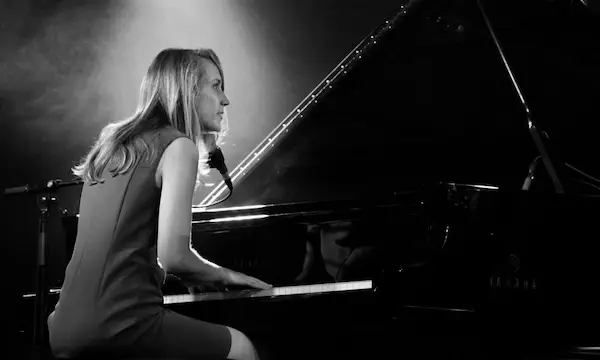 Sarah McKenzie
September 23 at 8 p.m.
Scullers Jazz Club, Boston
Sarah McKenzie is a triple threat as singer, pianist, and songwriter, which means she brings uncommon skills when digging into a song — whether jazz and Great American Songbooks standards or her originals — as performer and composer/arranger. She established her songwriting skills (lyrics and music) while still a student at Berklee in the 2010s with the witty kiss-off, "That's It, I Quit!" These days based in Europe, the Australian-born McKenzie has continued to grow as songwriter (with some Jobim and Michel Legrand added into influences like Johnny Mercer, Irving Berlin, and Cole Porter).
Jason Palmer Quintet
September 24 at 3 p.m.
Union United Methodist Church, Boston
FREE
The fine trumpeter and composer Jason Palmer, long a linchpin of the Boston scene through his performances leading the house band at Wally's among many other activities, has lately been turning his attention to history, most recently with a riveting new album, Live from Summit Rock in Seneca Village, a locale that was home to a community of color in New York City in the area that became Central Park. He's now working on a set of originals about "powerful women throughout American history, among them Fannie Lou Hamer and Stacey Abrams." The band will include saxophonist Noah Preminger, pianist Kevin Harris, bassist Max Ridley, and drummer Lee Fish. It's part of Celebrity Series of Boston's 2022-23 Neighborhood Arts season of free concerts.
— Jon Garelick
---
Roots and World Music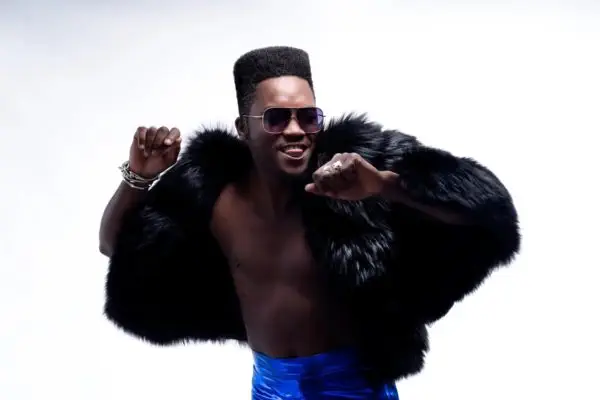 Cimafunk
September 15
Brighton Music Hall
Cuban music long ago progressed beyond the frequently exported crooners of the Buena Vista Social Club. Now it seems like the touring circuit is catching up. Witness the exciting Cimafunk, named after the rapper/singer who leads the band. He's surely the only artist who has collaborated with both Chucho Valdes and Lupe Fiasco. Of him and his group's recent New Orleans Jazz & Heritage Festival appearance, Arts Fuse writer Jon Garelick enthused: "Its true calling card was its exquisitely arranged Cuban Afro-funk fusion, in which you could hear the strains of Cuban charanga funk heroes Los Van Van along with James Brown, Nile Rogers, and Fela. … Cimafunk came off like a beautifully calibrated machine, designed to create heat. Its exuberant stage show delivered one catchy song after another."
Kes the Band
September 16
Underground at Ink Block
Caribbean Carnival season in New England may have just wrapped up with the Cambridge edition, but soca music is proving to be a year-round affair. While most artists are happy to come in with backing tapes, Kes always brings a full band to power his high-energy shows, which might explain why he's a perennial draw.
BU Global Music Festival
September 17
Last year, trying to run a festival in the Covid era, the free BU Global Music Festival moved to a largely outdoor format. It was a great success: many pedestrians were drawn into the global sounds on offer as they walked by. This year the festival returns and boasts no fewer than six artists making their Boston debuts. Highlights include Mexican trad punks Son Rompe Pera, Estonia's Puuluup, Malawian street duo Madalisto, and QWANQWA, a can't-miss Ethiopian ensemble which was birthed when Boston's Debo Band went to Addis Ababa. Many of the groups will also be leading workshops.
New England Shake-Up
September 23-25
Sturbridge Host Hotel
This is, sadly, the final edition of an event that has established itself as one of the friendliest, most music-oriented rockabilly weekends anywhere. But two pieces of good news: Beck Rustic, the Gal in charge, isn't going anywhere, and our region will continue to benefit from her rockin' endeavors, which range from Swelltone Records to Luncheonette Magazine. The second is that the Shake-Up is going out in true style, with performances from the likes of the Deke and Dave Combo, Big Sandy and the Fly-Rite Boys, and the explosive Rip 'Em Ups among many others. Daytime events range from a conversation with Peter Guarlnick to live exotica sounds at the pool, and Saturday evening kicks off with the Bay State Barn Dance, with all the stars of the weekend performing in an Opry-style revue.
Clarence Thompson Jr. Memorial Concert
September 25, 3 p.m.
Lincoln Church, 180 Oak Street, Brockton
For decades Clarence Thompson Sr. and the New Spirits have been singing the good gospel news all around New England. From day one the group included Clarence "Sonny" Thompson Jr., who tragically passed away a few months ago. Now his family and friends are honoring him with this afternoon of traditional gospel from "Boston's own," including Test-a-Mony, the Men's Witness Choir (from the hosting church where Rev. Huston Crayton Jr. is the pastor), Bishop Harold Branch and the long-running Lord's Messengers, as well as Long Island's Bishop Roundtree and United in Christ.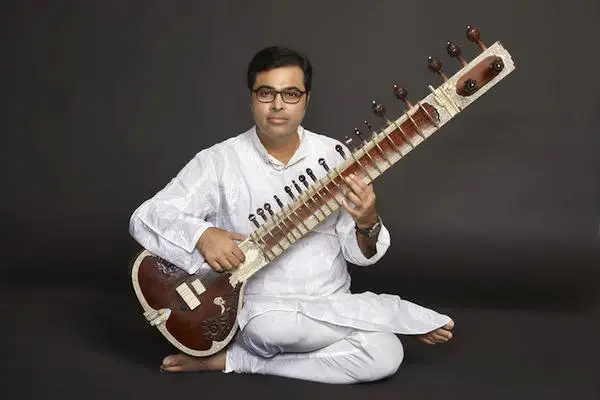 Purbayan Chatterjee (Sitar), Rakesh Chaurasia (Flute), Ojas Adhiya (Tabla)
September 25, 6 p.m.
Lexington Historical Society
The organization Shadaj wants to insure that Indian classical music concerts are scheduled around the Boston area on a more regular basis. One of the crown jewels of its fall season is the only New England appearance on the major international tour by these three Hindustani masters. Chatterjee has a splendid new album, Saath Saath, which finds him discovering new ways to innovate within the raga tradition.
— Noah Schaffer
---
Classical Music
Pratt plays Montgomery and Bach
Presented by Boston Symphony Orchestra
September 22 (at 7:30 p.m.) and 23 (at 1:30 p.m.)
Symphony Hall, Boston
The Boston Symphony's new season opens with pianist Arwadagin Pratt making his belated debut with the ensemble playing two pieces: Jessie Montgomery's Rounds and Bach's A-major piano concerto. Music director Andris Nelsons leads further works by John Williams and Gustav Holst.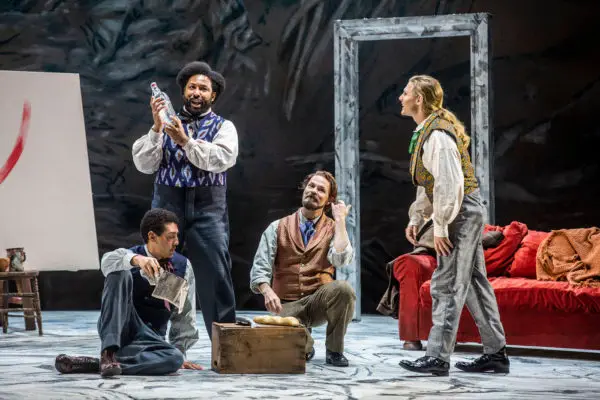 La Boheme
Presented by Boston Lyric Opera
September 23-October 2, 7:30 p.m. (3 p.m. on Sundays)
Colonial Theater, Boston
BLO's only staging of the fall brings Puccini's much-loved tale of love and loss to Boston with a twist: it's presented in reverse, starting with Act IV. Is director Yuval Sharon's production the stuff of genius? Or Regietheater run amok? We shall see. Lauren Michelle sings Mimi and Jesus Garcia is Rodolfo; David Angus conducts.
Troika
Presented by Odyssey Opera
September 25, 3 p.m.
Jordan Hall, Boston
Odyssey Opera returns to action with a triple bill of operas by Sergei Rachmaninoff: Aleko, The Miserly Knight, and Francesca da Rimini. The cast includes Aleksey Bogdanov, Yelena Dyachek, Mikhail Svetlov, and Yeghishe Manucharyan. Gil Rose conducts. Arts Fuse preview.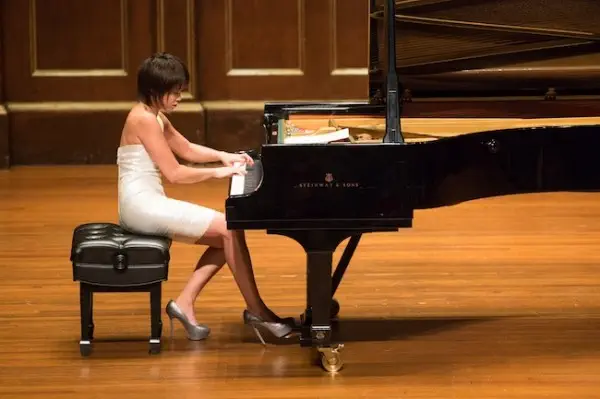 Wang plays Shostakovich
Presented by Boston Symphony Orchestra
September 29 (at 7:30 p.m.), 30 (at 1:30 p.m.), and October 1 (at 8 p.m.)
Symphony Hall, Boston
Pianist Yuja Wangjoins the BSO for both of Dmitri Shostakovich's piano concertos, which are being recorded as part of the ensemble's ongoing survey of that composer's major works. Also on tap are Haydn's Symphony No. 100 and a new commission from Iman Habibi.
— Jonathan Blumhofer
---
Popular Music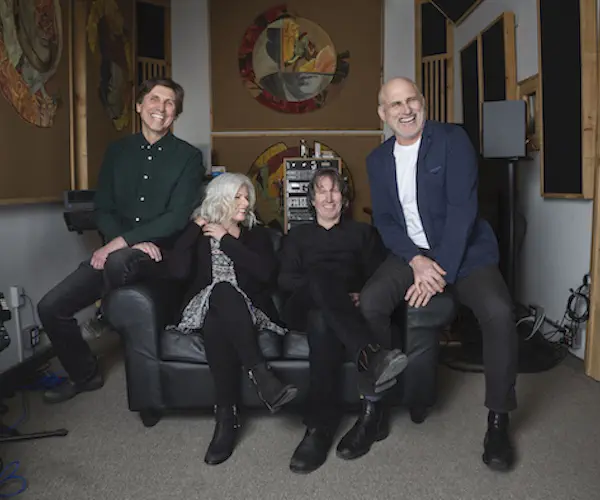 Is there a better suited band than the Cowboy Junkies to play a slate of fall shows in New England? The Junkies' mystical alternative folk blues is practically a soundtrack for experiencing these darker, cooler nights.
Siblings Margo, Michael and Peter Timmins plus Alan Anton are still the driving force behind Cowboy Junkies, which has been running uninterrupted since 1986.  And while most bands of similar vintage rely heavily on past glories when they hit the road, the Cowboy Junkies' most recent original music from the albums All That Reckoning and Ghosts ranks among the group's best work. This year, the band released Songs of the Recollection, which gathered together inventive covers of songs by David Bowie, the Rolling Stones, Gordon Lightfoot, The Cure, Bob Dylan, Neil Young, Vic Chesnutt, and Gram Parsons.
If the tour this fall replicates the format of shows performed earlier this year, expect a satisfying balance of new material, some covers from Recollection, and deep cuts pulled from the band's extensive catalog.
The Cowboy Junkies' New England swing includes shows Sept. 16 and 17 at the Stone Mountain Arts Center in Brownfield, ME; Sept. 18 at the Center for the Arts in Natick; Sept. 20 at the Opera House in Lebanon, N.H.; Sept. 22 at the Narrows Center in Fall River; Sept. 23 at the Cabot Theater in Beverly; and Sept. 24 at Payomet Performing Arts in Truro.
— Scott McLennan
---
Dance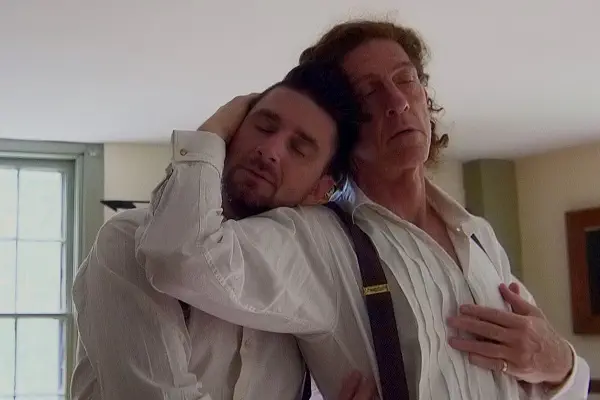 ReWritten
September 16 at 7:30 p.m.
Salem State University, Salem
Created by Tom Truss and Matthew Cumbie, ReWritten draws on the intimate relationship between Herman Melville and Nathaniel Hawthorne, using it as conduit to explore queerness, history, intimacy, writing, and self-expression. Inspired by one of the most mysterious and fruitful friendships in American literary history, this work ponders the content of the missing letters in their correspondence while also time-hopping between then and now. ReWritten weaves together dance, music, visual art, projection, and text to reimagine what its creators see as an intergenerational queer love story.
Garden of Sprites
September 18 at 3 p.m.
Wistariahurst Gardens
Holyoke, MA
Head to Wistariahurst Gardens for a captivating performance of music and dance in the beautiful gardens of this historic Holyoke museum. Choreographer Michelle Marroquin presents a program of original dances and familiar favorites, including Garden of Sprites, performed by the Academy of Ballet Arts, as well as Marroquin and Zazie Tobey's butoh-inspired collaboration with Maggie Nowinski's biomorphic drawings. Musical interludes feature the sweet melodies of Tony Silva's Spanish guitar.
Dance Happens Here: 2022
September 18, 2-9 p.m.
The Dance Complex, Cambridge
Join the Dance Complex in celebrating its 30th anniversary with Dance Happens Here: 2022, a free day-long street party outside its home in Cambridge's vibrant Central Square. Venture onto Central Square's closed streets from 2-9 p.m. as music, movement, food, culture, and business all come together in joyous harmony. This free afternoon will include dance lessons by Dance Complex teaching artists in styles ranging from Samba to Swing; flash performances by area dance troupes; music from a rooftop DJ; a large-scale window installation created by MASARY; and food trucks for those who work up an appetite.
SURGE
September 25 at 4 p.m.
deCordova Sculpture Park and Museum
Lincoln, MA
Enjoy an outdoor, participatory dance performance featuring Boston Dance Theater and members of the SURGE East Boston Coastal Community Artist Fellowship, and engage in dialogue about the climate crisis, sea-level rise, and coastal impacts. This performance concludes a two-month collaboration between Boston Dance Theater and local artists, in partnership with The Boston Foundation + The Trustees. Please note that this performance will take place on the South Lawn at deCordova and visitors are invited to bring their own picnic blankets and lawn chairs. In case of rain, the location will be moved to a tent.
— Merli V Guerra
---
Author Events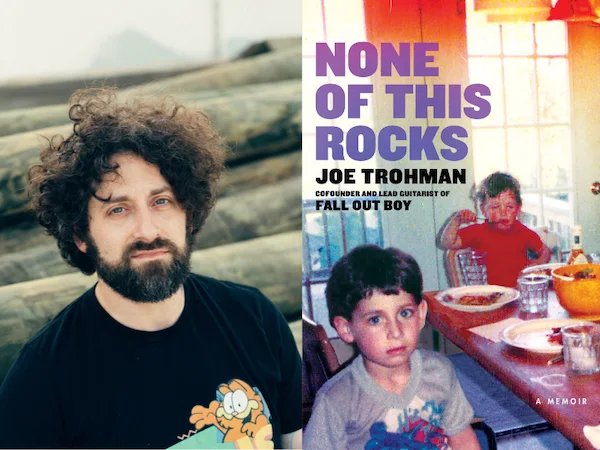 Joe Trohman with Luke O'Neil – brookline booksmith
None of This Rocks
September 15 at 7 p.m.
Free
"Trohman co-founded Fall Out Boy with Pete Wentz in the early aughts, and he's been the sticky element of the metaphorical glue-like substance holding the band together ever since, over the course of a couple decades that have included massive success, occasional backlashes, and one infamous four-year hiatus. Trohman was, and remains, the emotive communicator of the group: the one who made sure they practiced, who copied and distributed the flyers, and who took the wheel throughout many of the early tours. As soon as he was old enough to drive, that is — because he was all of 15 years old when they started out.
That's part of the story Trohman tells in this memoir, which provides an indispensable inside perspective on the history of Fall Out Boy for their legions of fans. But Trohman has a great deal more to convey, thanks to his storytelling chops, his unmistakable voice, and his unmitigated sense of humor in the face of the tragic and the absurd."
Randall Munroe at Sanders Theatre – Harvard Book Store
What If? 2: Additional Serious Scientific Answers to Absurd Hypothetical Questions
September 13 at 7 p.m.
Tickets are $34-44 depending on seating
"Before you go on a cosmic road trip, feed the residents of New York City to a T. rex, or fill every church with bananas, be sure to consult this practical guide for impractical ideas. Unfazed by absurdity, Munroe consults the latest research on everything from swing-set physics to airliner catapult-design to answer his readers' questions, clearly and concisely, with illuminating and occasionally terrifying illustrations. As he consistently demonstrates, you can learn a lot from examining how the world might work in very specific extreme circumstances."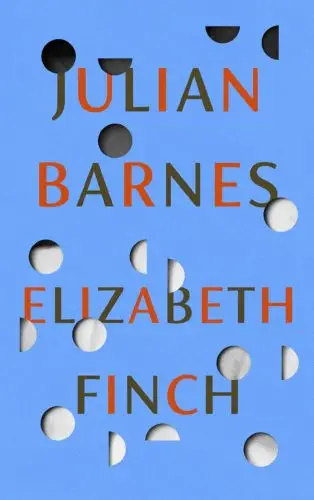 Virtual Event: Julian Barnes – Harvard Book Store
Elizabeth Finch: A Novel
September 15 at 4 p.m.
Free
"In Elizabeth Finch, we are treated to everything we cherish in Barnes: his eye for the unorthodox forms love can take between two people, a compelling swerve into nonfictional material (this time, through Neil's obsessive study of Julian the Apostate, following on notes Elizabeth left for him to discover after her death), and the forcefully moving undercurrent of history, and biography in particular, as nourishment and guide in our current lives."
WBUR CitySpace: Nina Totenberg – brookline booksmith
Dinners With Ruth: A Memoir of the Power of Friendships
September 20 at 6:30 p.m.
Tickets are $25 with book, $5 without
"Four years before Nina Totenberg was hired at NPR, where she cemented her legacy as a prizewinning reporter, and nearly 22 years before Ruth Bader Ginsburg was appointed to the Supreme Court, Nina called Ruth. A reporter for The National Observer, Nina was curious about Ruth's legal brief asking the Supreme Court to do something revolutionary: declare a law that discriminated "on the basis of sex" to be unconstitutional.
In a time when women were fired for becoming pregnant, often could not apply for credit cards or get a mortgage in their own names, Ruth patiently explained her argument. That call launched a remarkable, nearly 50-year friendship."
Daniel Medwed w/ Rachael Rollins – Porter Square Books
September 21 at 7 p.m.
Porter Square Books, Cambridge MA
Free
"In Barred, legal scholar Daniel S. Medwed argues that our justice system's stringent procedural rules are largely to blame for the ongoing punishment of the innocent. Those rules guarantee criminal defendants just one opportunity to appeal their convictions directly to a higher court. Afterward, the wrongfully convicted can pursue only a few narrow remedies. Even when there is strong evidence of a miscarriage of justice, rigid guidelines, bias, and deference toward lower courts all too often prevent exoneration.
Offering clear explanations of legal procedures alongside heart-wrenching stories of their devastating impact, Barred exposes how the system is stacked against the innocent and makes a powerful call for change."
Kacen Callender with Rebecca Kim Wells – brookline booksmith
Lark & Kasim Start a Revolution
September 25 at 11 a.m.
Free
"Lark Winters wants to be a writer, and for now that means posting on their social media accounts — anything to build their platform. When former best friend Kasim accidentally posts a thread on Lark's Twitter declaring his love for a secret, unrequited crush, Lark's tweets are suddenly the talk of the school — and beyond. To protect Kasim, Lark decides to take the fall, pretending they accidentally posted the thread in reference to another classmate. It seems like a great idea: Lark gets closer to their crush, Kasim keeps his privacy, and Lark's social media stats explode."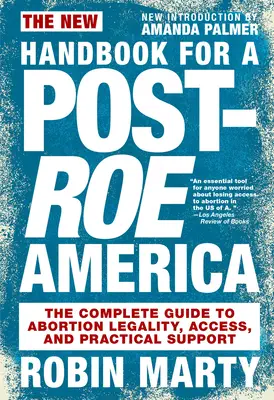 Robin Marty – Porter Square Books
New Handbook for a Post-Roe America
September 25 at 7 p.m.
Free
"Activist and writer Robin Marty guides readers through various worst-case scenarios of a post-Roe America, and offers ways to fight back, including: how to acquire financial support, how to use existing networks and create new ones, and how to, when required, work outside existing legal systems. She details how to plan for your own emergencies, how to start organizing now, what to know about self-managed abortion care with pills and/or herbs, and how to avoid surveillance."
Elizabeth Strout at the Brattle Theatre – Harvard Book Store
Lucy by the Sea: A Novel
September 26 at 6 p.m.
Tickets are $29.75 withbook, $6 without
"As a panicked world goes into lockdown, Lucy Barton is uprooted from her life in Manhattan and bundled away to a small town in Maine by her ex-husband and on-again, off-again friend, William. For the next several months, it's just Lucy, William, and their complex past together in a little house nestled against the moody, swirling sea."
— Matt Hanson