By David Geenham
This dark and jazzy noir drama would be compelling if it just focused on dramatizing a jazz artist's quest for artistic perfection.

Paradise Blue by Dominique Morisseau. Co-directed by Elise Joyner & Logan Pitts. Scenic design by Janie Howland. Costume design by Nia Safarr Banks. Lighting design by Toni Sterling. Sound design by Aubrey Dube. Staged by Gloucester Stage Company, Gloucester, through September 18.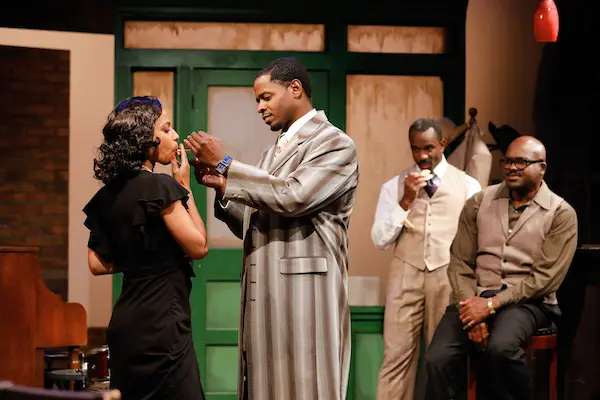 Trumpeter Jaimie Branch died suddenly last week at the age of 39. Her obituary quoted a 2019 interview in which the Boston Conservatory of Music grad said, "I mean every note that I play. When I'm up there, I'm putting it all out on the table. It's like high risk, high reward."
In Dominique Morisseau's third play of her Detroit Cycle, Paradise Blue, trumpeter and club owner Blue (Durrell Lyons) longs to arrive at that state of musical peace. Blue's closest friend, his piano player Corn (Dereks Thomas), calls this fabled experience of musical nirvana "the love supreme." Blue's girlfriend Pumpkin (Destiny Deshuan Washington) thinks he can reach it: "When Blue plays, it's like he's talking to God."
The dark and jazzy noir drama would be compelling if it just focused on dramatizing a jazz artist's quest for artistic completion. But, with Paradise Blue, the talented Morisseau, whose trio of Detroit plays has sometimes been favorably compared by critics to August Wilson's Pittsburgh cycle, is reaching for more. And she achieves it.
Set in 1949, Paradise Blue keys into the arrival Detroit Mayor Albert Cobo, who was elected on a platform that made removing urban blight a high priority. The Black characters know what's what. "We the blight he talkin' about," Blue's high-strung drummer P-Sam (Darian Michael Garey) warns. Detroit's Paradise Valley neighborhood would end up being the price paid for 'growth.' The area was demolished a decade later to make room for the Chrysler Freeway.
Blue is in a funk. His once successful quartet is crumbling. Worse, a repressed traumatic memory is haunting him, driving him to irrational extremes. As the play begins, his erratic behavior has driven away his bass player. His knee-jerk solution is to go solo. He decides to let P-Sam go until a replacement is found. Blue asks Corn to work with Pumpkin to fill the gaps in the show with some standards.
Pumpkin, a soft-spoken dreamer, has been stifled by Blue's struggle. She's also  been  victimized by her lover's violent outbursts. As a result, Pumpkin has limited herself to doing chores: cooking, cleaning, and caring for the rooms to let above the bar. She finds solace in the verse of Harlem Renaissance poet Georgia Douglas Johnson that she reads as she cleans: "The heart of a woman goes forth with the dawn/As a lone bird, soft winging, so restlessly on."
Mystery is added to the plot when sexy and confident Silver (Alexandria Danielle King) struts into the bar with enough ready cash to rent a room for more than a month. P-Shaw, and especially Corn, a widower, are instantly intrigued. Blue sees danger in how she controls others. Just why Silver left New Orleans is unclear, but she's done her political homework. She sees the Paradise Valley — and Blue's bar in particular — as a landmark worth maintaining. Black-owned businesses are an escape from "sharecroppin' and reapin' white folks' harvest," she quips with disdain. Silver's presence sets off a simmer that lasts until the play's final surprising moments.
Paradise Blue looks terrific. The set is confined to Janie Howland's clever (and just dingy enough) facsimile of the small Paradise night club, bathed in purples and a greenish teal. In addition to Howland's effectively inspirational background (who would not want to reach for the stars in this dive?), there's Nia Safarr Banks' costumes, which are colorful and attractive. Toni Sterling's lighting heightens the script's air of being a riddle, its invitation to us to try to figure things out.
Aubrey Dube provides an appropriate and functional soundscape. But Morisseau's script sets one production bar too high — the music. Blue isn't just a fine trumpeter. He's a performer who is obsessed with creating the perfect sound. It's probably impossible to find an actor who could both manage the role's challenge  and play trumpet at the requisite level. Here the musical performances are mimed to recorded sound. Lyons and Thomas do a wonderful job of making their duets look real. Dube's editing and the sound technician are both up to the task. But the effort still falls short of the magic that's called for.
Co-directors Elise Joyner and Logan Pitts and the GSC cast members are also tasked by Morisseau's ambitious and nuanced script. Early on in the run, the performances still need time to gel. As Blue, Lyons is too brooding too often. He suggests the character's troubled soul but he does not give us a sense that Blue is a businessman who could successfully operate a popular club. Garey eventually scores as the outsider P-Sam, especially with his final plea that "we all make Paradise." But for much of the proceedings the actor's high energy gets in the way of his delivery. King scores with Silver's sexy slink, but the she needs to do more to reveal the emotional depth suggested in Morisseau's dialogue. Thomas, as Corn, supplies the most rooted characterization — a usefully gentle counterpoint to Blue's bedeviled bombast.
Washington's Pumpkin is given the most interesting (and demanding) arc in the play, and the actress is moving toward making these transitions as absorbing as they should be.  Pumpkin's transformation is the most powerful expression of  Morisseau's central concern in Paradise Blue. The struggle of the individual to deal with devastation. Pumpkin's recitation of Johnson's "My Little Dreams" should be crushing:
I'm folding up my little dreams
Within my heart tonight,
And praying I may soon forget
The torture of their sight.
---
David Greenham is an adjunct lecturer of Drama at the University of Maine at Augusta, and is the executive director of the Maine Arts Commission. He has been a theater artist and arts administrator in Maine for more than 30 years.