By Paul Robicheau
This version of Beach Road Weekend marked a huge step to the event joining Newport Folk and Solid Sound among New England's marquee mid-size festivals.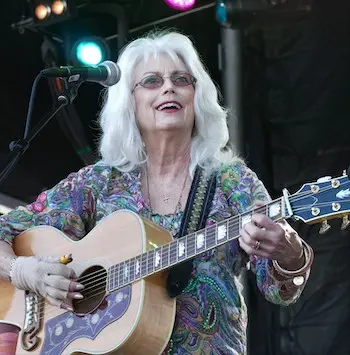 Beck almost died on Martha's Vineyard. That's what the LA singer claimed when he finally took the stage at Beach Road Weekend after a two-year delay around the pandemic. "Nobody told me about the rip current," Beck piped on Saturday, though he credited the island for its beauty as well as for causing his frizzy hair.
Beck wasn't the only artist – or music fan – to hit the island for the first time. With a stacked three-day lineup from the Avett Brothers to Wilco, Beach Road drew 10,000-plus people per day to Veterans Memorial Park behind the Vineyard Haven post office. It marked a huge step toward the event joining Newport Folk and Solid Sound among New England's marquee mid-size festivals. Meanwhile, side-by-side stages of continuous music (one named after an adjacent mock lighthouse) suggested a postage-stamp version of festival setups like Boston Calling.
Each day offered challenges beyond transportation on, off and around the island via ferries and shuttles, including the late cancellations of Julien Baker (Friday) and Lucinda Williams (Sunday, after positive Covid tests in her group). Five acts lost their slots after flooding from overnight rain delayed Saturday's start, but Dawes and Guster each generously ceded part of their time for the breezy Bahamas to play some tunes – in Dawes' case, after a rousing "When My Time Comes."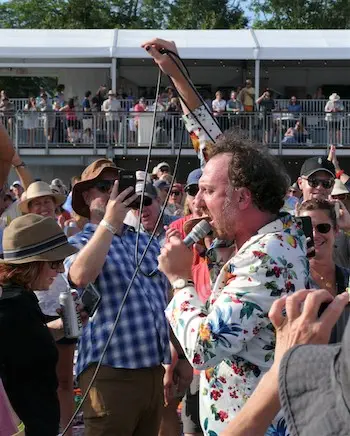 In an aside from his band's perky, dreamy, and slightly proggy pop, impish Guster frontman Ryan Miller  called out "billionaire" VIPs in one of two skyboxes, asking for a ride on one of their yachts, then dragged an endless mic cord through the crowd to climb the rail onto a platform at the foot of that centralized skybox. That two-story structure did block views from the back, though satellite speakers and video screens still gave people at the concessions a great sense of the performances. Sound bounced around in zones lateral to that skybox, where the rear and stage-front speakers clashed, and the bass mix was overly heavy at outside edges near the stages for Beck and other acts. But, for the most part, things went swimmingly as the sun broke through on Saturday, cuing picture-perfect weather for the rest of the weekend.
Saturday's most sublime set came from guitarist Billy Strings, especially for those seeing the flatpicking supernova and his crack bluegrass quintet for the first time. The group began with the apt traditional "Train on the Island" and segued into "Highway Hypnosis" for a spacey jam to time-lapse imagery of freeway headlights on the screens. Strings zipped into a sonically filtered solo before kicking the vocal reprise. Strings again nodded to the setting with Widespread Panic's "Fishing" and even sang a melancholy "Summertime," graced with a gypsy-like fiddle solo by new member Alex Hargreaves, whose bowing especially added resonance on slower tunes, contrasting the more brittle tonalities of brisk mandolin and banjo breaks.
Beck lent contrast with showmanship shtick in his sole U.S. festival show, starting with the solo acoustic "The Golden Age" before shifting to electric for the big riffs and drum beats of "Devil's Haircut" with full band. He tossed off Prince's "Raspberry Beret" and Daniel Johnston's "True Love Will Find You in the End" as well as hits "The New Pollution" and "Hotwax" like he was in an odd rush. Fans took over the why-don't-you-kill-me chorus of "Loser" before Beck switched from a white suit to black and reset his focus with a more somber "Lost Cause," later romping amid smoke machines for a booming "E-Pro" and capstone favorite "Where It's At."
On Sunday, Ohio folk-rockers Caamp moved up into Lucinda Williams' afternoon spot with a balance of simple charm and spunky spirit. Singer Taylor Meier traded between acoustic and electric guitars, while drummer Evan Westfall played banjo and kick drum to serve up an old-timey version of tunes like "26" and "Vagabond" before riffing on a Les Paul while Meier manned the drums for "Goin' to the Country." The Boston-rooted quartet Neighbor, in turn, hopped into Caamp's original time slot, rising to the occasion with a hearty blend of stomping rock, Americana, New Orleans groove, and psychedelia that should – like funk juggernaut Lettuce did the day before — help broaden its audience beyond the jam circuit.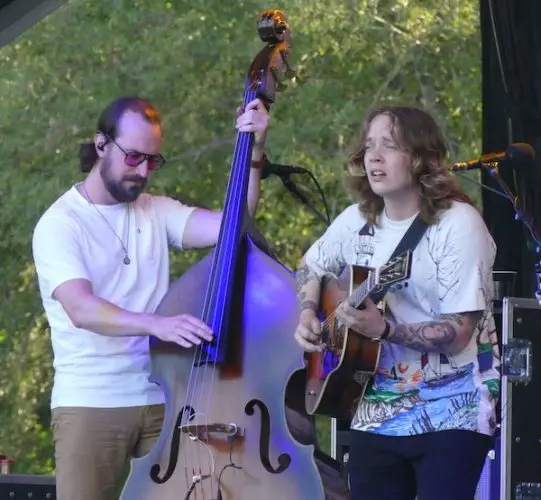 In a rare area visit, Emmylou Harris joked that she once shied from singing Billy Joe Shaver's "Old Five and Dimers Like Me" because she wasn't old enough to give it credibility. But she's now 75. The long-white-haired country icon may have aged, but one wouldn't guess from her clarion voice singing covers that included Gillian Welch, Bill Monroe, Paul Simon ("The Boxer," as a shuffle with mandolin and accordion), the McGarrigle Sisters and conspirator Mark Knopfler. She had the nerve to try to hush a chatty crowd by doing "Calling My Children Home" a striking group a cappella number. And she featured "Big Black Dog," both as her tribute to adopting shelter pets and a wink to that stage's Vineyard retail sponsor.
Jason Isbell's another fine songwriter, evident Sunday in the socially perceptive "Last of My Kind" and "If We Were Vampires," his acoustic ode to marriage and mortality. But he's also a kick-ass electric guitar player, flirting with the blues in "Decoration Day" (from his past life in Drive-By Truckers) and teaming with 400 Unit bandmate Sadler Vaden for dueling leads on a rocking "Honeysuckle Blue," a tune from Vaden's old band Drivin' N' Cryin' covered on Isbell's Georgia Blue, which celebrates music from that state in support of voter rights. The electric duo also fired up the stop-and-start Fleetwood Mac burner "Oh Well."
Later, Isbell guested with Sunday headliner Wilco to spin joint guitar solos with the virtuoso Nels Cline in "California Stars." Not that Wilco really needed another guitarist. Singer/songwriter Jeff Tweedy didn't take long to strap on an electric axe and gnash leads with Cline in opener "Handshake Drugs," while Pat Sansone rose above Cline in a coda from "Many Worlds" (one of two impressionistic jams from the band's new Cruel Country) that was tacked onto "Via Chicago," a curio where players erupt in cacophony around Tweedy's steady melodic vocal. Calmer turns came in "Jesus, Etc." and the new Beatlesque "Story to Tell" and honky-tonk "Falling Apart (Right Now)." But Wilco couldn't resist more squirrely guitars to push the krautrock-inspired "Spiders (Kidsmoke)" past curfew.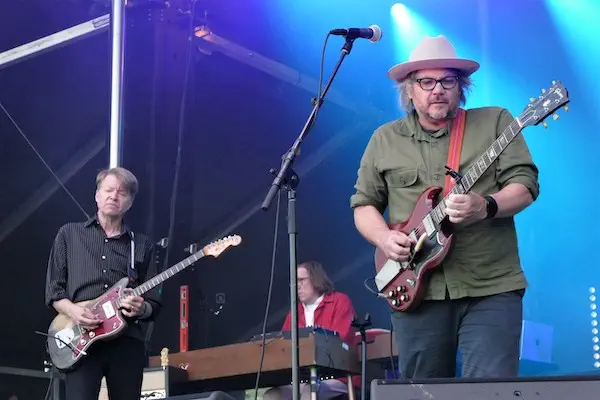 Despite hiccups that included complaints against a practical ban on chairs not pre-purchased from Beach Road, the growing event proved a triumph for promoter Adam Epstein and his team. He drew Cape Cod neighbors' ire when he staged drive-in shows in Yarmouth during the pandemic, but he's found a home on the Vineyard, where town officials have already approved Beach Road Weekend to rock late August for another two years (he's also helped to return touring bands to small island venues). Given the quality of the 2022 Beach Road lineup, consider this festival a lighthouse beacon for music fans.
---
Paul Robicheau served more than 20 years as contributing editor for music at the Improper Bostonian in addition to writing and photography for the Boston Globe, Rolling Stone, and many other publications. He was also the founding arts editor of Boston Metro.