By Jonathan Blumhofer
A serving of the essence of the music of John Corigliano: a blend of old and new, radical and traditional that has made him such a singular force in American music over the last fifty-plus years.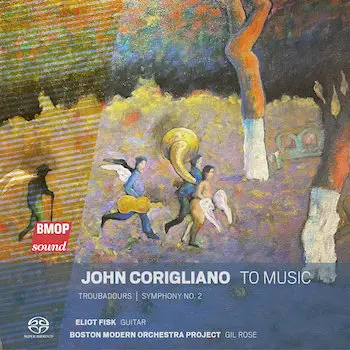 "Beethoven's music," as Friedrich Nietzsche once memorably put it, "is music about music." One might make a similar case, though from a different angle, for John Corigliano's.
If Beethoven's melodic and motivic materials were the building blocks of the common-practice era (scales, triads, arpeggios), Corigliano's hail from the latter half of the 20th century: instrumental color; gesture; controlled aleatory (if that's not a contradiction in terms); not to mention quotations of music from the past, both his own and that of others. All of those qualities are firmly evident in To Music, a new all-Corigliano album from Gil Rose and the Boston Modern Orchestra Project (BMOP).
Of the disc's three selections, Corigliano's Pulitzer Prize-winning Symphony No. 2 is the most substantial. Premiered by the Boston Symphony in 2000, it's a reworking of the composer's 1995 String Quartet. Dour and unrelentingly grim, however, it's not Corigliano's strongest score.
The biggest issues with the piece emerge from the choice to simply adapt chamber music for a large ensemble. Yes, one gets a richer tone and a denser sonority in the symphonic setting. And certain aspects of the original – the noble, recurring chorale theme; the radiant climax of the "Nocturne"; the doppler-effect gestures in the finale – are affectingly enhanced. But the episodes of extended techniques and asynchronous writing can lack definition and electricity on a bigger canvas; here they often sound muddled.
Since, then, the traditional aspects of the Symphony come off more strongly, one's ear is drawn to things that maybe they shouldn't be, like an overreliance on repetition as a compositional device, especially in the Scherzo. What's more, the music's rigidly severe aspect – there isn't much joy or relief to be found here – is summarily underlined. Accordingly, one feels each of the Symphony's forty minutes acutely.
Now that's not a commentary on BMOP's performance, which is rhythmically spot-on, stylistically assured, and brimming with confidence, nowhere more impressively than in the rhythmically-dense fourth movement "Fugue." Rather it's an observation about the piece – one that neither previous recording of it (from I Musici de Montréal and the Helsinki Philharmonic Orchestra, respectively) has solved.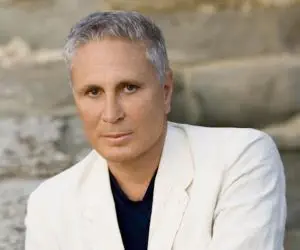 Troubadours, on the other hand, Corigliano's 1993 concerto for guitar and chamber orchestra, inhabits a totally different landscape. Written for Sharon Isbin, the work is something of an homage to the eponymous medieval musicians, in particular the composer Beatriz de Dia, on one of whose songs the piece is based.
As played here by Eliot Fisk, Troubadours comes over with a strong sense of dancing energy and Iberian flair. The guitarist pushes things a bit harder (but only just) than Isbin does in her recording (on Warner Classics), but the music can take it. To be sure, there's plenty of mystery to be had, especially, in his approach to the concerto's framing solos.
Rose and BMOP deliver a discreet and characterful account of Corigliano's orchestral writing. While the recording doesn't fully capture the score's spatial element, the offstage band sounds wonderfully plangent and the larger ensemble revels in Troubadours' shimmering displays of color and rhythm.
The antiphonal episodes in Corigliano's To Music are likewise blurred, but that flaw is largely compensated for by the sheer warmth of BMOP's performance. Based on Schubert's song An die Musik, this short, reflective curtain-raiser captures, perhaps even better than the bigger pieces on this disc, the essence of Corigliano: that blend of old and new, radical and traditional that has made him such a singular force in American music over the last fifty-plus years.
---
Jonathan Blumhofer is a composer and violist who has been active in the greater Boston area since 2004. His music has received numerous awards and been performed by various ensembles, including the American Composers Orchestra, Kiev Philharmonic, Camerata Chicago, Xanthos Ensemble, and Juventas New Music Group. Since receiving his doctorate from Boston University in 2010, Jon has taught at Clark University, Worcester Polytechnic Institute, and online for the University of Phoenix, in addition to writing music criticism for the Worcester Telegram & Gazette.