By Ralph P. Locke
This "serenata" (or chamber opera) with characters from Graeco-Roman mythology receives an elegant world-premiere recording that may bring a major composer out from the shadows.
Johann Michael Haydn: L'Endimione (serenata, or small opera)
Aleksandra Zamojska (Diana), Ulrike Hofbauer (Nice, i.e., Nike), Lydia Teuscher (Amor, i.e., Cupid), Nicholas Spanos (Endimione).
Salzburger Hofmusik, cond. Wolfgang Brunner.
CPO 8492 [2 CDs] 113 minutes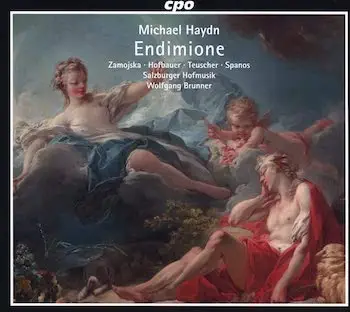 Johann Michael Haydn (1737-1806), often now called simply Michael Haydn, was the younger brother of the famous Franz Joseph. He spent the bulk of his adult life at the court of the prince-archbishop of Salzburg, working side by side with the young Mozart. Their works were intertwined in various ways. One of his symphonies was, for decades, erroneously thought to have been by Mozart and therefore has been performed more often than the dozens of others. (Mozart, it turns out, wrote only an adagio maestoso introduction to the first movement. Look for the work even today under the name Mozart, Symphony no. 37 in G Major.) Mozart's two duets for violin and viola are often suspected to have been written to help his colleague complete a commission from a publisher for six such pieces. All six duets — four by Mike, two by Wolfie — have now sometimes been recorded together as a set.
I greatly enjoy listening to the few Michael Haydn works that I have on disc: some symphonies and orchestral nocturnes (i.e., what Mozart called serenades), the incidental music to Voltaire's Zaïre, and, recently, The Truth of Nature, a moralizing but often whimsical Singspiel — written for a boys' school — that is fascinating from many angles (alas, the only recording omits the extensive spoken dialogue and doesn't even print it in the booklet). My esteem for Michael H. is now even greater after getting to know his shortish opera L'Endimione (1776; this CD release prefers to drop the title's initial L').
The early-instrument orchestra and conductor here, the same that I admired in The Truth of Nature, work together nicely in Michael's always gracious and often sprightly music. The singers — three sopranos and a countertenor (the latter singing the castrato part of Endymion) — were all new to me, except Lydia Teuscher, whom I described as "heavenly" in Telemann's opera Miriways (see my review here). All negotiate their parts with sweetness, firmness, and aplomb. On YouTube you can see Teuscher in action in a concert performance of Amor's Act 2 aria "Se s'accende" (same orchestra, different conductor):
The work has only four roles and is relatively short (two acts) because it is a serenata, a type of small opera composed for performance with minimal (or no) costumes and sets. Such works often celebrated a court occasion: in this case the inauguration, by the prince-archbishop, of a prince-bishop (Ignaz von Spaur) in Brixen (Bressanone, in the Italian Tyrol). The genre is also sometimes called "azione teatrale." Mozart wrote a few, such as Il sogno di Scipione and Il re pastore.
The libretto is by Metastasio, with many alterations. Metastasio's version had already been set over a dozen times, by such composers as Alberti (of Alberti-bass fame), Hasse, Jommelli, and J.C. Bach. It deals with the attraction of the goddess of the hunt Diana for the shepherd Endymion. Tension arises when Diana's faithful companion Nike (Nice), as well, becomes attracted to the shepherd. The fourth character is "Amor," (Cupid), who appears disguised for a time as a young hunting boy named Alcestis (Alceste, not to be confused with the female character of the same name in world-renowned operas by Lully and Gluck). Diana slices the knot at the end by allowing Nike to marry anybody she chooses — that is, anybody other than Endymion.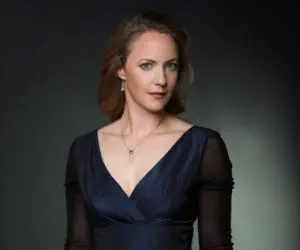 This is apparently a world-premiere recording. There will be no need for another anytime soon, but live performances deserve to follow. I can imagine the work being quite a hit at some regional opera company or college opera studio.
It's high time for Michael Haydn to come out from under the shadow of Joseph! I was particularly enchanted by two passages of accompanied recitative, CD 1 tracks 5 and 11; in the second of these, Endymion drifts off to sleep to gentle music for flute and strings. The track list omits to mention that this passage has orchestral involvement.
Short, informative booklet-essay, full libretto. Both are translated well — though on occasion too literally.
---
Ralph P. Locke is emeritus professor of musicology at the University of Rochester's Eastman School of Music. Six of his articles have won the ASCAP-Deems Taylor Award for excellence in writing about music. His most recent two books are Musical Exoticism: Images and Reflections and Music and the Exotic from the Renaissance to Mozart (both Cambridge University Press). Both are now available in paperback; the second, also as an e-book. Ralph Locke also contributes to American Record Guide and to the online arts-magazines New York Arts, Opera Today, and The Boston Musical Intelligencer. His articles have appeared in major scholarly journals, in Oxford Music Online (Grove Dictionary), and in the program books of major opera houses, e.g., Santa Fe (New Mexico), Wexford (Ireland), Glyndebourne, Covent Garden, and the Bavarian State Opera (Munich). The present review first appeared in American Record Guide and is included here by kind permission.