By Jason M. Rubin
The album features seven tracks played by five different groups fronted or co-led by guitarist John McLaughlin.
The Montreux Jazz Festival and BMG's The Montreux Years series: John McLaughlin: The Montreux Years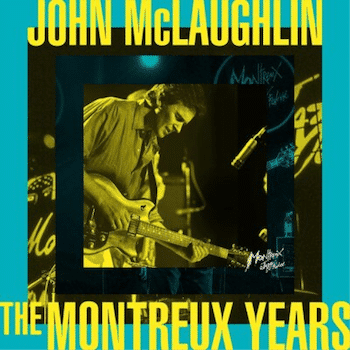 Legendary English guitarist John McLaughlin first came to prominence as part of Miles Davis's groundbreaking fusion ensemble in 1969 and 1970 — contributing to the albums In a Silent Way, Bitches Brew, and Tribute to Jack Johnson. He continued to appear with Davis off and on through the '70s and '80s. Along the way, McLaughlin founded the Mahavishnu Orchestra, itself an influential fusion group; explored Indian music with Shakti; put out a number of distinguished solo albums; and collaborated in acoustic and electric formats with other star guitarists, such as Larry Coryell, Paco de Lucia, Al Di Meola, and Carlos Santana. Such a list of credits would be the dream of most professional musicians, but it barely scratches the surface for McLaughlin, who has been everywhere and played with everyone. What's more, he is still plying his trade with no evident diminution of his skills.
McLaughlin's career goes back nearly as long as the Montreux Jazz Festival, which is now in its 55th year. In one configuration or another, he has played the Festival since 1971. As the fifth and latest entry in a series of CDs compiling tracks from a particular artist's Montreux appearances — the others focused on Nina Simone, Etta James, Marianne Faithfull, and Muddy Waters — John McLaughlin: The Montreux Years features seven tunes played by five different groups fronted or co-led by the guitarist. It is not, however, illustrative of his full career arc, as the cuts only span from 1984 to 2016. (It should be noted that McLaughlin himself curated the collection.) This is a shame because we do not get to hear the original Mahavishnu Orchestra. Instead we get the band Mahavishnu, a completely different ensemble that debuted in 1984, eight years after the last Orchestra recording. The CD opens with two performances by the then-new group, which are very strong. After all, the talent level is still monstrously high, with Danny Gottlieb on drums, Jonas Hellborg on bass, Mitchell Forman on keyboards, and Bill Evans on saxophone.
These are followed by "Acid Jazz," a 1998 performance by John McLaughlin & The Heart of Things, featuring the same instrumentation as Mahavishnu but with different players. Though it's from a different time period, one doesn't sense a discernible difference in the style and structure of the music.
There is more variety in the remainder of the performances. In fact, two of the next three tracks — acoustic duets with de Lucia — are the most different from the rest. Though listeners may be more familiar with the acoustic trio recordings that included the pair plus Di Meola, the duets here are especially nice because it is just the two of them. One can hear clearly how each accompanies the other; and both musicians take breathtakingly virtuosic solos.
John McLaughlin & The Free Spirits, from 1995, was a trio featuring McLaughlin, Dennis Chambers on drums, and Joey DeFrancesco on organ and trumpet. Three monster talents, to be sure. Their track, "Sing Me Softly of the Blues," starts off softly with short, swift darts on guitar, as the organ begins to swell underneath. Chambers enters to place a loud period on this opening statement, then the volume dips again but McLaughlin is soon in full flight, with enthusiastic support from the drummer. Ultimately, though, DeFrancesco runs away with the performance, delivering a long and passionate organ solo.
The final track is also the most recent, from 2016. The ensemble here is called John McLaughlin & The 4th Dimension, comprising McLaughlin with Gary Husband on keyboards, Etienne M'Bappé on bass, and Ranjit Barot on drums. In the intro, the guitarist notes that the song was originally to be recorded with de Lucia, who died in 2014, but it never came to pass so he rearranged it for this group. Titled "El Hombre Que Sabià" ("the man who knew"), it is a beautiful and exciting number that manages to avoid the frenetic onslaught that came from McLaughlin's fusion groups of the '70s and '80s. Finer textures, more patient pacing, and a cooperative — rather than competitive — spirit dominate, demonstrating that even an old master like McLaughlin can continue to evolve.
The CD comes in a very handsome hardcover-book-like package with notes by McLaughlin and pleasing photos. Though it's a shame that nothing from the '70s is represented in this set, the album is far more affordable than the 17-CD boxed set of Montreux performances released in 2003, and still provides a whopping 82+ minutes of music on a single disc.
---
Jason M. Rubin has been a professional writer for more than 35 years, the last 20 as senior creative associate at Libretto Inc., a Boston-based strategic communications agency where he has won awards for his copywriting. He has written for Arts Fuse since 2012. Jason's first novel, The Grave & The Gay, based on a 17th-century English folk ballad, was published in September 2012. His current book, Ancient Tales Newly Told, released in March 2019, includes an updated version of his first novel along with a new work of historical fiction, King of Kings, about King Solomon and the Queen of Sheba. Jason is a member of the New England Indie Authors Collective and holds a BA in Journalism from the University of Massachusetts Amherst.