By Ed Symkus
Three singular voices – Ken Russell, Bob Rafelson, and Brian De Palma – all of whom had their careers in gear before the end of the previous decade, each of whom took interesting turns with the films they released in 1972.
For some film directors who arrived on the scene in the late-'60s, the early-'70s proved to be a time of self-reinvention. The new freedoms thriving in cinema were open invitations to dabble in different genres, to experiment, to be fearless. There's no doubt that most filmmakers wanted to be successful and hoped to make a living at their craft. But for some it was obvious that they were determined to be independent, to follow their own visions, to create the films they saw in their minds, and to hell with box office receipts.
So, let's say hello to three bona fide innovators, three singular voices – Ken Russell, Bob Rafelson, and Brian De Palma – all of whom had their careers in gear before the end of the previous decade, each of whom took interesting turns with the films they released in 1972 – Savage Messiah, The King of Marvin Gardens, and Get to Know Your Rabbit – and are now celebrating their 50th anniversaries.
Ken Russell cut his teeth in television, making a series of imaginative docudramas about painters, composers, poets, and dancers for the BBC. His first theatrical feature, Billion Dollar Brain, was a one-off thriller that was followed by more "arty" fare: the sumptuous and erotic Women in Love, the emotionally violent The Music Lovers, and the physically violent The Devils.
Bob Rafelson also joined the fray through television, producing and directing The Monkees. Stepping up to features, Rafelson stuck with Nesmith, Dolenz, Jones, and Tork, directing them in the psychedelic comedy-with-music Head. Then taking Head scripter Jack Nicholson with him and giving him a lead role, he made the overly dramatic Five Easy Pieces.
Brian De Palma began with short narrative and documentary films before finding his way to the art house circuit and gaining initial notice with the counterculture comedy features Greetings, the story of a draft dodger (Robert De Niro) who is drafted and Hi, Mom!, which is about how the same character copes with life in America after Vietnam.
Editor's Note: Also check out The 1971 Project — A Great Year in Film as well as a homage to Dirty Harry.
---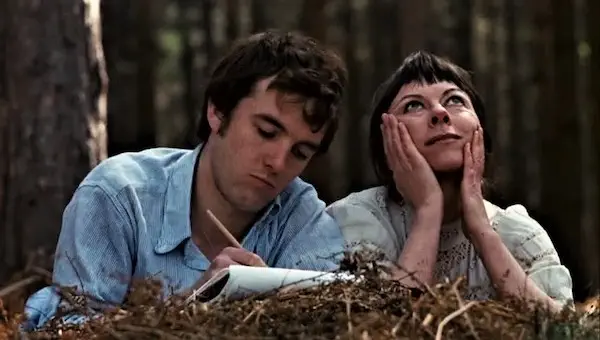 Savage Messiah took many steps back from the grotesque if zesty negative energy of its predecessor, The Devils. It told the based-on-fact story of the French artist Henri Gaudier (Scott Antony) and his relationship with the then-unpublished Polish author Sophie Brzeska (Dorothy Tutin), who was 10 years his senior.
Instead of religious zealots waging politically charged torture, Russell presented an impassioned tale of hopeless romanticism … and the meaning of art in the early years of the 20th century.
When they meet, she is feisty and he is loud and rebellious. In time, he is smitten with her, but she doesn't know what to make of him. She intends to be a great writer, he calls himself the world's greatest sculptor. Neither of them has any friends.
Are they, against all odds, made for each other? It's hard to tell, since they have very little in common. She's tired of being lonely, but doesn't like people. As they grow closer, he craves more than just a platonic relationship. But she wants nothing to do with sex. At least they know how to make each other laugh. For no discernible reason, they don't call each other by their given names. To him, Sophie is "Mamaloush." To her, Henri is "Boy." Yet they offer each other their surnames, hyphenated: he is Henri Gaudier-Brzeska, she is Sophie Gaudier-Brzeska.
Though ostensibly about Henri's attempts to win fame as a sculptor, Savage Messiah is much more about the challenges facing two people and their doomed relationship. Wisely, Russell makes sure it's a film that belongs to its leads. Antony and Tutin not only deliver their often long speeches with aplomb, but there's also abundant kindling between the performers, of the sort that fires off fierce sparks.
The film climaxes in off-screen tragedy, but ends with a loving look at a posthumous exhibit of Henri Gaudier-Brzeska's work.
Highlights include a feverish, coffee-fueled, all-night sculpting session; a brief appearance – part of it audaciously nude – by a young Helen Mirren as a rabble-rousing suffragette; and a cameo by Russell (deboarding a train 66 minutes in).
---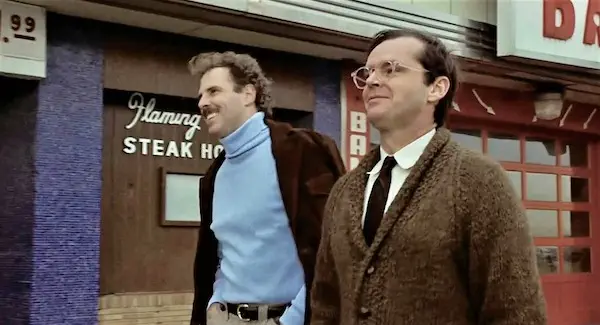 The King of Marvin Gardens (yes, that is a Monopoly reference) reteams Bob Rafelson with Jack Nicholson, whose career was ablaze, and marks his first time directing Bruce Dern who, like Nicholson, had steadily been working his way through the Roger Corman school of acting.
Concentrating less on story than on character, the script gives us two brothers, as different as can be in attitude and temperament. It then sticks them together in a situation that one of them revels in and the other tries – to no avail – to escape.
It opens, in tight closeup, on David (Nicholson), quietly talking and talking – for almost six minutes == about why he doesn't eat fish. There's not another person in sight. Eventually we learn that he's the host of a late-night Philadelphia radio show, where his job is to expound about anything that comes to his mind.
After his shift, he gets a message from his older brother Jason (Dern), saying only, "Get your ass down here. Our kingdom has come."
"Down here" is Atlantic City (ahh, that Monopoly business), where Jason is in jail due to, in his words, a "ridiculous felony charge." Differences are revealed: David accepts his lonely, forlorn, ordered lot in life, but Jason is a dreamer and schemer. David doesn't talk much when he's not on the air, but Jason never shuts up. David is a loner;Jason tools around town with two women accompanying him: Sally (Ellen Burstyn), a hot-tempered floozy, and Jessica (Julia Anne Robinson), best described as "the quiet one."
The narrative, once Jason is out on bail, is that he has a foolproof money making plan (scheme) to get a gambling license for an island casino, and he wants David in on it with him. But the obstacles to the get-rich-quick venture mount. They include growing friction between the two women (mostly because Sally is bonkers) as well as tension between the brothers because Jason is so laser-focused on his scatterbrained plan.
Rafelson keeps the film mesmerizing by filling it with long silences and by keeping his cameras static for any exterior sequences. He only changes up his reserve during a jarring, slightly forced conclusion that comes right out of '50s French cinema.
Highlights include Nicholson's opening monologue; Burstyn's unnerving hair-cutting scene; and Nicholson's a cappella rendition of "There She Is, Miss America."
---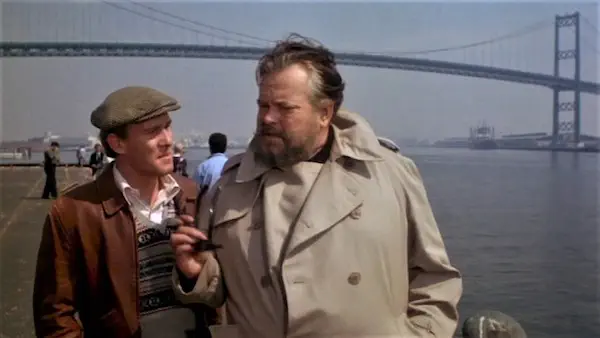 Get to Know Your Rabbit is a mess – a mishmash of creative visuals rubbing awkward elbows with dry and slapstick comedy ideas. One reason for this disjointed quality, the film's jumps around in rhythm and moods – Warner Brothers did a major re-edit after director Brian De Palma handed in his final cut. The result is that it feels as if you are watching pieces taken from different films that have been haphazardly thrown together. Improbably, that's also what gives this movie its eccentric, shaggy charm.
Or maybe it's because it has one hell of a cast: Tommy Smothers, Orson Welles, John Astin, Katharine Ross and, in cameo roles, Bob Einstein, Allen Garfield, and M. Emmet Walsh.
Hold on, it could be the story: Donald (Smothers), an overworked marketing analyst at a large corporation, fed up with the stress of the daily grind. He quits and enrolls in a school for tap-dancing magicians run by Mr. Delasandro (Welles). Donald's feckless boss, Mr. Turnbull (Astin), realizing he's helpless without Donald, hatches myriad underhanded schemes to get him back. Too late; Donald has graduated, been given his rabbit, and hopped a bus to begin "a 7-week swing through the second-rate bars and cocktail lounges in America's heartland" as a tap-dancing magician.
His boss falls from grace but, because he was once a marketing man of merit, the guy comes up with a surefire publicity gimmick: an offer for burnt-out executives to quit their jobs, reinvent themselves as tap-dancing magicians, and "live life at the gut level!"
The film is uneven and goofy, but it features stand-alone segments that are brimming with heart. Of the actors, Smothers contributes a welcoming, natural delivery, Ross plays it slightly ditzy, Welles goes eloquently over the top in a self-deprecatory manner, and Astin comes up with a zany character who is smart, sympathetic, deceitful, ruthless and, most important, fun to watch.
De Palma is already dealing with stylistic elements that would become hallmarks in his later films: dissolves, wipe edits, split screens, and film-within-film.
Highlights include Welles joyously conjuring a cocktail from a handkerchief; a tracking shot of Smothers walking (from the viewpoint of an overhead camera) through his maze of an apartment, and every single scene featuring Astin.
---
Ed Symkus is a Boston native and Emerson College graduate. He went to Woodstock, is a fan of Harry Crews, Sax Rohmer, and John Wyndham, and has visited the Outer Hebrides, the Lofoten Islands, Anglesey, Mykonos, the Azores, Catalina, Kangaroo Island, and the Isle of Capri with his wife Lisa.