By Ezra Haber Glenn
The path Dirty Harry (and too many of his defenders, then and now) chose to pursue — the urban policing version of "killing the village in order to save it" — was outdated and discredited even in 1971.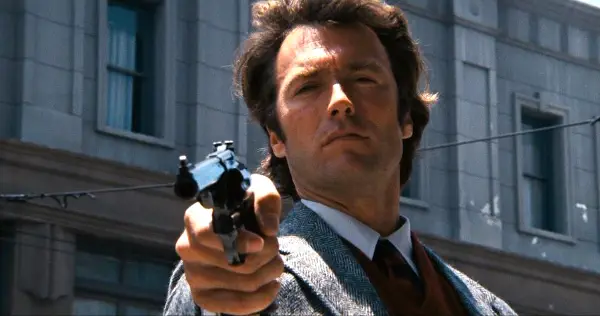 Unlike Clint Eastwood himself, the character he played in Dirty Harry has not aged well. The film is a part of movie history worth remembering now, half a century after its release, but less with reverence than with unease, a critical eye informed by the intervening years. The movie should be watched, appreciated, and understood, but as a relic that touches on an unresolved aspect of our culture. There is nothing here to be celebrated.
Eastwood's "Dirty" Harry Callahan is a hard-working San Francisco cop — a self-styled warrior-protector, a rough-talking modern-day lawman with the firepower to back up his sparse words. But in the early scenes he finds himself out of step with the world around him. On the one hand, the city is slipping into a post-'60s moral free fall: a surfeit of strippers and sex parties, drugs and hippies, hoodlums and criminals. In a few short years this is the urban "scum and filth" that will make Taxi Driver's Travis Bickle to mutter a wish for "a real rain" that will wash away the "whores, skunk pussies, buggers, queens, fairies, dopers, junkies," and other sick, venal animals who come out at night. (The irony here — at least given Harry's internal logic — is that he should be the one called "Dirty.")
But even harder to stomach than the deviance and decay, Harry is foiled and frustrated at every turn by the bureaucrats, the politicians, the endless red tape, and the progressive laws that protect the freaking civil rights of criminals and degenerates. (Note: the film was made in the wake of the Supreme Court's landmark 1966 Miranda v. Arizona decision, which established new limits on law enforcement that sent shock waves through municipal police departments across the country.) Unwilling to go softly into the dying of the right, Callahan goes rogue, a tough cop who becomes an avenging vigilante who will stop at nothing to rid the city of a sadistic and psychopathic serial killer known only as "Scorpio" (vaguely fashioned to evoke the real-world Zodiac Killer in name, if not in M.O.)
Film fans will, of course, remember the two iconic showdowns that bookend the film. Harry's famous tagline is featured in each scene. Following a chaotic shoot-out (the first a disrupted bank robbery, the second a climactic chase sequence through an old quarry), Harry corners a wounded suspect — a weapon just out of reach — and stares at him past the barrel of his big gun. As we watch the perp desperately try to remember how many shots have been fired — and thus, whether there is still one in the chamber — Harry soliloquizes, "I know what you're thinking: 'Did he fire six shots or only five?' Well, to tell you the truth, in all this excitement, I've kinda lost track myself. But being this is a .44 Magnum, the most powerful handgun in the world, and would blow your head clean off, you've got to ask yourself one question: 'Do I feel lucky?' Well, do you, punk?"
This bravado proved to be red meat for the film's (primarily male) fans. They took note of the make and model of the gun and flocked to purchase them. According to a 40-year retrospective article on guns.com, Harry's oversized sidearm — impractical for actual police work, but not for intimidation or compensation — was the second most recognized weapon on film, just behind Luke Skywalker's lightsaber: "For Smith & Wesson, the film was the greatest advertisement money never had to buy." (The cultural enthusiasm for the gun is revelatory: it reverses the classic western gunslinger paradigm. Here the hardware was a bigger star than the shooter. There was relatively little attention paid to the standard elements of skill, aim, strength, and training. Size is all that mattered.)
Even more striking to rewatch 50 years on is the crucial scene where we see Harry really go over to the dark side. His change does not come after viewing the remains of a victim or facing a grieving widow or mother. No, he melts down after confronting the impotency of a cop in the face of the modern legal system. In one of the tensest moments, Harry is chewed out by the D.A. and a consulting law professor (introduced as being a visitor from the faculty at Berkeley, of course), who explain to Harry that Scorpio will be set free: the evidence — obtained from an illegal search and some, er, light-torture interrogation techniques — would be thrown out of any court in the nation. "Without the evidence … I couldn't convict him of spitting on the sidewalk," the DA patiently explains. "The suspect's rights were violated, under the Fourth and Fifth and probably the Sixth and Fourteenth Amendments." (Callahan, as incredulous as a caveman asked to fill out a tax return, seems completely unable to process the legal concepts at work here: "And Anne Marie Deacon, what about her rights? I mean, she's raped and left in a hole to die…")
Far beyond the usual American antibureaucratic tendencies, there's something deeper at play, more even than just an old-fashioned cop railing against both the law and the order aspects of "law and order." Right from the get-go, the film's opening shots dramatically raised these stakes, featuring a slow pan down a list of names of police officers killed in the line of duty. The roll-call is the key to the story's underlying anxiety, an early salvo in a nascent "Blue Lives Matter" campaign, at a time when officer deaths were peaking at more than double the figures seen in previous decades. At heart, Dirty Harry is not about protecting the public, but about cops pushing back. (Noticeably, the film lacks the usual scenes of the anxious masses, which are pretty standard fare for most serial killer plots; here, in fact, the news of the deranged villain is never actually leaked to the press.)
The inconceivable cherry-on-the-top is provided by Scorpio himself, who pays a local tough to beat him to a bloody pulp, knowing that the liberal press will be quick to embrace trumped-up charges of police brutality and blame Callahan, piling insult on top of injury for the aggrieved lawman.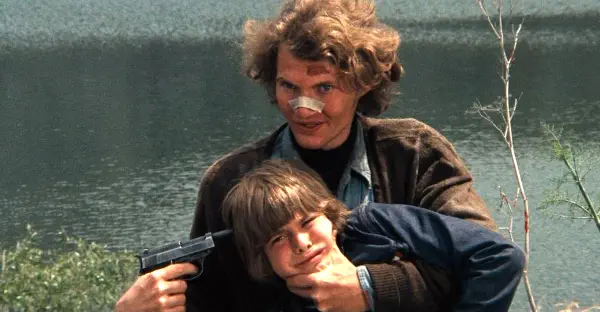 For those who remember that 1971 was also a pretty turbulent year with regard to America's foreign entanglements, the image of a tough American warrior trying to make the world safe — but hamstrung by liberal sentiment and modern rules of engagement — would have resonated from North Beach to South Vietnam. The all-too-smug Scorpio sports a trippy peace-sign belt buckle, to help viewers make this connection. Here, we are led to understand, Harry is the true victim, trying to win a war with one hand tied behind his back, and then being demonized because he is the one doing our dirty work.
To its credit, for those tempted to side with reviewers denouncing the film as reactionary, fascist, or worse, the film includes a few weak-tea attempts at racial reconciliation: a Mexican-American sidekick charms his way into Harry's grudging acceptance. ("That's one thing about our Harry, he doesn't play any favorites. Harry hates everybody. Limeys, Micks, Hebes, Niggers, Honkies, Fat Dagos, Chinks" — and, we learn, with a wink from Eastwood, "especially Spics.") Scorpio is, thankfully, a white supervillain, which heads off anticipated criticism from the '70s-era woke media. (Three bank robbers early in the film are black, and Harry even leaves one to be rescued by the EMTs; the gay characters are pretty unsympathetically pervy; women are basically absent, except as victims, hookers, and strippers.)
Add in some astounding visuals from director Don Siegel, especially the film's many long shots on rooftops high above the city, as well as some dramatic play with contrasting shadow and light or neon. Layered throughout, Lalo Schifrin's score is pure magic, as always.
The film spawned four increasingly violent sequels. It is also credited with ushering in a number of popular police subgenres and imitators, including both "loose cannon cop" and "rogue vigilante/revenge" plots (including the abhorrent Death Wish series, which kicked off in 1974: apparently, serial killers are not the only depraved phenomenon to inspire copycats…).
Today, five decades later, we are still struggling to restore public trust in a system of increasingly militarized and authoritarian policing. Harry's signature Magnum pales in comparison to the firepower on our streets today. It remains to be seen if a solution can be found through reform or outright abolition, but one thing seems clear: the path Harry (and too many of his defenders, then and now) chose to pursue — the urban policing version of "killing the village in order to save it" — was outdated and discredited even in 1971. It was a dead end that led to neither law or order, but only to more violence and societal breakdown.
---
Ezra Haber Glenn is a Lecturer in MIT's Department of Urban Studies & Planning, where he teaches a special subject on "The City in Film." His essays, criticism, and reviews have been published in The Arts Fuse, CityLab, the Journal of the American Planning Association, Bright Lights Film Journal, WBUR's The ARTery, Experience Magazine, the New York Observer, and Next City. He is the regular film reviewer for Planning magazine, and member of the Boston Society of Film Critics. Follow him on https://www.urbanfilm.org and https://twitter.com/UrbanFilmOrg