By Matt Hanson
For all his verbal ingenuity, rousing chord progressions, and cynical smartass wit, Elvis Costello has always tucked a raw, beating heart beneath his jaunty shades and devil-may-care grin.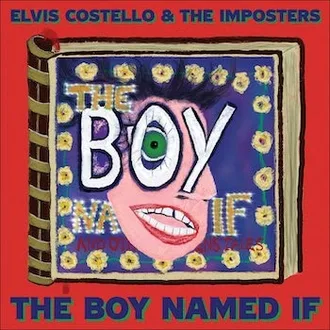 Elvis Costello has always been a brilliant mélange of contradictions. London Irish, he's the son of a jazz musician and an old school punk rocker. He's produced great records from The Specials and The Pogues and collaborated with Burt Bacharach, The Roots, jazz musicians, and classical ensembles. He's put out a new record almost every year for decades without any diminishment in quality. He's an erudite, witty, and cosmopolitan fellow who has never become pretentious or lost his wry sense of humor: "Sometimes when I finish a bad novel, I say, 'You wrote seven hundred pages just to say that? Couldn't you have just said, 'I want to fuck'?"
The Boy Named If is his staggering 32nd studio album, and it doesn't disappoint. It's infused with an energy and relish that befits a musician much younger than Costello's 67 years. It is not as crackling and demented as his aggressive '70s era material — back in the days when he was skinny and sneering — but Costello isn't obligated to be as full of piss and vinegar as all that. Trying to recapture that Angry Young Man vibe of his youth would be ill-fitting for a songsmith of his eminent stature. But he's not turning into John Denver in his senior years.
Costello maintains his one-two punch as a songwriter, combining his droll worldview and a fondness for rocking out. He knows full well how messed up the world is, but he doesn't let that get in the way of having a rave up. If anything, it fuels it. The record's highlights prove he still knows how to bring the house down. I'm particularly fond of the up-tempo opener "Farewell Ok" and especially the throbbing "Magnificent Hurt," which might well be the sonic grandchild of early bangers like "Pump It Up." Sly and mischievous as ever, Costello consistently keeps the momentum up on a record which he could have been forgiven for mellowing out.
For my money, Steve Nieve's playfully circus-like organ was always the band's secret weapon. The band used to go by The Attractions but, because of a lineup change, it now goes by The Imposters. It's good to see that Nieve is still punctuating the spiky rhythms of the songs with his ironically spritely touches on keyboard, especially on "Mistook You for a Friend" and "The Difference," which I think is one of the more underrated songs here. It's a murder mystery involving a femme fatale's interaction with a bewildered and possibly venal gentleman: "And he said, Do you know, do you know/ Do you by chance know wrong from right?/ Do you know, do you know, do you know/ What turns pleasure to plight?"
For all his verbal ingenuity, rousing chord progressions, and cynical smartass wit, Costello has always tucked a raw, beating heart beneath his jaunty shades and devil-may-care grin. Anyone who appreciates his lovelorn material, like "Imperial Bedroom," the brooding "I Want You," or the devastated "Almost Blue," knows how vulnerable he can be.
One of the prettiest melodies on Boy Named If is "Paint the Red Rose Blue," an oddly sanguine waltz about romantic regret, perhaps inspired by Costello's long held affection for cry-in-your-beer country tunes. The song's gentleness stands out in a lineup full of hard strumming backing up Costello's distinctly hoarse warble. As for his voice, it's still able (surprisingly) to do justice to a wide range of emotions. "Trick Out the Truth" assumes a jazzy, jaunty perspective on a lover's perfidy, occasionally leaning into spooky atmospherics as it irreverently tosses out learned references like confetti.
I must admit to one reservation, which has been reinforced a couple of times now. Whenever I've gotten up to get a drink or something and let the record play, the playlist has run right into Costello's previous records, Hey Clockface and Look Now. Once I returned, it took me a few minutes to tell which record was which. That's not a dig on Costello, understand — it's evidence that those other two records are as strong as The Boy Named If.  It's reassuring proof that Costello is maintaining his high standards, even though he has little need to prove his greatness to anyone.
---
Matt Hanson is a contributing editor at the Arts Fuse whose work has also appeared in American Interest, Baffler, Guardian, Millions, New Yorker, Smart Set, and elsewhere. A longtime resident of Boston, he now lives in New Orleans.