By Bill Marx
We live on the stage of my theater now.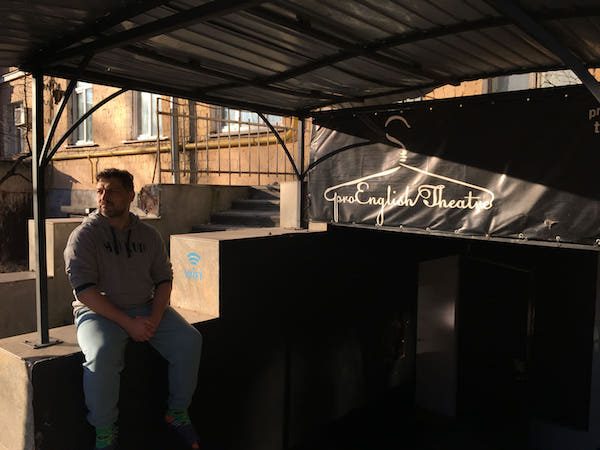 A week ago I saw a brave staging, on Facebook, of Harold Pinter's 1991 play The New World Order by a small theater group in Kyiv. The ProEnglish Theatre stages plays in English and this one was a particularly provocative choice. Pinter's ultra-terse (even for him) script gives us two proud proponents of "democracy" sadistically chit-chatting about how they are going to torture a prisoner in front of their blindfolded victim.
This selection was brave, but the valiant company has nerve to spare. At the start of the war, its performance space immediately became a dormitory/bomb shelter where people could go for safety at night when the air raid sirens sounded. Meanwhile, the troupe is continuing to produce shows expressly for online viewing — local audiences are hunkered down, fearful of going out. ProEnglish Theatre is one of the few theaters still in operation in Kyiv, mounting productions despite the war.
The company's upcoming production is The Book of Sirens, based on Markus Zusak's 2002 novel The Book Thief and some writings of Colombian writer Hector Abad Faciolince. The monodrama draws on Soviet radio announcements from WWII and Soviet war songs. Live music will be performed on a piano. The production will be in English: it is set in March 2022 in a Kyiv bomb shelter. The Book of Sirens premieres on April 9 and will be streamed worldwide (18:00, Kyiv time; 11 a.m. EDT). Check the troupe's Facebook page for details.
If Theodor Adorno is right, and "the forms of art register the history of humanity with more justice than historical documents," then ProEnglish Theatre has accepted this responsibility. Every aspect of its recent productions testify to what is happening in Ukraine — and what it wants the world to know is happening. The Book of Sirens is staged in a bomb shelter about life in a bomb shelter. I am not confident that America's stage companies, given their yearning for a return to "business as usual," for serving up entertainment that's been verified by New York box office and critical raves, are prepared to do similarly disturbing work. There is a call for theater to reflect a world that is changing in alarming ways, to confront what revelations of Russian barbarism and savagery say about the fragility of civilization — everywhere. Will it be heard?
I sent off some questions to Borovenskiy about what it was like to stage theater in Kyiv today, whether Russian art should be boycotted, and his evaluation of how American and European theaters have responded to the war in Ukraine.
---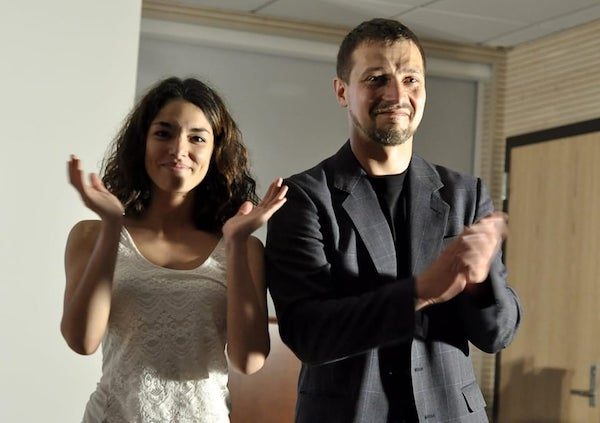 Arts Fuse: Please talk about the value of theater at this time of crisis in Ukraine. What role can it play in facing the present — and shaping the future?
Alex Borovenskiy: Theaters and art venues appeared to be one of the most fragile institutions with the war. Most of them stopped functioning and closed up with the first sound of the sirens. Many actors joined in territorial defense, some went into the army, many are volunteering. Almost all theaters ceased to exist. So it was tremendously important that our ProEnglish Theatre continues to function, not only to serve as a bomb shelter and a volunteer center, but to keep creating art and performances. It didn't change the situation, but it gave a little hope for the future. I do not believe that theater can change the present — it is too retrospective in its nature. But theater can definitely shape the future by speaking directly to the hearts of people, issuing warnings, asking uncomfortable questions, and presenting the situation as it is today through the eyes of art. What is happening today must never be repeated.
Arts Fuse: What are the biggest obstacles to performing theater in Kyiv? What are the artistic and psychological challenges?
Borovenskiy: The biggest obstacle to performing theater in Kyiv in March was the constant shelling of the city, the omnipresent threat of missile attacks. You never knew which area would be targeted. Also, 80 percent of my actors are not in Kyiv anymore. And the majority of our audiences are in the bomb shelters. These are the biggest artistic and psychological challenges.
Arts Fuse: The company has resigned from the International Amateur Theatres Organization (IATA) because of its even-handed statement of support for its members "in both Ukraine and the Russian Federation; creative people whose lives are dedicated to peace, artistic exchange, cultural dialogue between communities and freedom of expression through theater." What position should concerned theater organizations take in the face of this disaster? Boycott Russian theater artists?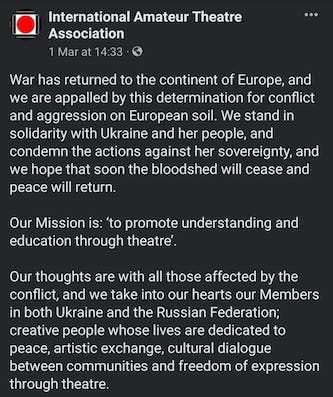 Borovenskiy: Reasons to resign from the AITA/IATA "organization":  the "statement of solidarity" doesn't recognize the Russian invasion into Ukraine as Russian aggression. Next, the bullshit statement: "We take into our hearts our members in both Ukraine and Russian Federation." Finally, the follow-up actions of AITA/IATA. Not bothering to reply to our complaints for two weeks, not changing the statement after receiving our emails, keeping the controversy away from readers. This is shame, cowardice, and hypocrisy. We cannot be a part of such an "organization."
And, in reply to your second question – about the wisdom of boycotting "Russian culture" and "Russian theater artists." I agree 100 percent with the sentiments of #OlenaPshenychna (c)
Every time you talk about the great Russian ballet, I will tell you the story of a young teacher from Brovary who was repeatedly raped in front of her parents and then kidnapped by Russian villains. Dozens, maybe hundreds of Ukrainian women have been raped. Often in front of their children…. Every time you tell me about the great Russian theater, I will tell you the story of a woman in the Brovary district from whose house Russian marauders retreated and removed metal tiles. About the tanks and armored personnel carriers of the "Second Army of the World" loaded to the brim with things robbed from Ukrainian homes. Stolen phones, tablets, TVs, washing machines, carpets, jewelry, bottles of alcohol, pans, clothes, toys, shoes. When they got to Belarus, they sent their loot to Russia in advance.

Here is what I will tell you in response to those who object to rejecting great Russian literature. There is no longer any great Russian culture, literature, cinema, painting, theater, and ballet. There is a country of freaks, marauders, rapists, and murderers. Wild people who have no place in the civilized world! And long-suffering new Russian dissidents in the cozy apartments of Berlin, London, Larnaca, Milan, Tbilisi, Astana, Vienna, and other temporary shelters, let them follow the route of the Russian ship, proudly carrying in their hands the great Russian culture!"
Arts Fuse: Do you see theater as a form of public testimony — a way of witnessing what is happening in Ukraine? If so, how do you see this as differing from the evidence provided by journalism?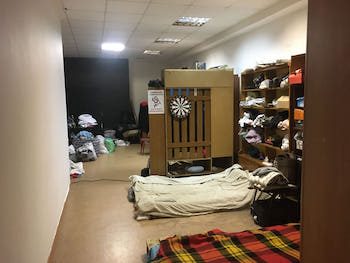 Borovenskiy: I never saw the theater as something that speaks about "now" directly. To me it diminishes the idea of this type of art. These days, now has become so big it influences theaters irrespective of what they produce. All theater in Ukraine is about the now, witnessing and giving testimony. The biggest difference to me is that theater is always personal. There's always a passionate side to take. And also, theater speaks on all levels — reason and psyche, mind and heart.
Arts Fuse: Your latest piece, The Book of Sirens, goes back in time — it is a surrealistic remembrance of the horrors of World War II. Why this show now?
Borovenskiy: Well, because it speaks about a small German town of Molching being bombed to a pulp during WWII. History is being repeated in reverse — nothing has changed. I believe there is no difference between any small town being bombed: in Germany, Ukraine, Poland, or Oklahoma. People would react the same way. That is what I wanted to explore. This is the most visceral performance I've ever staged to date: it speaks about a bomb shelter from a bomb shelter. We perform it amid sleeping bags and cans of meat — exactly where we live now. Because we live on the stage of my theater now.
Arts Fuse: You have stated that "art is stronger than war." Do theater artists in the West have a special responsibility to act on your statement? What are your impressions of the response of American and European theaters to the war in Ukraine?
Borovenskiy: Over the past months I saw and heard tremendous support from different artists all over the world. We witnessed many — as well as took part in — some of the artistic initiatives to support Ukraine. The response is there. I wish, though, that moving forward these efforts will become more organized, unified into some kind of a wider collective effort. This war united all Ukrainians into a single strong nation. I wish the theaters of the world would do the same.
---
Bill Marx is the Editor-in-Chief of the Arts Fuse. For just over four decades, he has written about arts and culture for print, broadcast, and online. He has regularly reviewed theater for National Public Radio Station WBUR and the Boston Globe. He created and edited WBUR Online Arts, a cultural webzine that in 2004 won an Online Journalism Award for Specialty Journalism. In 2007 he created the Arts Fuse, an online magazine dedicated to covering arts and culture in Boston and throughout New England.