By Glenn Rifkin
All three are singer/songwriters whose individual gifts mesh seamlessly with soaring harmonies and a like-minded empathetic view of the world.
The Wailin' Jennys at The Cabot Theater, Beverly, March 31 at 8 p.m.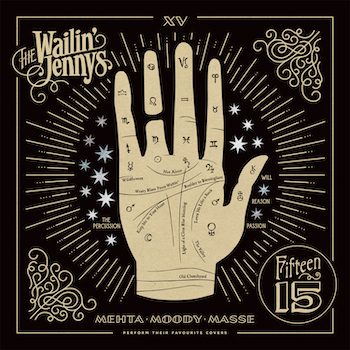 When COVID shut down the world of live music in early 2020, one of the casualties was a Boston area stop by the Wailin' Jennys.  Though the folk trio originally hailed from Canada, their exquisite harmonies, impeccable musical talent, and engaging stage presence struck a chord wherever they performed, particularly in the Boston area. They made regular stops at the Somerville Theater and Sanders Theater and their arrival was inevitably marked on a lot of calendars.
I had tickets to see them at Sanders Theater in Cambridge in April and, since they hadn't been in the area in a couple of years, it was crushing that their show was canceled. The good news: the Wailin' Jennys are back.
With live performance returning from the two-year COVID shutdown, the Jennys are on tour and they will be performing a now long-awaited show at The Cabot Theater in Beverly.
The trio, Ruth Moody, Nicky Mehta, and Heather Masse, started touring again this past September with a short California run.  Moody and Mehta hail from Winnipeg, Canada where the group began. Masse, a Maine native who lives in the Catskills in New York state, joined in 2007.  All three are singer/songwriters whose individual gifts mesh seamlessly with soaring harmonies and a like-minded empathetic view of the world. They were a hit for several years as regulars on NPR's Prairie Home Companion, but mostly they have devoted regional fan bases that support their tours and download their music.
Moody grew up in a musical family in Winnipeg. Unlike her three siblings who trained on violin, Ruth began voice training at age four. She embraced folk music in the mid-1990s and by then, she'd mastered several instruments including guitar, piano, banjo, accordion, and bodhran. After her first band broke up, she connected with Nicky Mehta and Cara Luft in 2002. The Wailin' Jennys were born.
I spoke to Moody from her home in the Gulf Islands, British Columbia, about the upcoming tour.  She had moved back to Canada from Nashville just as the pandemic began.
---
Arts Fuse: What was the COVID shutdown like for you?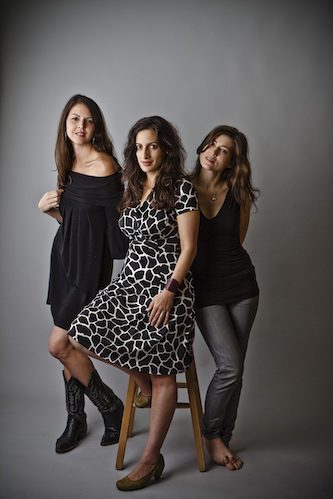 Ruth Moody: It was hard and so disappointing. Suddenly everything was canceled. Not only were we out of work but all our side players were out of work. We all lived in different cities so we couldn't get together to work on music. But there was also this unique time where, for the first few months, everything stopped. I was home with my partner and our little boy.  It was such a relief to not be traveling. We got to be a family together for a stretch of time and it was blissful and so sweet. I wrote songs. I had the time and space to be creative even though there was a lot of stress and angst. Of course, that bliss only lasted for a few months. It was not only a big drag for the band but it was awful for the world.
AF: You did a tour in September. How did it feel to be back on stage?
Moody: It was a really nice re-entry, before Omicron really hit. I was very emotional on stage for the first couple of shows. I had spent so much time by myself, and after such an intense time, knowing what everybody had been through, it was a lot. It felt very vulnerable. Everybody felt that way.
AF: It also must have felt fantastic.
Moody: Yes. People need music. People were so grateful to be experiencing live music again.
AF: It's been a long time since you released an album of original music. You released 15, an album of covers, in 2017. But it's been more than a decade since the last group of Jennys songs.
Moody: We all love motherhood but we weren't very organized giving birth. Early childhood for the three of us spanned a long time. Nicky started with her twins in 2009, my son is now five, and Heather's baby girl just turned three. So it was hard for us to get together to make a record. We recorded 15 in five days.  We couldn't do an album of original material in that short amount of time. But we're working on it now. We have most of the new material and we're going to start soon, probably in the next nine months.
AF: The Jennys have a big following in the Boston area. Is this a special place for the band?
Moody: We're so excited to be coming back. We love the Boston area. We have a big following in the Midwest, probably because of Prairie Home Companion, but Boston does feel like one of the places we've been coming to for a long time. Heather is from Maine, so we have always prioritized New England. We do feel connected to the area.
AF: Your music seems to have a deeply emotional connection with your fans. Have you ever thought about the reasons behind it?
Moody: That's a good question. All three of us feel things pretty deeply. We're empathetic people.  When I write, I'm just tapping into something that feels important to me. Sometimes I'm processing something and there's just a big feeling that I need to write down and understand better. We're sensitive people so we'll tune into people in a particular way. And we care about the world. Nicky and I were just talking about the war in Ukraine and feeling that vulnerability. We have to get ourselves into strong enough shape to perform even though we're feeling a little bit broken.
Nicky said, "It may feel tough, but we need to be a balm for people." She was right. People need it right now.  There is intention behind it, to offer something to the world that is comforting, uplifting, and meaningful.  Music has been that for us. We want to be able to give it to others.
---
Glenn Rifkin is a veteran journalist and author who has covered business for many publications including the New York Times for nearly 30 years. He has written about music, film, theater, food and books for the Arts Fuse. His new book Future Forward: Leadership Lessons from Patrick McGovern, the Visionary Who Circled the Globe and Built a Technology Media Empire was recently published by McGraw-Hill.