By Jonathan Blumhofer
A major release by a pianist who, just in his mid-30s, is already one of the most intelligent and satisfying musicians on the circuit.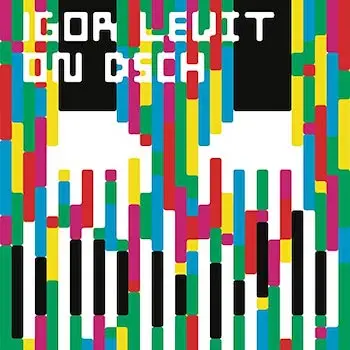 Leave it to Igor Levit to resurrect one of the 20th century's major novelties as well as a largely overlooked masterpiece by Dmitri Shostakovich. Of course, the Berlin-based pianist is no stranger to smart, creative programming: 2020's Encounter cleverly mixed adaptations of Bach with Morton Feldman. On DSCH is in a similar vein.
The rarity in question — and it's actually an astonishing musical accomplishment, especially the way Levit plays it — is Ronald Stevenson's Passacaglia on DSCH. Written between 1960 and 1962, the piece consists of a series of variations (several hundred, in fact) derived from Shostakovich's musical signature (the notes D, E-flat, C, and B). Part theme-and-variations, part succession of miniatures, the score is an encyclopedic enterprise that, in Levit's performance, runs to nearly 90 minutes.
He's not dragging things out: this is a compelling reading, one that never lets up for energy, focus, or drive. Indeed, in Levit's hands, Stevenson's Passacaglia proves a masterpiece of compositional and expressive invention. From the militant opening Sonata Allegro to the motoric Pars Prima Suite, the shuddering "Lament for the Children," and snapping "Symphonic March," it's clearly music of huge contrasts.
At the same time, its many broad gestures — like the surging "Variations on Peace, Bread, and the Land," pummeling "Pedal Point. To Emergent Africa," and discreet Bach allusions in the "Tribute" — combine to craft a musical portrait that's notable for its sheer humanity. Taken together, the Passacaglia seems tailor-made for Levit, whose electrifying reading captures its bold strokes just as well as its subtleties.
The piece also makes an excellent coupling with Shostakovich's 24 Preludes & Fugues. Completed in 1951, Shostakovich's score takes its inspiration from Bach's Well-Tempered Clavier. However, the organization of his materials runs in its own direction. Indeed, rather than crafting a comprehensive study of contrapuntal technique, Shostakovich instead seemed more interested in shaping a series of character studies based on the affective qualities of each key area.
Accordingly, these Preludes & Fugues unfold as a captivating succession of abstract musical snapshots. There's absolutely nothing dry, rote, academic, or unmusical about them — especially given Levit's thorough understanding of their technical and expressive requirements. Throughout this traversal, his feel for balances between voices is never less than pristine. As a result, Shostakovich's contrapuntal writing consistently speaks with evenness and rhythmic direction.
The Preludes, as a rule, are all striking for their variety: the delicate C-major; whorling A-minor; gracefully dancing D-major; stern, passacaglia-like G-sharp-minor — all sing and flow with authority.
So do the fugues. Though Shostakovich largely eschewed the contrapuntal puzzles Bach indulged in with WTC and The Art of the Fugue, it is pure delight to hear so many familiar devices — inversion, stretto, whatnot — applied with such clarity in a decidedly 20th-century musical context.
Again, Levit's command of this music is total: the fundamental takeaway of his playing of these fugues, chiefly, is that of technical mastery ceding way to pure musical expression. What comes out is the music's immense breadth of personality and feeling: the tripping, elfin G-major; menacing B-minor; steely, unsettling E-flat-minor; lucid F-major (with its beguilingly eroding chromatic lines at the end); and epic D-minor fugues being particular highlights.
Taken together, it's true, this is something of an exhausting album. But the Shostakovich, at least, needn't be experienced in one sitting and the Stevenson has a way of keeping the attention fixed over long spans of time. On DSCH is, in the end, a major release by a pianist who, just in his mid-30s, is already one of the most intelligent and satisfying musicians on the circuit — and a guy unafraid to follow his muse wherever she leads. Long may he continue exploring these less-trod paths.
---
Jonathan Blumhofer is a composer and violist who has been active in the greater Boston area since 2004. His music has received numerous awards and been performed by various ensembles, including the American Composers Orchestra, Kiev Philharmonic, Camerata Chicago, Xanthos Ensemble, and Juventas New Music Group. Since receiving his doctorate from Boston University in 2010, Jon has taught at Clark University, Worcester Polytechnic Institute, and online for the University of Phoenix, in addition to writing music criticism for the Worcester Telegram & Gazette.