By Alexander Szeptycki
The format may be different, but FKA twigs remains as hypnotic as ever on her album Caprisongs.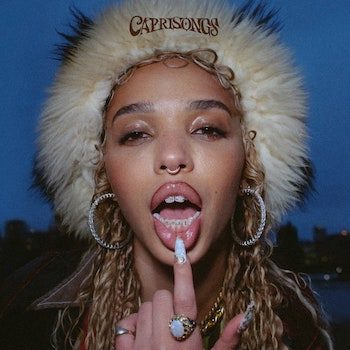 FKA twigs' art originally captivated because of its dizzying conceptual ambition. 2019's stunning effort Magdalene took on questions of sexuality and autonomy from the perspective of internalized Catholic repression. It also addressed the turmoil of a high-profile breakup as well as major surgery. Driving all of this was a desire for self-actualization and rebirth that was at times accompanied by surreal visuals. The album supplied a multilayered artistic experience.
Caprisongs, the UK-based artist's latest offering, lowers the stakes a little. "I made you a mixtape" she whispers in the first seconds of the intro, signaling her intent. She proceeds to draw on the rich talent in the UK music scene, welcoming in a legion of local guest artists. Astrology references also abound throughout the album; its title highlights the performer's Capricorn Sun sign. Still, this project, while perhaps more relaxed, is no less outstanding than its predecessors. This collection of tracks may not have the focused artistic intent of her earlier efforts, but it underscores twigs' distinctive talent as a vocal performer.
twigs's tracks unerringly tap into her flair for sonic dynamism. Take "ride the dragon." Listen to the way she transitions from verse to hook on the lines "So if you/really wanna kiss me/kiss me quickly." She lingers on those first syllables, before darting into the rapid fire, staccato cadence of the chorus. This agile delivery is effortless, almost balletic. "If you really wanna kiss me/do it quickly 'fore the end of this song," she croons on the bridge, with trilling flute samples and bumping bass tones in the background. It's an enchanting, gracefully constructed soundscape.
Caprisongs engages in what could be called twigs's playful maximalism. "pamplemousse" is pure antic chaos, a short, hard-hitting club explosion. It careens through rhythmic vocal synths, confident rapping, and a breakneck falsetto chorus filtered through glossy distortion. This song's brevity is part of its amusement.
The spirit of the club scene predominates on this recording, with twigs trading lines with a myriad of UK artists. Jorja Smith excels on the twinkly "darjeeling," before the track shifts to London grime so rapper Unknown T can sound at home. "which way" is an exciting musical left turn: twigs is supported here by Dystopia, an underground London band whose songs are reminiscent of bubblegrunge. The resulting mix is an understated gem: isolated vocals warp into a synth line over steady half time drums and group vocals that are chanted with considerable energy. It is another fun tidbit. This kind of impressive interplay pops up throughout the album. "honda" is another experiment in chemistry: twigs is joined by Pau Salieu as they rap over a pulsing club beat that is lifted by ominous choir vocals. As the track progresses, the two artists converge, ending each other's bars before delivering their own in a remarkable display of vocal unity.
Then there's the song "papi bones," the album's mixtape highlight. The song generates enormous forward momentum: airhorns mingle with trumpets as the thunder of quaking drums demand that listeners move their bodies. The rhythmic escalation is slow — each successive passage becomes more hypnotic than the last, spurred on by the mantra chant: "Don't stop, don't stop." Upcoming superstar Shygirl supplies her own incendiary verse, urged on by layered, rhythmic clapping.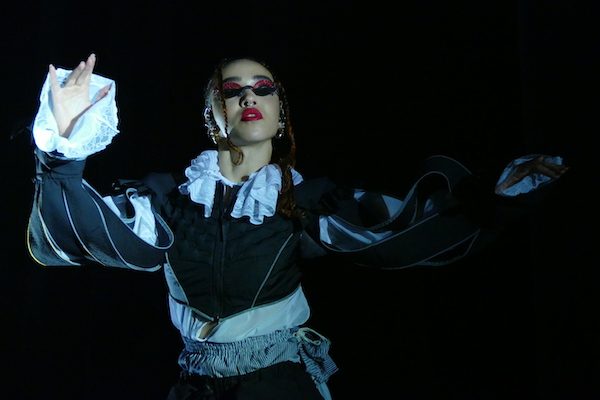 These energetic changes work because there isn't a weak vocal performance across this project. Twigs immediately hooks you in on "tears in the club": "I wanna get you outta my hips, my thighs, my hair, my eyes, my late night cries." She's trying to dance away her pain — and almost succeeds. When the Weeknd joins in, he is her ex-lover trying to win her back. This is a catchy but interestingly cold account of dancing through the tears. The tune's hook is the album's most irresistible — distorted vocal riffs on "I love and want your body" are set to an irresistible melody that undercuts the sadness.
And while this may be a singles-focused project, there's still a conceptional skeleton binding the tracks together. Comic skits pop up among the songs. In one, a fan demands that twigs drop an unreleased collaboration with dua lipa (it's not on the album). In another, someone breaks down twigs' zodiac chart in a tone that somehow both satirizes stargazing and exalts it. There are snippets of cheery conversations among the musicians — these are affirming exchanges among friends. One exchange sticks out, an intro to the song"meta angel": "This is the year of greatness, bruv, and bein' free."
Caprisongs is not all joyous proclamation. There is the gloominess of "meta angel." The melancholy materializes slowly, with individual musical components pushing out some energy, but never enough to uplift. "I wish I had help from a deeper force," twigs whispers. It's an ode to the more demanding side of growth, when there is a need to push through periods of emptiness.
Tracks like this provide deeper context for the tunes around it. "oh my love" opens with twigs offering an anecdote about a man who won't commit before it morphs into a woozy trap beat. This dreamy sheen is interrupted by a peppy chant: "Everybody knows that I want your love/why you playin' baby boy what's up?" In the end, twigs is affirming herself — she deserves better. It's capped off with another resolution: "fuck crying over these stupid boys…and have fun."
Though Caprisongs is a change of pace for twigs, with its wealth of guest singers, there is never any doubt that this is her mixtape. There's her usual meticulous attention to production, her commitment to sinuous vocal performance. The format may be different, but twigs remains as hypnotic as ever.
Arts Fuse review of FKA twigs's 2019 performance at Boston's House of Blues.
---
Alex Szeptycki is a writer from Charlottesville, VA. He recently graduated from Stanford University, majoring in American Studies with a focus in contemporary art and pop culture. He's currently working as a freelance writer at the Arts Fuse while navigating post-grad life in a pandemic.