By Paul Robicheau
Nearly halfway into the set, Twigs finally turned to Magdalene, which casts an empowering light on Jesus Christ's female companion — and stands among 2019's best albums.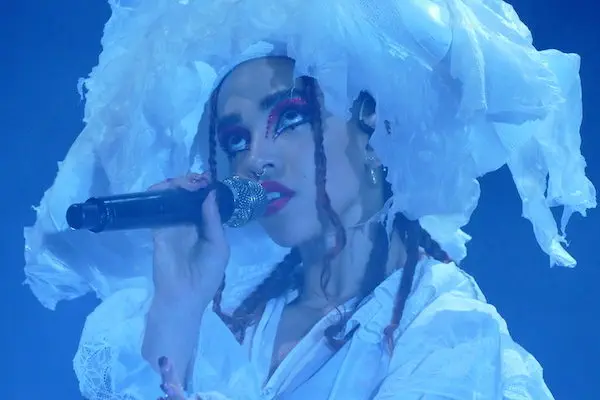 FKA Twigs carries the aura of a Renaissance woman, in both her modern take on period garb and the wide spectrum of disciplines that she tackles. Raised on ballet and opera and accomplished as a filmmaker, the British singer and dancer born Tahliah Barnett deeply involves herself in the production of her videos as well as her records – and draws on all of those artistic perspectives in concert.
Twigs also carries scars incurred since she last toured three years ago behind her Mercury Prize-nominated LP1. First came her tabloid-fodder breakup with fiancé Robert Pattinson of  Twilight fame, then surgery to remove fibroid tumors from her uterus. The 31-year-old singer pours those emotionally trying experiences into her stark, stunning new album Magdalene and current tour, which hit House of Blues on Tuesday, her first Boston show since 2014 at Brighton Music Hall.
Her 90-minute set — delayed 50 minutes by an errant fire alarm that cleared the club — began not with elaborate spectacle but with Twigs alone before a curtain, tap-dancing against mechanized rhythms. Twigs's accented gesticulations set the tone for the rest of the night as she slowly built her performance, singing lesser-known EP tracks "Hide" and "Water Me" in her airy soprano and donning a bridal-white headpiece in her first of several costume changes. She let a high note linger in "Pendulum," then paused for cheers that prompted her to physically blush before she crouched, swung her arms, and flew back into that astonishing upper range. Twigs flashed her physical flexibility as well in "Figure 8," arching her body backward until she could touch the stage, cued to a blast of strobe light, before four dancers joined her to leap into choreography as harder beats kicked in.
Nearly halfway into the set, Twigs finally turned to Magdalene, which casts an empowering light on Jesus Christ's female companion — and stands among 2019's best albums. Dressed like a gypsy queen, Twigs walked from the stage wing into the pit to sing "Mary Magdalene" directly to the masses against the barricade (to the likely consternation of any fans who lost that spot in the fire-alarm shuffle). And "Home with You" resonated with opera in the dramatic tension between her ascending voice and the theatrical movement of the dancers, who sported Greek-tragedy masks on both their faces and hands, menacingly surrounding Twigs and then gently holding her aloft. She joined the frolic to groove to rapper Future's recorded counter-lyrics in "Holy Terrain," one of the night's few moments that fit the alt-R&B tag once stuck on Twigs.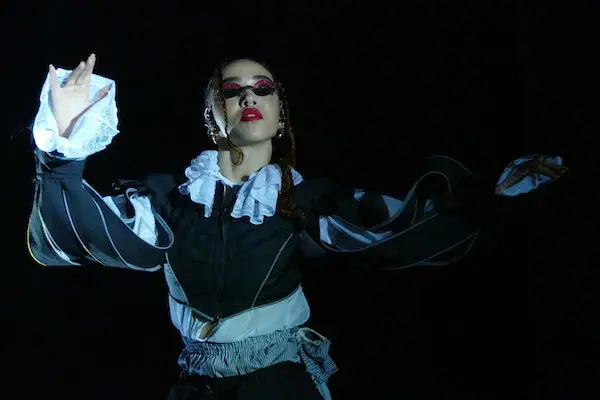 Besides unseen instrumentation, she sometimes employed canned vocals, either while singing live or during transitional moments, but they were rarely distracting. That vocal mix was particularly effective on "Sad Day," which recalled Kate Bush both in Twigs's high-voiced phrasing and the synth-iced tribal orchestration of its climax. The singer left the stage only to emerge with a faux sword that she twirled and waved in an impressive routine, and the curtain dropped to reveal scaffolding with three live musicians atop a platform, injecting cello and electronic drums.
But the back end of the set showcased Twigs's naked live voice – and the earthy fragility that graces so much of her new album. She tapped the base of her neck with her fingers for the guttural first notes of "Mirrored Heart," where her voice floated through the line "It's all for the lovers trying to chase the rush again" as if on helium, then resolved "But I'm never going to give up." Except for a smattering of supportive catcalls from overeager fans, you could practically hear a pin drop as Twigs served her soliloquy, while the cellist lent sparse piano from above.
After a showstopping pole dance where her undulating body rose into a spinning upside-down split to "Lights On" and a throbbing "Two Weeks" (in which confetti petals fell from above), Twigs delivered the emotional dagger of "Cellophane." The video for that single popularized her pole dance, which she learned in order to signify her recovery from surgery. But here she stood alone again. In that paean to facing overwhelming heartbreak and broken privacy, she trilled the tightrope refrains "Why won't you do it for me, when all I do is for you" and "They want to see us alone, want to see us, want to see us apart." But her final hushed words were "They're waiting, and hoping I'm not enough" – and fans made clear they thought differently. Twigs motioned for her singers and musicians to share the applause, and they all ran to the back of the stage into a triumphant group hug.
---
Paul Robicheau served as the contributing editor for music in The Improper Bostonian in addition to writing and photography for The Boston Globe, Rolling Stone and other publications.