By Ralph P. Locke
CD recordings keep bringing us unexpected treasures, including chamber works by Samuel Coleridge-Taylor and Samuel Adler, and the (by turns) exquisite and powerful opera Armida by Mozart's contemporary — who was not his murderer — Antonio Salieri.
Samuel Coleridge-Taylor: Chamber Works With String Quartet. Stewart Goodyear, piano; Anthony McGill, clarinet; Catalyst Quartet. 78 minutes. Azica Records (download only). Purchase and listen to tracks here.
Samuel Adler: Chamber and Instrumental Music. Michelle Ross (violin), Michael Brown (piano), Cassatt Quartet. Toccata Classics 0624. 77 minutes. Purchase, download the booklet, and listen to tracks here.
Antonio Salieri: Armida (opera in 3 acts). Lenneke Ruiten (Armida), Florie Valiquette (Rinaldo), Teresa Iervolino (Ismene), Ashley Riches (Ubaldo). Choeur de chambre de Namur, Les Talens Lyriques, cond. Christophe Rousset. Aparte AP244 [2 CDs] 123 minutes. Purchase and listen to tracks  here.
In the midst of this ongoing pandemic, when performing organizations have often had to press Pause for months at a time, record companies have hastened to provide classical-music lovers with new experiences that we can enjoy in the privacy (oh, admit it: seclusion!) of our homes and automobiles.
I am delighted to bring this, my eighth bouquet of three recent CDs of unusual and important music-making. In the present case, all three consist of relatively unfamiliar pieces, superbly performed.
First, a bit of news. Antonio Salieri's 1771 opera Armida has just won for best "Premiere Recording" at the International Classical Music Awards. The jury, consisting of music critics from across Europe (including England, France, Italy, Russia, and Turkey; the Eastern portion of Turkey is officially part of Europe), described the recording as "an intense love drama involving just four characters" and "perfectly performed."
Anyone who knows conductor Christophe Rousset's marvelous opera recordings (such as the startlingly bold Tarare, likewise by Salieri — which I praised here at the The Arts Fuse — or Lully's remarkable Isis, which I reviewed here) will be at least somewhat prepared for the remarkable combination of precision, intensity, and color that he elicits from his chamber orchestra and modest-sized chorus. I was particularly struck by the flexibility of tempo, constantly shifting to emphasize this or that point in the dramatic action. The four singers (listed above) are simply marvelous and, I gather, on the youngish side. We'll be hearing more from each of them!
Salieri's Armida (not to be confused with operas on the same basic story by Lully, Handel, Gluck, Haydn, Rossini, and Dvořák) includes some powerful scenes directly inspired by the encounters between Orfeo and the spirits of the Underworld in Gluck's Orfeo ed Euridice (first performed in the same city — Vienna — nine years earlier).
Like Gluck in Orfeo, Salieri largely avoids secco (harpsichord-accompanied) recitative, thus freeing himself to include much varied orchestral accompaniment for the often highly dramatic soliloquies and conversational interchanges that separate the work's many (fresh and attractive) arias, duets, and choruses. Salieri makes remarkably effective use of his instrumental forces (e.g., echoing phrases between a single, mournful oboe, or a pair of airy flutes, and the violins), saving the trombones for the remarkable scene at the beginning of Act 3 in which the Syrian sorceress Armida and her attendants, in "a vast underground chamber," implore the spirits of Hell to prevent the Crusader knight Rinaldo from leaving her and rejoining the army of Christian Crusaders and fighting against her and her people. (The richly informative booklet essays should have said at least a word about the typical 18th-century stereotype here of the Middle Eastern woman as a snare awaiting the unwary Western male hero.)
Jump ahead more than a century, and we meet a most remarkable Black British composer, Samuel Coleridge-Taylor, whom his English mother named, confusingly for posterity, after the renowned poet Samuel Taylor Coleridge (1875-1912). Coleridge-Taylor's father was a medical student from Sierra Leone who returned to Africa, apparently never knowing that he had fathered a child. The lad, immensely talented, received first-class instruction from Charles Villiers Stanford at the Royal Academy of Music. He became particularly well known in Britain and North America for three short cantatas based on Longfellow's epic poem The Song of Hiawatha. (In recent decades, one aria from Hiawatha's Wedding Feast has often been taught in undergraduate music-history courses.) Coleridge-Taylor's chamber works are no less attractive, including a rather Schumann-like piano quintet written when he was 18, five richly varied and attractively Brahmsian "Fantasy Pieces" for string quartet, from two years later, and a truly masterful quintet for clarinet and strings, written when he was 31, six years before he died at 37. The clarinet quintet constantly engages the ear with imaginative permutations of the five instruments. All the performances are first-rate, as one would expect from such renowned masters of their instrument as pianist Stewart Goodyear (who is also a composer) and Anthony McGill (first clarinet, New York Philharmonic; you may recall his playing at Barack Obama's first inauguration).
For more on the recent rediscovery of highly accomplished and affecting works by Coleridge-Taylor and other Black composers, see my review here of Joseph Horowitz's latest book: Dvořák's Prophecy and the Vexed Fate of Black Classical Music. In that regard, I should mention that I caught part of the radio broadcast of Black American composer Terence Blanchard's powerful and, yes, tuneful opera, Fire Locked Up in My Bones, broadcast live from the Met. The work, which was much hailed when first performed by Opera Theater of St. Louis, is based on the widely praised memoir by New York Times op-ed writer Charles Blow. The Met production was video-broadcast live to movie theaters this past October. I was captivated by what I heard on the radio, not least by the aria "The South is no place for a boy with peculiar grace," which I suspect will become a frequent recital number. The Met always repeats its video-broadcasts later in the season on public TV, so watch for it!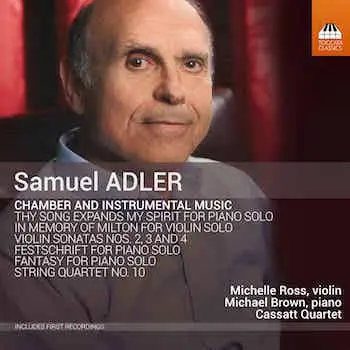 The third and last of my CDs this time is a collection of works for piano solo and for chamber ensembles by Samuel Adler. I was privileged to be a faculty colleague of Adler's for several decades at the University of Rochester's Eastman School of Music. So I have heard many of his works along the way and always been struck by their emotional range and gestural clarity. He has written in many styles across his long career. (He was born in 1928 and thus is now 93 — and still composing actively and getting his new works performed by notable soloists and ensembles.) The latest all-Adler CD contains three sonatas for violin and piano, each written at a different stage in his career. Most familiar-sounding is the Second Sonata (1956), which inhabits a sound-world shaped by Hindemith and Bartók. But, once one accustoms oneself to the relative harmonic asperity of the Third and Fourth Sonatas (1965, 1989), one gets quickly drawn in by the forcefulness of utterness and the dramatic shifts of mood, all exquisitely conveyed here by violinist Michelle Ross (who is herself a composer as well) and pianist Michael Brown.
Brown, on his own, offers four Adler pieces for solo piano, three of them written as tributes to colleagues, including Aaron Copland (at age 80; this was composed in 1980, since Copland was born in, yes, 1900) and Milton Babbitt (a memorial piece, 2012). The Copland piece, Thy Song Expands My Spirit, is particularly engaging. I have listened to it repeatedly and felt as if I were being taken for a fascinating ride through the air. The music does not sound like Copland's, except perhaps as a tribute to a daring and endlessly influential piece that he wrote in his early years: the Piano Variations (published 1932). What we do sense is Adler's admiration for Copland's artistic integrity and his determination to make a place for serious American composition in a land that has often looked to Europe alone for artistic pleasures and adventures.
The CD closes with a very recent piece: the String Quarter No. 10 (2014) in four short connected movements. The members of the renowned Cassatt Quartet (four women from quite varied backgrounds, including Japan, China, and the United States) give it out with elegance and commitment. I look forward to hearing their other recordings.
---
Ralph P. Locke is emeritus professor of musicology at the University of Rochester's Eastman School of Music. Six of his articles have won the ASCAP-Deems Taylor Award for excellence in writing about music. His most recent two books are Musical Exoticism: Images and Reflections and Music and the Exotic from the Renaissance to Mozart (both Cambridge University Press). Both are now available in paperback; the second, also as an e-book. Ralph Locke also contributes to American Record Guide and to the online arts-magazines New York Arts, Opera Today, and The Boston Musical Intelligencer. His articles have appeared in major scholarly journals, in Oxford Music Online (Grove Dictionary), and in the program books of major opera houses, e.g., Santa Fe (New Mexico), Wexford (Ireland), Glyndebourne, Covent Garden, and the Bavarian State Opera (Munich).